1967 Jaguar 340 'Mark II' 3.4 Sedan
Specifications

Stock:
J67-290
Current condition:
DRIVER
Performance:
3.4L, 6-Cylinder, 2 SU carbs
Transmission:
Automatic, with a hold gear
Suspension:
Rear Wheel Drive
Color exterior:
Black
Color interior:
Black
Features:
Becker AM/FM/Push Button Radio
Wheels:
Steel wheels with Hub Caps
Tires:
205-70R-15 Goodyear Blackwall
Brakes:
Disc
Vin #:
P181290BW
Engine #:
KJ10809-8
Gearbox #:
JBB303752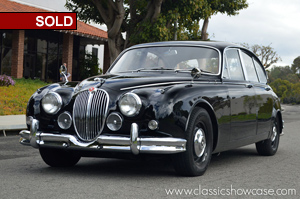 Description
It's not often that a single-family owned from new classic Jaguar from the 1960s comes up on offer, but we have recently acquired such an example, and are pleased to offer it to collectors worldwide. This Black 340 3.4 Liter Jaguar is a great driver-level example standing in good condition with a known ownership history. This particular 340 example has been a single-family owned car for its entire life, and was used as a commuter car by the original owner, an IBM employee; in fact, the car retains the original IBM parking permit sticker from the late 1960s!. The family repurposed the car to be used exclusively on weekends for family outings, always keeping it clean and garage kept. In the 1990s, the car was passed along to the original owner's daughter, who had it mechanically and cosmetically recommissioned (with many receipts included). The family has since relocated to a smaller residence lacking space for another vehicle, and thusly decided to find a new home for this special car. Now, Classic Showcase is pleased to offer this wonderful single-family owned 340 Sedan, just in time for the upcoming Spring and Summer driving season!

The original owner with his daughters in the early 1970s: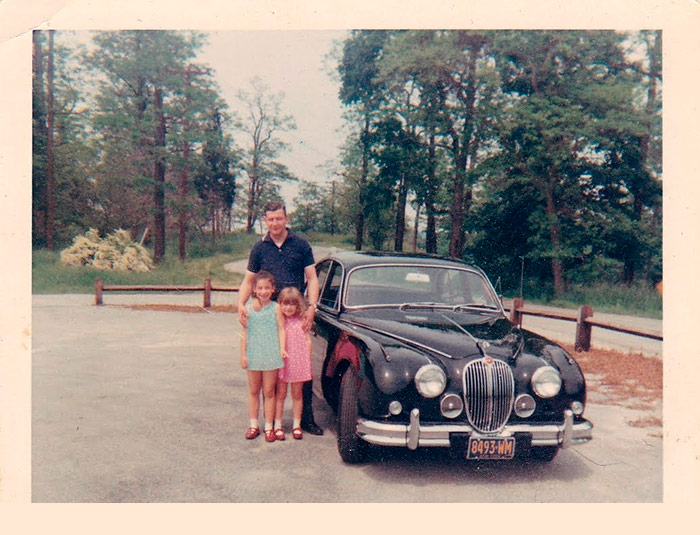 The Jaguar with the original owner's Granddaughter on Pacific Coast Highway in Malibu, CA: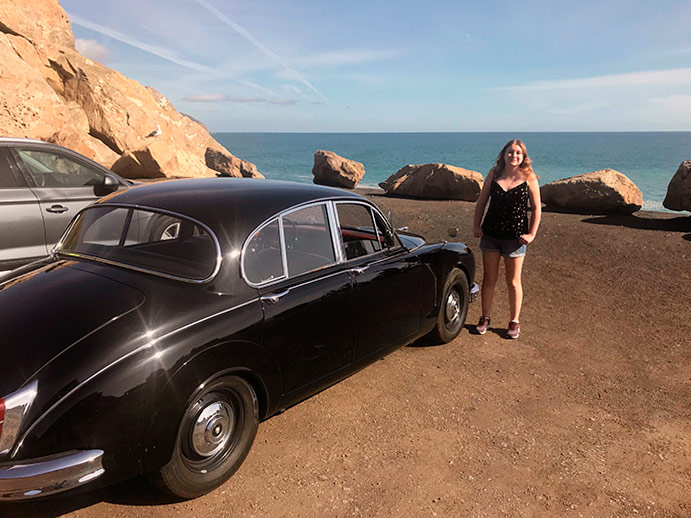 History
The sedan, derived from the Mark II series, rides on a 107-inch wheelbase and is powered by a twin-camshaft, 3.4-liter six-cylinder XK engine. Developing 210 hp with a top speed of 110 mph, the 340 was radical for a small sedan that could carry five passengers. Innovations not yet mainstream in that era included four-wheel disc brakes, radial tires and power steering with an adjustable telescoping steering wheel. The Jag's handling is controlled by semi trailing wishbones up front, while the rear features a trailing-link setup, including cantilever semielliptical springs. The fuel capacity is 14.5 gallons. A full-size spare and a complete tool set rest below the floor of the car's 13.5-cubic-foot trunk.

Starting it up is an easy two-step affair. Turning the ignition on and pushing the starter cause the engine to purr to life with a sound that reminds you this is not one of Coventry's latest. Even after 40 years, the H-patterned gearbox is still taut, offering sure-footed settings in the gates. Nestled into the walnut-finished dashboard are a 140-mph speedometer, a tachometer, and amperage, fuel, oil and water temperature gauges. Other niceties include map and glovebox lights and¬—a sign of the times¬—a cigar lighter. The largeish Bakelite steering wheel and the power-assisted steering offer a secure road feel, reassuring considering this 3080-pound car is capable of 0 to 60 mph in eight seconds. Overall, the Jaguar 340 Saloon is a surprisingly civil car to drive. The front suspension geometry was rearranged to raise the roll center and the rear track widened. Four-wheel disc brakes were now standard. Power steering, overdrive or automatic transmissions could be fitted at extra cost. The 3.8 Litre was supplied fitted with a limited-slip differential.