1968 Jaguar-XKE Series 1.5 4.2 FHC
Specifications

Stock:
J68-314
Current condition:
SHOW-DRIVER
Performance:
4.2 Liter, 265hp, overhead cam, Weber carbs
Transmission:
4-speed manual
Suspension:
Independent Front / Rear
Color exterior:
Black
Color interior:
Beige
Features:
Bluetooth equipped, with auxiliary amplifier and stereo speakers
Mileage:
100 test miles (after restoration)
Wheels:
Dunlop D-Type Wheels
Tires:
Michelin 205/70/15
Vin #:
1E35314
Engine #:
7E16654-9
Gearbox #:
KE462
Other 1:
Body Number: 4E27163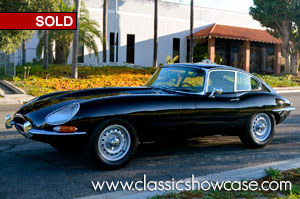 Description
(SOLD) This numbers-matching 1968 Series 1.5 Fixed Head Coupe is an original California car, and has just completed a comprehensive show-driver level restoration. The focus of this restoration was to create a performance minded E-Type with additional comfort and driving enhancements.

The car has numerous Series 1 specific features, such as covered headlights (for a true Series 1 look), small Instrumentation and toggle switches. The Coupe was a Factory A/C built car, and our team has installed a brand-new A/C system exclusively made for the XKE for improved comfort.

The E-Type features numerous performance enhancements including:

• Aluminum Radiator with 2 auxiliary fans
• Weber Carbs
• Headers
• Stainless Steel exhaust system
• Small-sized high output Alternator
• Gear reduction Starter
• Spin-on oil filter
• Wilwood brakes
• Adjustable shocks all around
• Dunlop D-Type Wheels
• Shoulder and lap seat belts
• Bluetooth equipped, with aux. amp & speaker system

Included in the extensive restoration process, the vehicle was stripped to bare-metal, body worked and fitted, with all body parts painted, color sanded and buffed to the spectacular finish you see today. In addition, the headlight conversion from open to closed was metal finished and performed in our body shop. The interior was also refurbished meticulously in all of the proper materials. All systems have been gone through and were restored and replaced as necessary.

The engine, transmission, and rear end were completely disassembled and rebuilt, and setup properly. All vital systems including cooling, hydraulic, electrical and fuel were all gone through, replaced and restored as necessary. The suspension was also restored, and all of the rubber, grommets and seals were replaced on the vehicle. The roadster's parts and components have also been restored in the proper colors and finishes. As with all of our E-Type show and show-driver restorations, strict attention to detail was being given. An MP4 video of the restoration process, receipts. and along with a copy of it's Jaguar Daimler Heritage Trust Certificate of authenticity will accompany the sale of the vehicle.

This Jaguar is a unique example that delivers the best of both worlds by utilizing Series 1 and 1.5 features throughout the build of this car, resulting in a stunning high performance sports car. It is ready for showing, driving on your favorite track or road, or as a great investment grade example. Regardless of your use, this E-Type is truly ready for anything!
History
The E-Type Roadster presented here is an early 1968 model, it is one of the few E-Types that are today popularly known as Series I 1/2 cars as they utilize the open headlight bonnets but are otherwise are very similar to the Series I cars retaining the very favorable 4.2 liter engine. Inspiration from the D-Type is unmistakable, as the E-Type had a monocoque passenger compartment, a tube framed engine bay and a tilting hood. The XKE has four-wheel Dunlop disc brakes with the rear discs fitted next to the differential to reduce unsprung weight and, most importantly, fully independent suspension on all four wheels.
Authenticity