1968 Jaguar-XKE Series 1.5 4.2 2+2
Specifications

Stock:
J68-781
Current condition:
DRIVER
Performance:
265 hp, 4.2, 2 Stromberg carburetors
Transmission:
Automatic
Suspension:
Independent Front / Rear
Color exterior:
Opalescent Silver Blue
Color interior:
Dark Blue
Features:
Audiovox AM/FM cassette
Options:
Factory A/C
Mileage:
8,020 showing
Wheels:
Wire Wheels
Tires:
185-17
Brakes:
Disc
Vin #:
1E78781BW
Engine #:
7E55098-9
Gearbox #:
24328
Other 1:
Body Number: 4E55095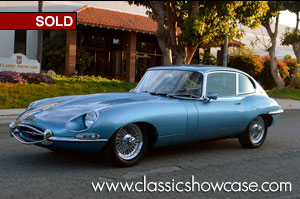 Description
SOLD This 1968 Jaguar E-Type Series 1.5 2+2 is an original California car with limited ownership. This great looking example was kept in storage for a number of years, and recently received over $20,000 in service work performed by master technicians at Classic Showcase, include the following:

• Replaced the exhaust system with S.S.
• Removed, replaced & rebuilt the rear end
• Replaced the front brake components and all soft & hard brake lines
• Replaced all four IRS mounts
• Replaced both small and large trailing arm bushings
• Changed the transmission pan gasket and clean the filter
• Performed a front suspension rebuild
• Replaced the front engine mounts
• Oil, lube & filter change
• Replace all four tires, tubes & balanced

This 2+2 runs and drives very well, and is ready for the upcoming Spring and Summer driving seasons!
History
The Series 1 4.2 2+2 is the most user friendly, and very collectable E-Types. These wonderful cars had a 4.2-liter engine with 2 Stromberg carburetors and a fully synchronized transmission. Some of the features of this model are covered headlights, toggle switches, full instrumentation with styling and design that was way ahead of its time, center console, arm rests, and full synchronization transmission. Other features of this Series 1 are its steep windshield and taillights, which are placed above the bumper line in the rear deck. Similarly, the parking lights are above the front bumper line in the front fenders. A chrome strip beneath the windows on the doors identifies the 2+2. This car first came on the market in 1966 in response to US market pressure for a vehicle with a backseat. The 2+2 was also the first time this vehicle was offered with an automatic transmission which became an option because of the extended length of the vehicle, which permitted the transmission to be installed. In 1964 when the 4.2 was tested, fuel consumption was rated road reported at 22 MPG and a top speed of 140 MPH.