1965 Jaguar-XKE Series 1 4.2 FHC
Specifications

Stock:
J65-665
Current condition:
UNDER RESTORATION
Performance:
4.2 DOHC in-line 6, 3 SU carbs, 265 BHP
Transmission:
4 speed manual, synchronized transmission
Suspension:
Independent Front and Rear
Color exterior:
Opalescent Golden Sand
Color interior:
Tan
Wheels:
Chrome Wire Wheels
Brakes:
Disc
Vin #:
1E30665
Engine #:
7E 2700-9
Gearbox #:
EJ 1750
Other 1:
Body Number: 4E 20908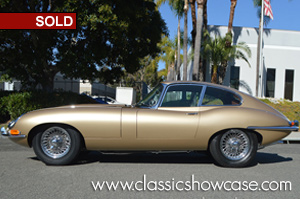 Description
Update: 12/23/20 Sale pending. Our team has recently installed the engine to the Coupe, and are inching closer to the completion on this fabulous E-Type. This 1965 XKE is a great numbers-matching core car example that is currently in the process of receiving a Show-level restoration. It has just been painted in Opalescent Golden Sand, and work is progressing on the Tan interior components. We have done extensive work on the engine rebuild as well. Please view the photo gallery to see current work we have recently performed.

It is getting increasingly difficult to find matching-number E-types in original color combinations; when we find such examples, we like to restore them to a higher level to not only preserve the great Heritage of E-types, but to also create a great investment for the collector.

During the E-Type's restoration process, it has already been fully disassembled, and photo documented; it has been taken to bare metal, metal-worked on a rotisserie, then finished and will be repainted. All of the Coupe's mechanical systems are being gone through and rebuilt to specification, and all brite work will be re-plated to that of a Show-level quality. All mechanical components are being gone through including the electrical, cooling, fuel, and the hydraulic systems, with each brought back to their respective factory specifications. The engine, transmission, and rear end are being completely rebuilt, along with the carburetors, starter, and alternator. The Coupe's radiator will be replaced, and it's gas tank will be epoxy-sealed and restored as well, along with the addition of a new stainless-steel exhaust system.

The interior of the XKE will receive a freshly trimmed interior, custom-fit and installed by our Master Trimmer in our upholstery department, along with a new headliner, sun visors, all panels, leather trimmed seats (with Moquet backing), its original wooden steering wheel (that we fully restored), along with a complimenting fully functional, period-correct radio.

With such coveted Series 1-specific features such as covered headlights, triple SU carbs, toggle switches, and comfortable seats, this example is a part of the generation of XKEs known to be one of the most classic and drive-able of all early E-Types. A Heritage Certificate of Authenticity and USB drive of pictures and an MP4 video of the Coupe's restoration accompany the vehicle.
History
The Series 1 4.2 is a very user friendly, sporty driver, and one of the most collectable of the E-Types. These are wonderful cars with a 4.2-liter engine with three SU carburetors and a fully synchronized transmission. Some of the features of this model are covered headlights, toggle switches, full instrumentation with styling and a design that was way ahead of its time with center console, and arm rests. Other features of this Series 1 are its steep windshield and tail lights, which are placed above the bumper line in the rear deck. Similarly, the parking lights are above the front bumper line in the front fenders. In 1964 when the 4.2 was tested, fuel consumption was rated road reported at 22 MPG and a top speed of 140 MPH.
Authenticity