1991 Jaguar XJS V12 Convertible
Specifications

Stock:
J91-853
Current condition:
SHOW-DRIVER
Performance:
V12 Fuel-Injected 5.3 Liter Engine
Transmission:
3 speed Automatic
Suspension:
4 wheel independent
Color exterior:
Signal Red
Color interior:
Tan (with Signal Red piping and Black Top)
Features:
Classic Collectibles Package
Mileage:
21,645
Wheels:
Chrome Wheels
Tires:
Pirelli P600 235/60/15
Brakes:
Vented Discs at the front, and Discs at the rear
Vin #:
SAJTW4849MC176853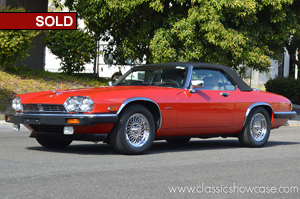 Description
(SOLD) This spectacular, limited special edition Jaguar XJS is very original car with limited ownership. The car is in like-new showroom condition, and presents just as wonderful as it did when new. The XJS' last owner was a Jaguar Club member who took great care in maintaining the car, campaigning the car at local JCNA events.

This particular XJS is one of the "Classic Collection XJS" examples, that was only available to the United States market, and features a number of attractive features not seen in other locales. It is appointed similar to the Collection Rouge with lattice alloy wheels, four-headlight arrangement, new Classic badging on the boot lid and a gold-plated growler badge on the hood. The car presents in a truly wonderful condition, and is fully loaded with a numerous driving and performance comforts.

Exterior & Interior Features:

• Full instrumentation
• Walnut trim inlaid with contrasting matching wood inserts
• Center console
• Climate Control Air-conditioning
• Onboard Computer on dash
• Powered Leather Bucket Seats
• AM/FM/Cassette stereo system
• Driver's side airbag
• Rear defogger
• Deluxe Trunk with tire cover
• Electric Top with boot cover & storage bag
• Dual door mounted remote control mirrors • Factory driving lights

"Classic Collection" exclusive features:

• Lattice Alloy wheels
• Four-headlight arrangement
• Classic badging on the boot lid
• Gold-plated Growler badge on the hood

Performance Features:

• Power steering and brakes
• Traction Control
• Intermittent wipers
• Cruise Control

Since acquiring the car, Classic Showcase has performed body and paintwork to enhance the car's finish, along with a full service and detail to the car. It is now ready to be driven along your favorite road or highway or shown at local Jaguar events. Experience the powerful, yet silky smooth ride only an XJS can deliver today!

Extras Included: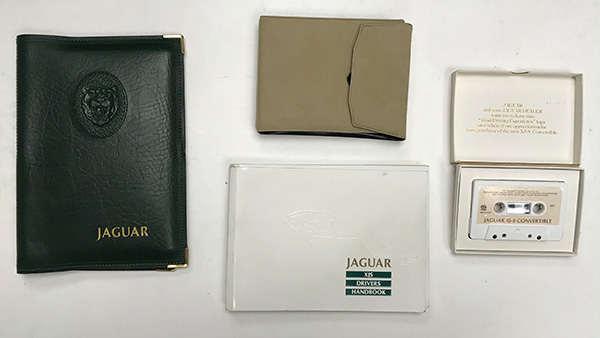 History
The XJS, a luxury grand tourer, was produced from 1976 to 1996. It superseded the E-Type (also known as XKE) in September 1975, and was based on the XJ saloon. It had been developed as the XK-F, though it was very different in character from its predecessor. Although it never had quite the same sporting image, the XJS was a true grand tourer aimed more at comfort and cruising, than spirited driving.