1963 Jaguar-XKE Series 1 3.8 FHC
Specifications

Stock:
J63-413
Current condition:
DRIVER
Performance:
3.8L, 6 Cylinders, 3 SU Carbs
Transmission:
4 speed manual
Suspension:
Independent Front / Rear
Color exterior:
Red
Color interior:
Red
Features:
Sony AM/FM/CD Player Stereo
Mileage:
43,268 showing
Wheels:
Wire Wheels
Tires:
Cooper Classic Redlines 185/15
Brakes:
Front & Rear Disc
Vin #:
888413
Engine #:
R9906-9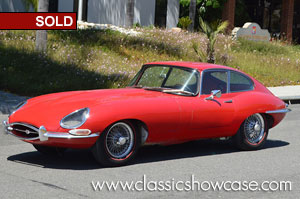 Description
(SOLD) Classic Showcase just recently acquired this numbers-matching, fiery Red XKE Fixed Head Coupe, and has scheduled it for a future comprehensive Show/Driver restoration; this original E-Type is just 1 of 2 unrestored Fixed Head Coupe core-cars left in our inventory, presenting collectors with a great opportunity to perform a restoration of their choosing to quite possibly one of the most desirable Jaguar classics, the first generation E-Type. Please inquire within for more information on getting a customized restoration to this Coupe.

This particular example is believed to be a 2 owner from new car, where it's most recent owner - a Hughes Aircraft employee - drove the car as a commuter (note the period parking sticker on the windshield) enjoying and maintaining the Coupe himself for nearly 50 years! There are numerous receipts for various parts purchased, along with other service records that come with the car. Don't miss this opportunity to acquire and restore the most desirable series of E-Types ever created!
History
The Series 1 was introduced, initially for export only, in March 1961. The domestic market launch came four months later in July 1961. It can be recognized by glass covered headlights (up to 1967), small "mouth" opening at the front, signal lights and tail-lights above bumpers and exhaust tips under the license plate in the rear. The Series I E-type is the most desirable of all the series with a 4 speed transmission, covered headlights, toggle switches on the dash, updated with late Series I comfortable bucket seats, center console, and arm rest. This makes the best driver and the most collectable for an investment. It is a timeless example of class and elegance joined with the strong racing history that Jaguar has become so well known for.
Authenticity