1960 MG MGA Coupe
Specifications

Stock:
MG60-902
Current condition:
DRIVER
Performance:
1800 cc, four cylinder SU Carbs
Transmission:
4 speed manual
Color exterior:
White
Color interior:
Red
Wheels:
Steel Wheels (with hubcaps)
Brakes:
Drum
Vin #:
GHDL68902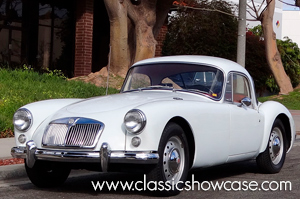 Description
This MG is a wonderful candidate to restore, as it is an original Southern California car, with 2 documented owners, the most recent of which has owned since the 1970s. The Coupe was garage-kept, and frequently maintained as the owner - a Hughes Aircraft employee - used it as a commuter car to and from work. It features a strong 1800cc engine, along with rack and pinion steering, independent suspension, and a nicely preserved interior.

This MGA presents MG enthusiasts and collectors with a great opportunity to perform a restoration of their choosing to an already fine core-car. It is available as-is, or we can restore it for you! Please inquire within for more information on getting a customized restoration to this classic MG Coupe!
History
The MGA began production in 1955. The styling and mechanics were different from previous MG models. The public had been given hints of its new design during the 1951 Le-Mans 24 hour endurance race. The car was driven by George Phillips and was actually a TD Midget with body modifications. The styling of the car was undeniably elegant. Its aerodynamic design and two-seat open-body was stylish and sporty.