1962 Jaguar-XKE Series 1 3.8 OTS
Specifications

Stock:
J62-878
Current condition:
SHOW-DRIVER
Performance:
3.8 DOHC in-line 6, 3 SU carbs
Transmission:
4 speed manual
Suspension:
Independent front/ rear
Color exterior:
Black
Color interior:
Tan
Mileage:
429 showing
Wheels:
Chrome Wire Wheels
Tires:
Michelin 185x15
Brakes:
Disc
Vin #:
876878
Engine #:
R4454-9
Gearbox #:
EB3379JS
Other 1:
Body Number: R3306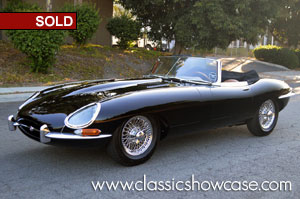 Description
(SOLD) This attractive 1962 Jaguar E-Type was comprehensively restored by Classic Showcase, with much time spent on detail and quality. Our team performed a comprehensive rotisserie restoration to this XKE roadster to that of a show-driver level, and included: a complete, documented vehicle disassembly, with the vehicle body fully worked, metal finished, fitted, and leaded as needed, with all body parts and chrome fitted to the car; It was primed, sealed, and had a base coat applied, along with receiving a clear coat, and finally color sanding and buffing to the beautiful finish you see today. All systems have been gone through and were restored and replaced as necessary. The engine, transmission, clutch, and hydraulic systems were fully restored, and the car received all new rubber, grommets and seals. The upholstery was restored by our master trimmers throughout. The roadster's parts and components have also been restored in the proper colors and finishes as well, using NOS parts wherever possible.

As with all of our earlier E-Type show and show-driver level restorations, strict attention to detail was being given because of the importance of this early, highly original car. An MP4 video of the restoration process will accompany the sale of the vehicle. This Series 1 example looks and drives great, and is sure to bring an exciting experience to those looking to own one of the most sought after Jaguars ever made.

New! View a walk-around video in 4K on YouTube: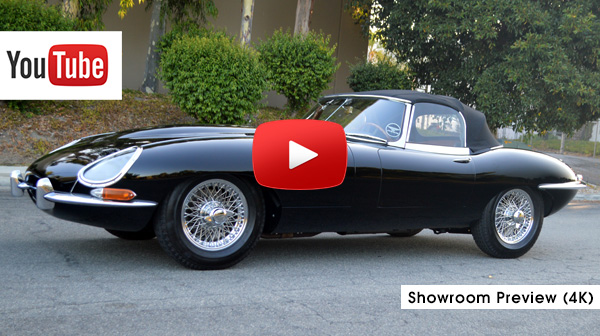 History
1961 thru mid-1962 the early E Types had very distinctive features to the early XKE's. Including flat floors, welded louvered bonnets, aluminum dash with center console and early style bucket seats. The early coupes also featured a slightly different shaped rear glass on the hatch door. Jaguar's E-type featured a monocoque passenger compartment and tail section, a tube-framed engine bay, and a tilting bonnet. With its well-appointed interior, civilized 3.8-liter six-cylinder engine, and a compliant suspension, the E-type was an ideal two-place sports car. The XKE has looks to die for, with sweeping lines and an aggressive yet undeniable sensual stance. All these features make it a very desirable XKE for the collector!