1972 Jaguar XJ6 Series 1 4.2 Sedan
Specifications

Stock:
J72-824
Current condition:
SHOW-DRIVER
Performance:
6 cylinder, 4.2 L, 258.4 cu in., DOHC, Stromberg carbs
Transmission:
Borg Warner BW 12 3 speed automatic
Suspension:
Independent
Color exterior:
British Racing Green
Color interior:
Suede Green
Features:
British Leyland AM/FM Radio
Mileage:
54,020
Wheels:
Chrome wheels with Chrome hubcaps
Tires:
Michelin Defender 205/70/15
Brakes:
Disc
Vin #:
UC 1L66824BW
Engine #:
7L53394S
Gearbox #:
41875
Other 1:
Body Number: 4L39658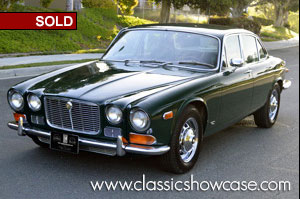 Description
(SOLD) The Series 1 XJ6 sedan is one of the most stylish of the latter-day Jaguar classics offered, and often thought of as the best of the XK series of cars. This particular example comes from a prominent collector's stable of cars and features one of Jaguar's finest official colors - a very attractive British Racing Green exterior over a Suede Green interior.

It should be noted that this is one of the finest - if not "the" finest early XJ6 example we have *ever* come across, and should please the most discerning of XJ aficionados and collectors.

Classic Showcase previously repainted and performed upholstery work as seen in the supplied photo gallery. The sedan has held limited ownership, has been extremely well maintained, and is scheduled for a full service and detail by Jaguar professionals at Classic Showcase.

During previous ownership, the collector commissioned a local professional Jaguar shop to remove and rebuild the engine, the transmission, and carburetors. It also had a major tune-up, a new front windshield and wipers installed, new engine mounts, the clock was serviced, an alignment was done, a new compressor was added, the A/C system was serviced with new A/C hoses, leaks were repaired and the A/C was charged with R12 Freon. The previous owner was very meticulous about the cars in his collection and retained receipts for all of the work performed, which are included with the car.

The car has a number of unique features that are exclusive to the Series 1 versions, including a large front grill, Leper logos on each side, and a set of distinct chrome wheels complimented by chrome hubcaps. The sedan also features: a British Leyland AM/FM radio, power steering, power windows, A/C, and power brakes, telescopic steering wheel, a complete tool kit, jack, spare tire, and a large trove of receipts and photos of previous work performed. There are beautiful lines and great features with the series 1 line of XJ cars, and are typically very sought after by Jaguar collectors. These series 1 examples are getting increasingly harder to find - let alone in such great running and driving condition, so don't miss this opportunity to experience the last Jaguar model that was fully designed by Sir William Lyons, the founder of Jaguar.


Extras Included: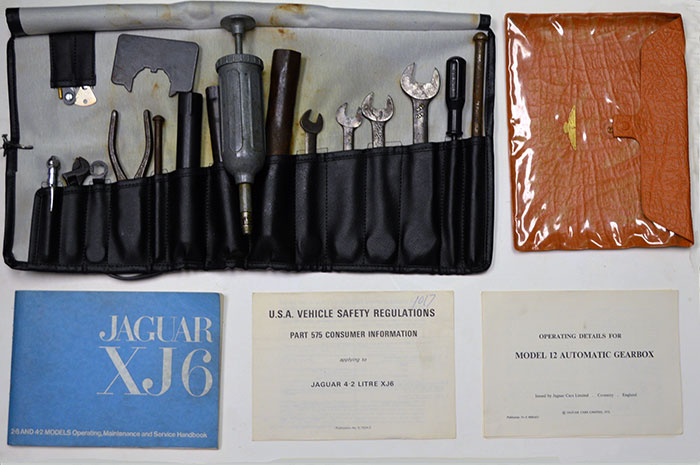 New! View a walk-around video in 4K on YouTube: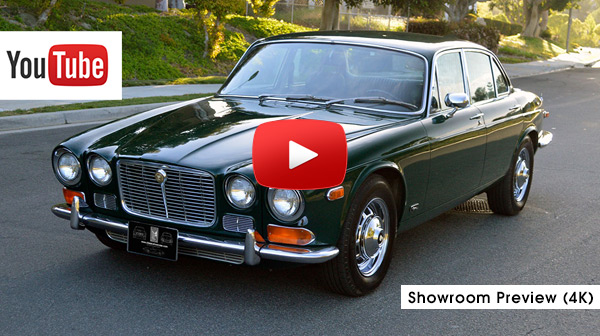 History
This is the first variant (Series 1) of the XJ6 produced from 1968 to the present time. Listed in the September 06 issue of Automobile Magazine as one of the 25 most beautiful cars ever! In 1968, the XJ was the designation given to a series of elegant flagship, full-size luxury saloons which were also the last Jaguars to have the design direction of company founder Sir William Lyons. Interestingly a year later, upscale Daimler versions were also offered called the Sovereign. Power came from a DOHC 4.2 L straight six. It also featured power steering, leather upholstery and optional air conditioning. The XJ also broke new ground mechanically for saloons with its rear independent suspension and Jaguar's first foray into rack-and-pinion steering. The first 'Mark' was introduced in 1968 and continued until 1992. During this time there were three series, Series 1, Series 2, and Series 3. From 1968 through 1973, Jaguar produced 82,126 examples of the XJ Series I. Additionally, the XJ inherited from the Mark X the twin fuel tanks positioned on each side of the boot, or trunk as we call it, and filled using two separate filler caps. This car features the optional air conditioning, four wheel disc brakes and boasts a top speed of 120 MPH.