1959 Jaguar XK-150 S 3.8 FHC
Specifications

Stock:
J59-012
Current condition:
SHOW
Performance:
Upgraded 3.8L engine, Triple SU Carbs
Transmission:
4-speed manual with overdrive
Suspension:
Independent Front, Live Rear Axle
Color exterior:
Imperial Maroon
Color interior:
Tan
Mileage:
3,812 since restoration
Wheels:
Borrani polished alloy rim Wire Wheels
Tires:
Pirreli Cinturato 185R/16 radials
Vin #:
836012
Engine #:
VS 1787-9
Gearbox #:
JLS 43231 JS
Other 1:
Body #: J9758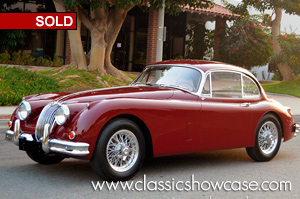 Description
This spectacular Jaguar XK-150 S FHC show car is an original California car, and a very rare example that underwent an 2-year restoration by a well-known marque expert. This example was built on January 15, 1959, and is one of only 149 Left Hand Drive FHC "S" Models produced; of those, only 87 were imported into the United States.

The Coupe had been off the road since the early 90s, but has had a rich history on the show field in recent years, where it has been the recipient of numerous Concours awards:

• Champion North America (2017 and 2019) Jaguar Clubs of North America (JCNA) Slalom Class B for 1949-1961 Jaguar Sports Cars
• Champion North America (2017) JCNA Monte Carlo Rally
• 2nd Place (2018) North America - JCNA Concours Special Division S2/MOD
• JCNA Sportsmanship Award: Slalom 1st, Concours 2nd, Rally 2nd at 2017 JCNA International Jaguar Festival
• Best of Show 2017 Jaguar Club of Florida Concours
• Award of Excellence 2018 Amelia Island Festival of Speed

New! View a 5 minute showroom walk-around video in HD on YouTube: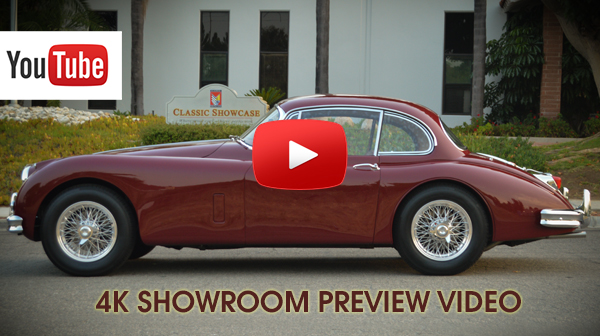 The Coupe was repainted in Imperial Maroon to show car level, with all britework re- chromed. The XK-150's interior was completely restored in Tan with all of the correct and proper materials. All of the Coupe's instruments were rebuilt and refinished. The engine was rebuilt with all new forged pistons, cams, valves, and valve springs, as well as the gearbox with NOS gears. The Overdrive and differential were also rebuilt, and a lightened flywheel and 9.5 inch clutch was installed. The car's entire four wheel disk brake system was completely renewed. The Coupe received all new or rebuilt mechanical components with all new wiring, bearings, bushings, universal joints, and gaskets.

Upgrades:

• Authentic Derrington wood rim steering wheel (period correct)
• Borrani polished alloy rim wire wheels (period correct) with 3 eared knockoffs
• 3.8 Liter short block installed in the car, with the original numbers-matching 3.4 liter block included
• LED taillights added for safety.
• Petronix Pointless Ignition
History
The Jaguar XK150 is a sports car produced by Jaguar between 1957 and 1961 as the successor to the XK140.

Initially it was only available in fixed head coupé (FHC) and drophead coupé (DHC) versions. The roadster without full weather equipment which had begun the XK line was launched as the XK150 OTS (open two-seater) in 1958. Minimal rear seats were fitted in the coupés. The open two-seater was fitted for the first time with wind-up windows in taller high-silled doors, but retained the very simple folding roof of its predecessors.

Announced in its home market in May 1957the XK150 bore a family resemblance to the XK120 and XK140 but was radically revised. Most visibly, a one-piece windscreen replaced the split screen, and the wing line carried higher and more streamlined at the doors. The widened bonnet opened down to the wings, and on the coupés the windscreen frame was moved forward 4 inches (102 mm) to make passenger access easier. The car was available at various times in Red, Pearl Grey, White, Indigo Blue, Claret, Cotswold Blue, Black, Mist Grey, Sherwood Green, Carmen Red, British Racing Green, Cornish Grey, and Imperial Maroon.

The XK150's dashboard came trimmed in leather, with walnut optional on all models. On the early drophead coupés, the aluminium centre dash panel, which was discontinued after June 1958, had an X pattern engraving similar to the early 3.8 E-Type. Thinner doors gave more interior space. A little red light reminded the driver that the front parking lights, located atop the wings (fenders), were on.

Suspension and chassis were very similar to the XK140, with manual-only rack and pinion steering. The 3.4 litre DOHC straight-6 XK engine was similar to the XK140's, but a new "B" type cylinder head raised power to 180 SAE bhp at 5750 rpm.

The first closed and convertible XK150s were slower than their predecessors. After a twelve-month delay caused by the February 1957 factory fire, this deficit was corrected in the spring of 1958 with the March release of special equipment models fitted with disc brakes and more powerful SE engine. Twin 1.75-inch (44 mm) SU HD6 carburettors and a modified B type cylinder head with larger exhaust valves improved performance to 210 SAE bhp at 5500 rpm. While most export cars were SE models, a third option for the open two-seater featured an "S" engine with three 2-inch (51 mm) SU HD8 carburettors and a straight-port cylinder head boosting power to a claimed 250 SAE bhp.

In 1960 the 220 hp (164 kW; 223 PS) 3.8 litre engine fitted in the full-sized luxury Mark IX saloon since October 1958 became available. It was tuned to produce up to 265 hp (198 kW; 269 PS) in S models and propel an XK150 to 135 mph (217 km/h) and from 0–60 mph in around 7.0 seconds. Fuel economy was 18mpg. Four-wheel Dunlop 12 in (305 mm) disc brakes appeared for the first time as an option. Factory specification 6.00 × 16 inch Dunlop Road Speed tyres or optional 185VR16 Pirelli Cinturato CA67 radials could be fitted on either 16 × 5K½ solid wheels or optional 16 × 5K wire wheels.

Production ended in October 1960, and totalled 2,265 roadsters, 4,445 fixed head coupés and 2,672 drophead coupés. The E-Type replacement was announced in the middle of March 1961.
Authenticity