1973 GMC RV Motorhome 260
Specifications

Stock:
GMC73-267
Current condition:
SHOW-DRIVER
Performance:
Tornado 455 cu. in. V-8 engine, 8.5:1 compression, 4 barrel carbs
Transmission:
3-speed Automatic Turbo Hydromatic
Suspension:
Air Suspension
Color exterior:
White with Beige Trim
Mileage:
13,000
Tires:
(6) Michelin LT235/85/R16 10 ply Tires with (1) spare.
Brakes:
Power Disc Brakes
Vin #:
TZE063V101267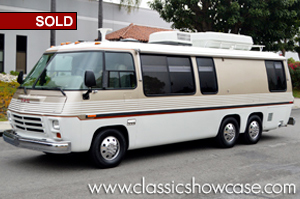 Description
Classic Showcase is pleased to offer this stunning, and fully restored 1973 GMC RV Motorhome Model # 260. This example is the 26 foot version, is 2 owners from new, and 1 of only 1,598 examples produced in 1973. It comes from the series of motorhomes manufactured by the GMC Truck & Coach Division of General Motors for the model years of 1973–1978, and were built in Pontiac, Michigan. These models were the only complete motorhomes built by a major auto/truck manufacturer of the era. The Motorhome is fully contained, and has benefited from a comprehensive restoration by its most recent owner and features numerous stock and upgraded comforts for traveling short or long distances. Classic Showcase has recently installed a new aluminum Radiator, as well as servicing and replacing the RV's front braking system.

Powered by a Tornado 455 cu. in. V-8 engine (with 8.5:1 compression) 4 barrel carbs, and a powerful 3 speed Turbo Hydromatic automatic transmission, the GMC also includes the following mechanical features: a large capacity Radiator, Air Suspension (for driving and leveling), (1) Fuel Tank Filler neck with (2) 25 gallon tanks, Power Brakes, Power Steering, and rests upon (6) Michelin LT235/85/R16 10 ply Tires with (1) spare.

The coach of the GMC is immaculate, and features a number of major upgrades and modern touches that really brings this classic RV into the 2020s. The previous owner added these upgrades during the course of the restoration several years ago, with no expense spared on providing nothing short of a perfect RV experience.

Interior and Coach Items upgraded during restoration included:

Microwave, Kenwood Sound System with GPS and speakers all throughout the vehicle. A New roof A/C and Heating system, increased storage capacity, new windows, all upholstery completely restored, new fully functional and very comfortable Captain chairs added, dual outside mirrors, Granite countertops in the kitchen and bathroom areas, upgraded Hardwood floors, custom-made and installed Oak cabinetry, VDO instruments, a full Wood dash, Tilt Steering Wheel, and a new Wireless Backup Camera System that Classic Showcase just recently installed.

The Coach and Interior also features a number of excellent stock features including: Cruise Control, a separate hot water heater for the bathroom; The kitchen area features a Cooktop, a Propane or Electricity-powered Refrigerator/Freezer, 12 volt or 110 interior LED lighting throughout, an Inverter, electric TV antenna built in on roof, coax cable hookups, 2 flat screen TVs, a comfortable Sofa bed, a ladder to access the large storage bin on the roof of the RV, and (2) retractable stow away Awnings. The GMC also includes its original Jack, Tool set, Manuals, Parts Book, and a collection of Receipts with an accompanying Ledger.
History
The GMC Motorhome was manufactured by the GMC Truck & Coach Division of General Motors for model years 1973–1978 in Pontiac, Michigan, USA — as the only complete motorhome built by a major auto/truck manufacturer. Manufactured in 23 and 26 ft (7.0 and 7.9 m) lengths, the design was noted for its front-wheel drive and its low profile, fully integrated body.

In contrast to most motorhomes which were manufactured on drivetrain equipped frames supplied by a chassis manufacturer; GMC designed, engineered and built the entire vehicle, and in most cases the interiors, completely in-house.

The motorhome had a front-wheel-drive transaxle with an Oldsmobile 455 cu in (7.5 l) V8 from the Toronado. GM-designated Turbo-Hydramatic 425 automatic transmission, with a wide roller chain drive to connect the output of the longitudinally oriented engine to the transmission. The final drive was connected directly to the transmission, and power was fed to the front wheels using half-shafts that ran under the front portion of the engine. The engine was fueled with regular gasoline stored in two 25-US-gallon (95 l) tanks. The GMC was equipped with front disc brakes and drums on all four rear wheels. The front-drive configuration eliminated the driveshaft and rear differential and solid axle found on most front-engined motorhomes. As a result, the floor could be built with about 14 inches (36 cm) clearance above the roadway. The floor was too low for a rear cross axle, and GM designed the rear suspension as a tandem pair of wheels, mounted on bogies which rode on pins attached to the sides of the low-profile frame. With the exception of the wheel wells, the rear suspension does not intrude into the living space. The rear bogies are suspended using a double-ended convoluted air bag that is pressurized by an automatic leveling system to maintain the designed ride height. The leveling system can also be manually controlled to level the coach at a campsite This motorhome is 26 feet long and has a Gross weight 12,500 pounds.

Body construction consisted of a rigid frame made of welded aluminum extrusions. The body frame was mounted on the chassis steel ladder frame using body isolators. The floor was marine plywood, except where it sloped up at the extremities, where they were plate aluminum. The body panels are fiber reinforced plastic (fiberglass) below the waistline frame extrusion and at the ends. The upper side body and roof panels between the ends are sheet aluminum. GMCs are notable for their large expanse of windows, which redefined the RV industry at the time. They often had luxury features common on upper models of GM brands, such as cruise control, air conditioning, AM/FM/8-track sound systems, an aluminum/fiberglass body, as well as air suspension. Rear lower compartments provide space for generators and propane tanks. GMCs were optionally supplied with generator. At the back of the vehicle, the entire rear body panel could be taken off by loosening a series of bolts around its edges, allowing beds, appliances and other bulky items to be installed or removed.

A total of 12,921 GMC Motorhomes were produced from model years 1973 to 1978. The interior of the motor home was constructed at the Gemini Corporation plant in Mt. Clemens. Over 7,000 are currently listed in an international registry. Estimates suggest that at least 8,000 to 9,000 of the original production are still in running condition.