1970 Triumph GT6+ Coupe
Specifications

Stock:
TR70-995
Current condition:
SHOW-DRIVER
Performance:
Inline 6-cylinder engine with dual Stromberg carbs
Transmission:
4 speed manual
Color exterior:
Dark Blue
Color interior:
Beige
Features:
Accessory Gauges, upgraded Blaupunkt radio; includes Triumph GT 6+ Handbook
Mileage:
43,366 showing
Wheels:
Minator wheels
Tires:
Douglas Xtra-True 165/13
Vin #:
KC79995L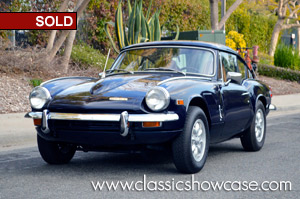 Description
(SOLD) This Triumph GT6+ is a 6-cylinder sports coupé built by Standard-Triumph, and features attractive exterior Dark Blue paintwork, complimented by a Beige leather interior, resting upon a nicely accented set of Minator wheels. The Triumph is powered by an inline 6-cylinder engine with dual Stromberg carburetors, and is ready for your favorite road, or the show circuit.

The team at Classic Showcase has recently performed a comprehensive service and refreshening up of the GT6+ and it is now ready for the upcoming Spring and Summer driving seasons! Please view the extensive list of servicing and upgrades made to the car:

Exterior Servicing & Upgrades:
• Entire car was wet-sanded and buffed
• Brite work was replated for the front & rear bumper system
Interior Servicing and Upgrades:
• Entire Interior completely refreshed
• Seats have been refurbished with new foam, with seat bases painted accordingly
• New insulation installed under the carpet
• New panel mounted Stereo Speakers
• New door panels made with new vinyl
• Fabricated a new set of Hatch panels
• Window and door mechanisms fully serviced and lubricated
• Restored entire Wood Dash
• Added and installed new Seatbelts
Mechanical Servicing & Upgrades:
• Comprehensive Tune-up
• New spark plug wires, points, and condenser added
• New hoses and belts installed
• Hydraulic, Cooling and Electrical systems were fully serviced
• New Suspension bushings installed
• Fully Rebuilt Stromberg Carburetors
• Valve adjustment
• Restored the intake & exhaust manifolds, with new gaskets
• New steering rack boots & hardware installed
• Servicing of all fluids and filters
• New Radiator cap added
• New overflow & washer bottles added
• Changed various hardware
• New Transmission shift bushings installed
• Installed new clamps on exhaust system
Undercarriage Servicing:
• Changed neoprene bushings, shock mounts, and brake hoses.
• New pinion seal and servicing of rear end
• Changed U-joints in the driveshaft
This GT6+ is a great running and driving example, worthy of the seasoned or new Triumph collector's attention!
History
The Triumph GT6 is a 6-cylinder sports coupé built by Standard-Triumph, based on their popular Triumph Spitfire convertible. Production ran from 1966 to 1973. In early 1963 Giovanni Michelotti was commissioned by Standard-Triumph to design a GT version of their recently introduced Spitfire 4 (also designed by Michelotti). An unmodified Spitfire 4 was delivered to Michelotti's design studios in Italy and late in 1963 the prototype Spitfire GT4 was returned to England for evaluation. The styling of the vehicle was a success but the extra weight of the GT bodyshell resulted in extremely poor performance from the Spitfire's 1,147 cc (70 cu in) Standard SC engine, and plans for producing the Spitfire GT4 were shelved. Michelotti's fastback design for the Spitfire GT4 prototype was adopted by the Triumph racing programme for the 1964 season, as it was deemed to provide an aerodynamic benefit over the standard Spitfire body shape. Fibreglass copies of the Spitfire GT4's fastback were grafted on to the race-modified Spitfires destined for competition. The Spitfire racing programme was successful, and in 1965 resulted in 13th overall and a 1st in class at the prestigious 24 Hours of Le Mans (beating their main rivals, the MG Midgets). The Spitfire's competitive success and the continuing commercial success of the production vehicle led Triumph to re-evaluate its shelved plans for a GT version of the Spitfire. To overcome the lack of performance inherent in the heavier body style the Spitfire's 4-cylinder engine was replaced with the more powerful 2.0 L (1,996 cc) Triumph inline 6 originally derived from the SC and then in use in the Triumph Vitesse (which shared a similar chassis with the Spitfire and Triumph Herald). The car was further developed and refined and eventually launched as the Triumph GT6 (dropping the "Spitfire" prefix) to emphasise its GT styling and its 6-cylinder engine. Contemporary Triumph marketing advertised the GT6 as being developed from the "race winning Le Mans Spitfires" to capitalize on their aesthetic similarities, whereas the Le Mans Spitfires and the GT6 were actually two entirely separate development programmes (the GT programme pre-dating the racing programme). However, the marketing spin was so successful that many people erroneously believed the Le Mans Spitfires to actually be GT6s. 1966 to 1973.
Authenticity