1971 Alfa Romeo Montreal SC
Specifications

Stock:
AR71-491
Current condition:
SHOW-DRIVER
Performance:
4 cam Tipo 33–derived V-8
Color exterior:
Rosso (Red)
Color interior:
Nero (Black)
Features:
original radio blanking plate; tool roll & instruction book
Mileage:
71,146 KM (44,208 Miles) showing
Wheels:
Campagnolo Alloy Wheels
Tires:
Michelin XWX 205/70/14
Vin #:
AR 1425491
Engine #:
AR00564 00358
Other 1:
Car No. 10564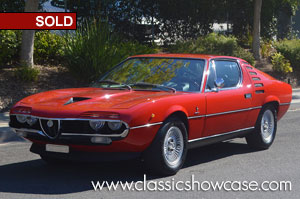 Description
(SOLD) This restored 1971 Alfa Romeo Montreal 2-door Sports Coupe (with coachwork by Bertone), was part of a very limited production run, and could not be purchased in North America upon its release; and nearly 50 years later, there are thought to be fewer than 100 Montreal examples in the United States today, making this a prized and rather rare specimen! The Montreal has received a recent engine rebuild, and has had new springs installed on the front and rear. It is finished in Rosso (Red), with a Nero (Black) interior with a 2+2 seating layout, and presents beautifully throughout. It also features: electronically adjustable headlights that open and close, a rear hatch door, full instrumentation, power windows, wood-rim steering wheel, and dual exhaust chrome tips for an exciting racy look.

The following work has been recently performed on the Montreal:

• Complete engine correction
• Repair of the window switches
• Installed a new drive cable on the window gear
• Complete replacement of all the throttle linkage ends
• Fabricated and installed a new front oil cooler line
• Installed new spark plug wires
• Bled the brake system
• Completely replaced the rear trailing arm bushing
• Complete overhaul of the drive shaft
• Replaced the drive shaft universal joints
• Installed a new set of universal joints
• Completely overhauled the front suspension
• Installed new front tie rod ends, upper and lower ball joints, caster joints, and control arm bushings
• Completed a front suspension alignment

The Montreal model comes from the original designers of the Lamborghini Miura - coachbuilder Bertone, and designer Marcello Gandini. Many collectors view the Montreal to be that of a supercar, and consider it to be one of Alfa Romeo's most iconic road/sports cars produced in the 70s era. It offers not only a great look, but it is also a perfectly sized vehicle that is full of the sexy styling and head-turning looks that Italian sports car of this era possess. Mechanically, the Montreal is very well-sorted, and offers great performance from it's Tipo 33–derived V-8 engine and 5-speed transmission.

Included with the Montreal, is a signed Certificate and letter verifying the car's authenticity, a collection of Receipts for Service work and Parts, along with a tool roll and instruction book.
History
In late 1966 Alfa Romeo was selected to create a conceptual exhibit "of man's aspiration for the automobile" for the 1967 International and Universal Exposition in Montreal, Canada. Marcello Gandini, of Lamborghini Miura fame, and coachbuilder Bertone worked together to create a truly memorable prototype with a wide, low, shark-like nose extending through a curved fender and shoulder haunches into a truncated tail. The headlight "blinds" and stacked horizontal vents on the C-pillar were both attractive and futuristic in concept. Public reaction to the concept vehicle shown at Montreal prompted Alfa to develop a production version, based on the 105 chassis with a modified Tipo 33 aluminum alloy, twin-cam V-8 with dry-sump lubrication. Dubbed, naturally, the Montreal, it saw production of 3,925 examples between 1971 and 1975, of which perhaps 100 have made their way to the United States.
Authenticity