1973 Jaguar-XKE Series 3 V12 OTS
Specifications

Stock:
J73-732
Current condition:
DRIVER
Performance:
V12 5343 cc | 326.1 cu in. | 5.3 L., Zenith-Stromberg 175 CD2SE SOHC
Transmission:
4 Speed Manual
Suspension:
Independent
Color exterior:
British Racing Green
Color interior:
Biscuit
Features:
British Leyland AM/FM Stereo
Mileage:
21,111 showing
Wheels:
Steel Wheels (with Hubcaps)
Tires:
Pirelli P4000 205/70/15
Brakes:
Disc
Vin #:
UD1S22732
Engine #:
7510245LB
Gearbox #:
KL 5023
Other 1:
Body Number: 454582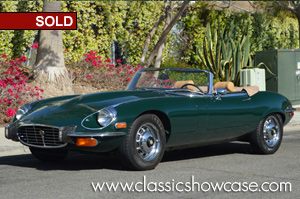 Description
(SOLD) This British Racing Green 1973 Series 3 E-Type Roadster has just undergone a sympathetic cosmetic & mechanical restoration, along with a full service by Jaguar professionals here at Classic Showcase. The roadster features one of the most desirable color combinations of British Racing Green and Biscuit, and is ready to be driven and enjoyed for the upcoming Summer and Fall driving seasons!

Interior Work:

• Completely replaced the interior.
• Restored the top bows.
• Installed and fitted a new Tan cloth top, Tan headliner, and a Tan cloth boot.
• Installed a new Trunk kit.
• Installed new proper flush-mount Speakers.

Exterior Work:

• The car was spot painted, compounded, polished and buffed as needed.
• Re-chromed the front grill and surround.
• Installed a new stainless-steel panel around license plate and brake light assemblies.

Mechanical Work:

• Performed a full tune up to the car.
• Rebuilt the carbs and went through the entire fuel system.
• Performed a pressure clean to the engine and degreased the undercarriage.
• Changed all fluids.
• Installed a new choke assembly.
• Installed new hoses and clamps.
• Installed new belts.
• Installed a new fuel pump.
• Tidied up all electrical systems in the car.
• Replaced rubber throughout.
• Added and installed a new Battery.
History
The E-Type Series 3 was introduced in 1971, with a new 5.3 L twelve-cylinder Jaguar V12 engine, uprated brakes and standard power steering. The short wheelbase FHC body style was discontinued and the V12 was available only as a convertible and 2+2 coupé. The convertible used the longer-wheelbase 2+2 floorplan. The Series 3 is easily identifiable by the large cross-slatted front grille and flared wheel arches, and a badge on the rear that proclaims it to be a V12. Cars for the US market were fitted with large projecting rubber bumper over-riders (in 1973 these were on front, in 1974 both front and rear to meet local 5 mph (8 km/h) impact regulations, but those on European models were considerably smaller. US models also have side indicator repeats on the front wings. There were also a very limited number of six-cylinder Series 3 E-Types built. These were featured in the initial sales literature. When leaving the factory the V12 Open Two Seater and V12 2 ± 2 originally fitted Dunlop E70VR − 15 inch tires on 15 × 6K wire or solid wheels.