1962 Jaguar-XKE Series 1 3.8 FHC
Specifications

Stock:
J62-356
Current condition:
SHOW
Performance:
265 HP, 6 cylinder overhead cam, with 3 SU Carbs
Transmission:
4-speed Manual
Suspension:
Independent Front / Rear
Color exterior:
Bronze
Color interior:
Red
Mileage:
53 miles driven since restoration
Wheels:
(5) Chrome Wire Wheels
Tires:
(5) Firestone Bias Ply Blackwalls 6.40.15
Brakes:
Disc
Vin #:
885356
Engine #:
R3321-9
Gearbox #:
EB1973JS
Other 1:
Body Number: V1405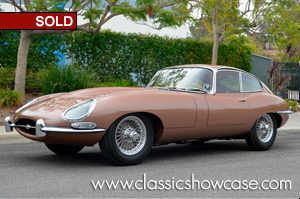 Description
This special matching-numbers Bronze over Red second-year production E-Type Coupe has been rotisserie-restored by our team of master craftsmen here at Classic Showcase. Every nut and bolt on this XKE is proper and correct, as well as all components and systems on the car. This E-Type offers many of the sought-after features like flat floors and welded louvers that are evident in early examples and is truly one of the most gorgeous and collectible E-Types we have ever restored.

New! View a YouTube walk-around overview of the Coupe below: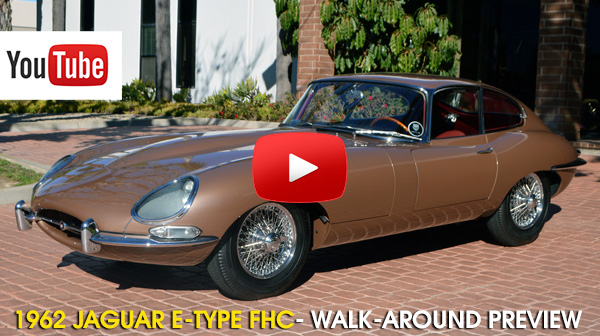 The E-Type has competed and been shown at some of the most prestigious events in North America and is a certified JCNA National Champion. It has won (10) first-place 100-point achievements in JCNA concours events, as well as numerous 99.9+ first place awards. It has always been meticulously and accurately maintained, and is in pristine condition, both aesthetically, and mechanically now. Since its show-level restoration, the XKE has been driven 48 test miles - only to keep it in perfect roadworthy condition; furthermore, the Coupe has lived in a climate-controlled environment, and looks just as fresh today, as the day its restoration was completed. In addition, the car has only been driven with Avgas fuel to keep it pure and running properly. This Coupe is now primed and ready to start the next chapter in it already storied life on the show field – and in just in time for the models 60th Anniversary celebration in 2021.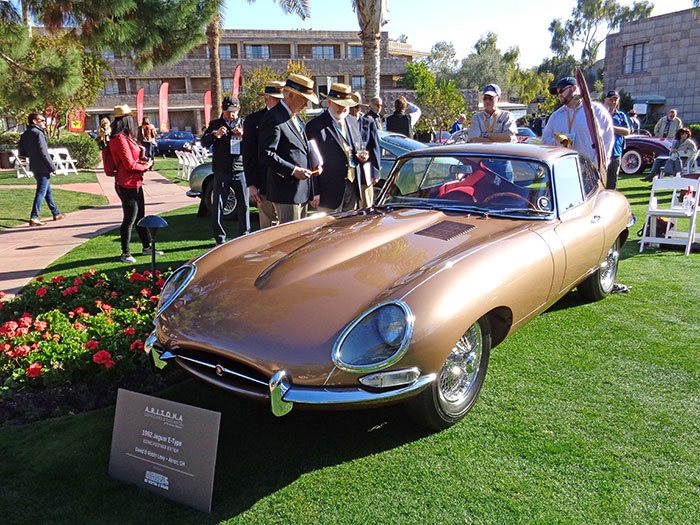 Classic Showcase performed a complete and comprehensive rotisserie restoration to this XKE to that of a Show-level, sparing no expense, taking no shortcuts paying maximum attention to detail. The Coupe was completely disassembled, stripped to bare metal, with the vehicle body fully worked, metal finished, and lead applied as needed, with all body parts, chrome, and rubber fitted to the car. It was primered, sealed, and painted in base coat, then clear coated. It was finally color sanded and buffed to the beautiful finish you see today. Note that all parts were individually painted in the booth. All systems have been gone through and were restored and replaced as necessary, using the best quality parts. The engine, transmission, rear end, and suspension, as well as all other systems including the hydraulic, fuel, cooling, and electrical were fully restored; the XKE's original aluminum radiator was restored as well and is operational in the car today. The car has also received correct hardware, clamps, new rubber, grommets and seals, and we have also sourced an original Triplex date-coded etched windscreen, with all of the remaining Triplex glass being original. Our master trimmers created, fit, and installed a completely new interior in the Coupe in all of the proper and correct materials. The instruments were completely rebuilt, the wire harness was replaced, a new battery was installed, and all brite work was fitted and re-plated to a show level. As with all of our early E-Type show-level restorations, very strict attention to detail was given to this 1962 Series 1 example.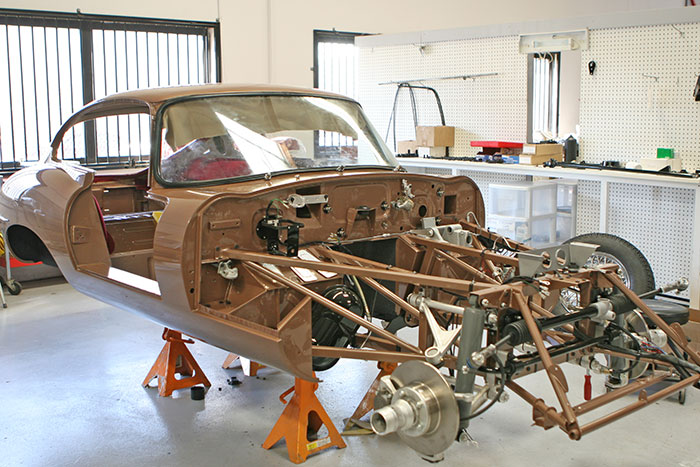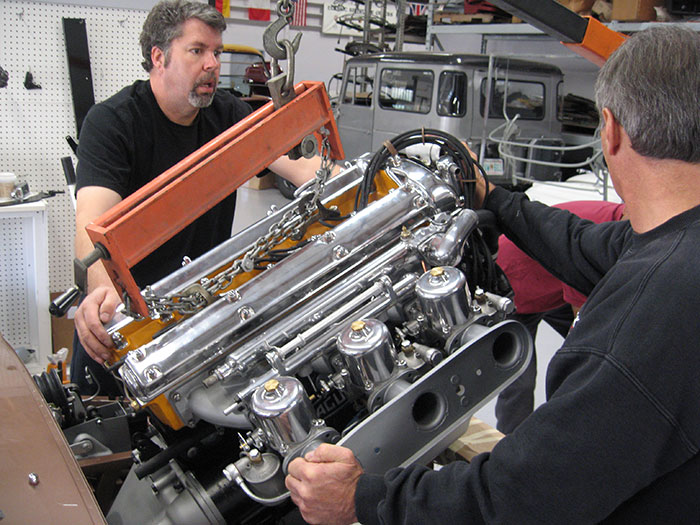 It would be hard to find a more accomplished and finer early Series 1 XKE than this one – anywhere in the world today. This is truly for the discerning Jaguar collector that wants the very best. This early 2nd year build of the XKE not only offers the gorgeous lines and beauty that they are known for, but at a World-Class Show level that it represents.

With the 60th Anniversary of the E-Type in 2021, now is the time to experience the very best that only a Series 1 E-Type can deliver! Included with the Coupe is an MP4 pictorial video of its restoration process, a proper set of restored tools, the original Skelly jack restored, all of the original JCNA judging score sheets, owner's manual with pouch, and the original set of keys, along with a Jaguar Daimler Heritage Certificate to verify the authenticity of the car. This example provides a great opportunity for the collector looking to compete, or to add to their existing collection as a Blue-Chip investment. Truly, a one-of-a-kind E-Type!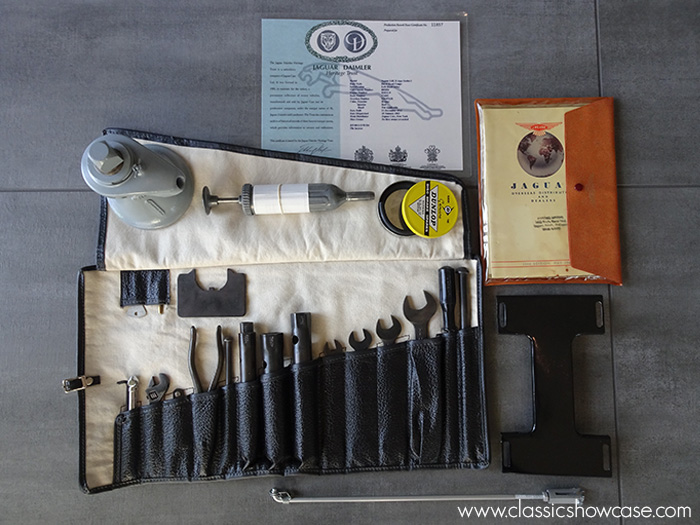 History
The Series 1 was introduced, initially for export only, in March 1961. The domestic market launch came four months later in July 1961. It can be recognized by glass covered headlights (up to 1967), small "mouth" opening at the front, signal lights and tail-lights above bumpers and exhaust tips under the license plate in the rear. The Series I E-type is the most desirable of all the series with a 4 speed transmission, covered headlights, toggle switches on the dash, updated with late Series I comfortable bucket seats, center console, and arm rest. This makes the best driver and the most collectable for an investment. It is a timeless example of class and elegance joined with the strong racing history that Jaguar has become so well known for.
Authenticity