1962 Jaguar Mark II 3.8 Sedan (RHD)
Specifications

Stock:
J62-725
Current condition:
SHOW-DRIVER
Performance:
3.8 liter, 6-Cylinder, Fuel Injection
Transmission:
5-speed
Suspension:
Independent Front / Rear
Color exterior:
Opalescent Silver Blue
Color interior:
Beige
Features:
Driving Lights, Sony AM/FM/Cassette Stereo with 10 disk CD changer in trunk
Mileage:
2,553 since restoration
Wheels:
Chrome Wire Wheels
Tires:
Michelin X One 205/70/15
Brakes:
Four-wheel disc Brakes
Vin #:
P216725DN
Engine #:
LB6575-11
Gearbox #:
BW965SPJ
Other 1:
Body Number: S011416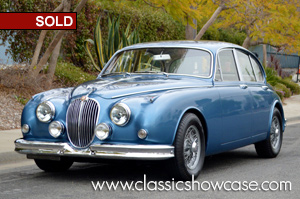 Description
(SOLD) Classic Showcase is pleased to offer this striking numbers-matching 1962 Jaguar Mark II right hand drive example, that has been restored to a Show-Driver level by professional Jaguar restorers. The Sedan presents wonderfully on the outside and inside, as it has been completely repainted in a magnificent color of Opalescent Silver Blue using Glasurit paint, which has enhanced the classic curves and lines that Mark IIs are known for. In addition, the Mark IIs chrome has been completely re-plated to a brilliant shine, and rests upon an equally fine set of Chrome Wire Wheels, with a pair of driving lights for touring and nighttime driving to complete the look. On the inside, the Mark II stands just as beautifully as its exterior, and features a beautifully trimmed interior with a painstakingly restored Wood trimmed dash, along with the addition of plush Wilton wool carpeting throughout, and a great Stereo system to experience your favorite music or audio content on your favorite drives.

New! View a showroom walk-around video of the Mark II in HD on YouTube: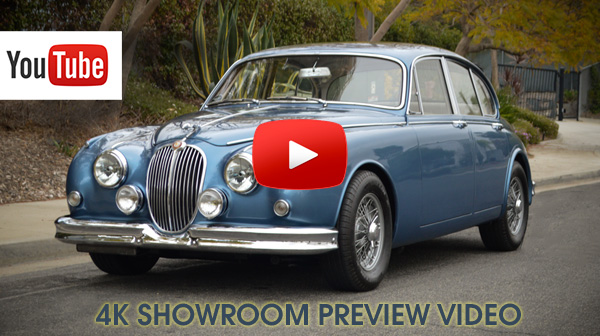 Mechanically, the Mark II is a formidable performer, as it has been the recipient of numerous performance upgrades, including a comprehensively rebuilt fuel-injected 3.8 liter Engine, Headers, dual-stainless steel Exhaust, Alloy Radiator, along with an upgraded, and very dependable 5-speed transmission to provide a great driving experience. The Sedan has also had an upgraded Steering Rack installed, as well as all-new suspension rubber.

Performance Options included:

• Brembo 4 Piston brake calipers with vented disks in the front and rear.
• Koni Shocks in the front and rear.
• 5 speed Gear Box
• Gear Reduction Starter
• Ron Davis radiator
• Isky Camshafts
• Fluid type balanced Crank Dampener
• Milled Head, which is an upgraded XJ6 Series 3 with modifications to the water passages
• XJ6 Steering Rack
• Upgraded Electronic Ignition with 3 coils
• Optima battery (hidden)
• High pressure/High volume Oil pump
• Upgraded Oil filter housing and cooler system
• Oil cooler
• Alloy radiator
• XJ6 alloy oil pan
• Crank fired 6 stack fuel injection
• Alternator
• Remote oil and fuel filters
• Balanced Aluminum Flywheel
• Matching Intake & Exhaust Manifolds
• Upgraded Fuse Boxes and Boards
• Custom made polished and tuned stainless steel Headers & Exhaust made in the UK.
• Heating system has higher output Motor and Squirrel Cage
• Upgraded hydraulic system, with larger rotors and Wilwood and Rebco calipers
• Increased Compression ratio
• Cleaned and polished Ports
• Combs style rear fender spats
• Lights added to bonnet, trunk lid, and gas door

This Jaguar Mark II presents the seasoned collector with an opportunity to add a unique, performance-minded Sedan to their collection.
History
Adhering to William Lyons' maxim of "grace, pace and space", the Mark II was a beautiful, fast and capable saloon car. It came with a 2.4 L, 3.4 L or 3.8 L Jaguar XK6 engine. The 3.8 is similar to the unit used in the 3.8 E-Type (XKE), having a different inlet manifold and carburetion (two SUs versus three on the E-Type in Europe) and therefore 30 bhp less. The head of the six cylinder engine in the E-Type was also different with its "straight port" layout as opposed to the slightly curved ports of the Mark II. The Mark II model was raced successfully in the European Touring Car Championship.