1971 Jaguar-XKE Series 3 V12 2+2
Specifications

Stock:
J71-991
Current condition:
DRIVER
Performance:
V12 5343 cc | 326.1 cu in. | 5.3 L., Zenith-Stromberg 175 CD2SE SOHC
Transmission:
Automatic
Suspension:
Independent Front / Rear
Color exterior:
Silver
Color interior:
Black
Features:
Factory Air Conditioning; AM/FM Stereo System
Mileage:
71,883 showing
Wheels:
Steel wheels with hubcaps
Tires:
Michelin Defender 215/70/15
Vin #:
1S70991BW
Engine #:
7S14638LB
Gearbox #:
10602
Other 1:
Body Number: 4S51151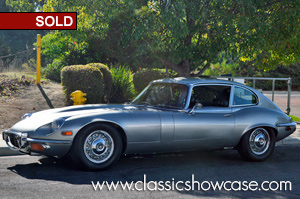 Description
(SOLD) This 1971 Jaguar Series 3 E-Type 2+2 is a 2 owner from new original California Blue-Plate car, and a great high-end driver level example that is ready to be enjoyed now. The E-Type features an attractive exterior color of Silver, complimented by a sleek and tidy Black interior. The 1971 XKE V12 is one of the most sought-after of the Series 3 line of cars – with the later-produced 1971 models being the fastest of the Series 3 line of cars. The 2+2 was purchased when new by an airline pilot, who routinely maintained and serviced his pride and joy; pilots are known to be meticulous and dedicated to the maintenance of their vehicles like no other. He enjoyed the car for many decades before passing it on to his grandson, who judiciously kept up maintenance by having Jaguar Professionals at Carlsbad British Motorcars of Carlsbad, CA perform regular service to the Jaguar.

Classic Showcase recently acquired the E-Type from the family, and has performed numerous services, and aesthetic improvements to many facets of the XKE:

Interior:

• Went through the AC system, installed new compressor, new switch, new evaporator, new seals, evacuated the system, flushed, and installed new 134-A freon
• Installed new center console
• Installed new stereo
• Removed seats, stripped and painted bases, cleaned and lubricated the tracks, broke them down and installed new foam, new diaphragms, and reinstalled seat covers
• Installed new rubber on running boards
• We made and installed new door and rear hatch door panels
• Lubricated and serviced the window mechanisms
• Painted the frame of the rear hatch door while off the car
• Removed rear hatch glass to install new seal
• Sourced and installed a new lower dash package tray
• Cleaned and refurbished steering wheel

Body:

• Spot-painted some scratches and small scrapes
• Wet sand and buff car
• Cleaned, stripped, and caulked bonnet, then primered, painted, and clear-coated the inside of the bonnet

Engine and Engine Compartment:

• Serviced the engine
• Removed and reinstalled the air filters
• Replaced coil
• Installed new rubber on splash panels
• Sorted the electrical wiring
• Installed new hardware where needed
• Changed fluids
• Restored cooling fan motor assembly
• Thorough clean up and repaint of components, sheet metal, to improve aesthetics
• Changed hoses and clamps

Undercarriage:

• Pressure cleaned and detailed complete undercarriage
• Painted components as needed
• Installed new exhaust hangers

The car's body exhibits all of the curves and lines that XKEs are known for and is in good running and driving condition. The E-Type comes complete with a set of keys, owner's manual, and an extensive folder of receipts for previous work performed. This Series 3 example provides the new E-Type collector or enthusiast a great opportunity to enjoy one of Jaguar's most famous models that is packed with the look and performance that XKEs are known for.


Receipts, Manuals, and Documentation included: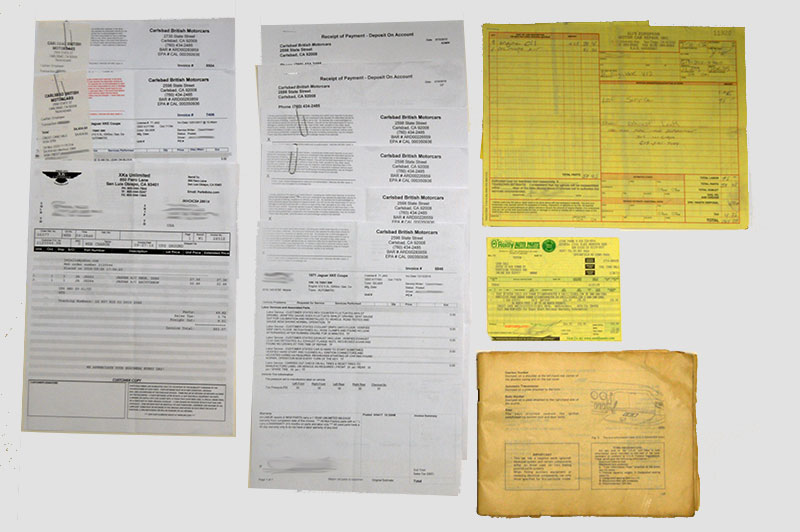 History
The E-Type Series 3 was introduced in 1971, with a new 5.3 L twelve-cylinder Jaguar V12 engine, uprated brakes and standard power steering. The short wheelbase FHC body style was discontinued and the V12 was available only as a convertible and 2+2 coupé. The convertible used the longer-wheelbase 2+2 floorplan. The Series 3 is easily identifiable by the large cross-slatted front grille and flared wheel arches, and a badge on the rear that proclaims it to be a V12. Cars for the US market were fitted with large projecting rubber bumper over-riders (in 1973 these were on front, in 1974 both front and rear to meet local 5 mph (8 km/h) impact regulations, but those on European models were considerably smaller. US models also have side indicator repeats on the front wings. There were also a very limited number of six-cylinder Series 3 E-Types built. These were featured in the initial sales literature. When leaving the factory the V12 Open Two Seater and V12 2 ± 2 originally fitted Dunlop E70VR − 15 inch tires on 15 × 6K wire or solid wheels.