1954 Jaguar XK-120 3.4 FHC
Specifications

Stock:
J54-234
Current condition:
SHOW
Performance:
3.4 litre inline six-cylinder engine, Twin SU Carbs, 160 HP at 5,200 RPM
Transmission:
4-Speed Manual
Suspension:
Independent front torsion bar and rear leaf spring
Color exterior:
Black
Color interior:
Red
Mileage:
3.698 showing
Wheels:
Steel Disc Wheels
Tires:
Vredestein Spirit Classics 185/16
Brakes:
Hydraulic Drum Brakes
Vin #:
681234
Engine #:
W9742-8
Gearbox #:
JL18446
Other 1:
Body Number: J3288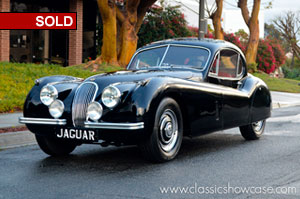 Description
(SOLD) Classic Showcase is pleased to offer this show-level 1954 Jaguar XK 120 Fixed Head Coupe to collectors who are looking to add one of the very best Concours-level XK-120 examples available in the world today to their collection. This numbers-matching Coupe was originally delivered to the famed Los Angeles, CA Jaguar dealership Hornburg Jaguar in 1953, and has since then had a rich history on the show field going back to the 1980s. Since the late 90s, the car had been under the ownership and care of a very well-known San Diego Jaguar Club of North America member and JCNA-certified judge who purchased the car.

Soon after acquiring the 120, the judge commissioned a no expense spared Concours-level restoration by Jaguar restoration experts who transformed the already impressive example to that of a Show Car; the results were impressive to say the least, producing a striking, one of a kind Concours-level 120 that proved to be a formidable force in competition, as well as a beautiful piece of art that fully exploited the curvaceous lines and overall beauty these models are known for.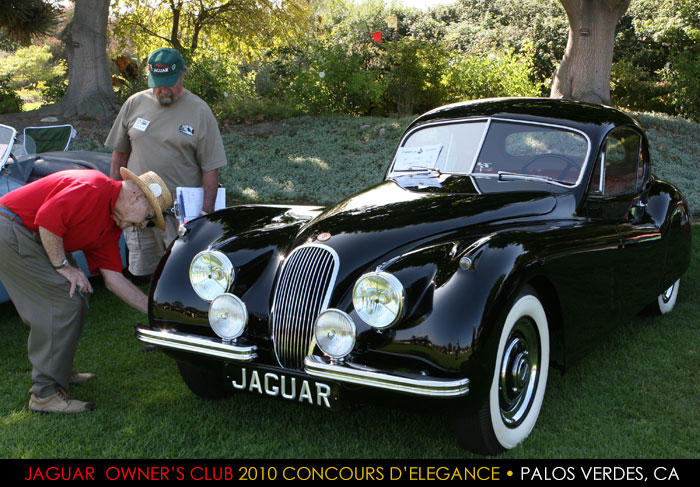 The judge went on to campaign his XK-120 for over a decade in a variety of JCNA concours events, where it won numerous Best in Class along with numerous other awards. The quality of the restoration, as well as the judicious care of the Jaguar culminated in a successful string of impressive scores, where judges were impressed with the quality and authenticity of the restoration, granting numerous impressive high scores of 99.99, 100.00, and 99.98 points in three different events from 2010 to 2011!

Accomplishments Include:

2000 - J.O.C. Best in Class
2000 - J.C.N.A. 2nd in Class Two Championship
2002 - J.C.N.A. 1st in Class Two Championship
2002 - J.O.C. Best in Class
2007 - La Jolla Motor Classic 1st Place
2010 - San Diego 2nd in Class Two - 99.990 Points
2011 - San Diego 1st in Class Two - 100.00 Points
2011 - San Diego 1st in Class Two - 99.980 Points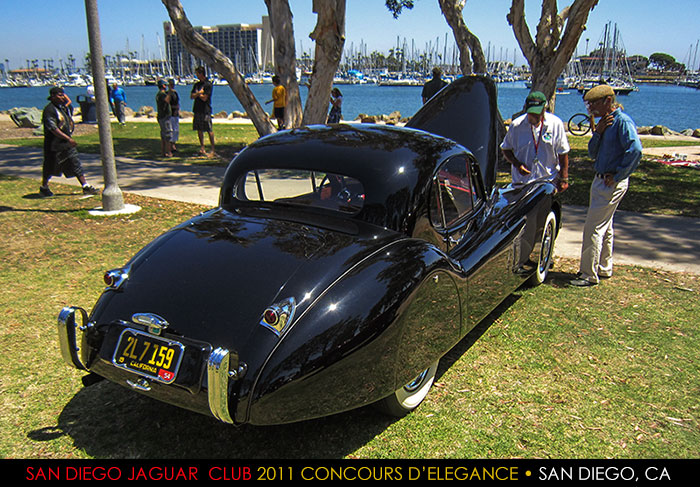 The car stands in equally pristine condition in 2021 just as it did after its restoration and is ready to continue its place on the show field circuit. The car has received a recent professional servicing, along with a new set of Vredestein tires. Also included with the car, is a fine set of bespoke fitted luggage, a breakdown kit, jack, spare, concours score cards, California black plates, and a Jaguar Daimler Heritage Trust Certificate.

This striking black and red XK-120 presents the seasoned Jaguar collector with a unique opportunity to acquire one of Jaguar's original most elegant models produced at a unique level of Concours correctness that satisfies the most discerning of tastes – be it on the show field or off!
History
While most contemporary observers of the Jaguar XK120 would be certain that it was born for greatness, it is surprising to consider that it was conceived and born as a limited-edition stopgap model. William Lyons assumed that the post-WWII fortune of his company, the recently re-named Jaguar Cars Ltd., would be made on the saloon cars that would sell so well in export markets, especially in the U.S. To that end, a new dual overhead-cam, six-cylinder, 160 horsepower engine was developed to power a new luxury sports four-door. As the new car was not yet ready, it was decided to launch the engine in a limited run of alloy-bodied roadsters. When shown at the 1948 Earl's Court Motor Show, it created a sensation. Following a speed run on a Belgian highway in 1949, in which an XK120 ran 126 mph with its windshield on and 132 mph without, there was no doubt that this would become a regular production model. After 240 alloy cars were built, production was shifted to more easily manageable steel, which was now more widely available following post-war material shortages
Authenticity