1973 Jaguar XJ6 Series 1 4.2 Sedan
Specifications

Stock:
J73-622
Current condition:
DRIVER
Performance:
6 cylinder, 4.2 L, 258.4 cu in., DOHC, SU carbs
Transmission:
4 speed manual
Suspension:
Independent
Color exterior:
Regency Red
Color interior:
Black (with wood dash)
Features:
Electric Windows, Clarion Push-Button Radio
Mileage:
83,007 showing
Wheels:
Chrome Wire Wheels
Tires:
Prime Well 205/70/15
Vin #:
UD1L72622BW
Engine #:
7L67249L
Gearbox #:
55198
Other 1:
Body Number: 4L48909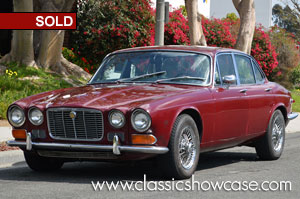 Description
(SOLD) This 1973 Jaguar XJ6 was purchased by its most recent owner in 2018. During prior ownership the car was refurbished and enhanced, which included refinishing the exterior in Red, installation of 15″ chrome-finished wire wheels to give it a sporty British stance, modification of the 4.2-liter inline-six with a European-specification head and twin SU carburetors, and conversion to a four-speed manual transmission. Additional work is said to include overhauls of the front suspension and brakes, along with a rebuild of the motor, and equipment includes black leather upholstery, power windows, two-spoke steering wheel, and a Clarion radio.

The car was refinished in its factory Regency Red during prior ownership and comes with 15″ chrome wire wheels with Jaguar-branded knock-offs, with Primewell tires fitted at each corner. The interior has been previously reupholstered, and is trimmed in black, along with charcoal carpets and wood paneling on the dashboard. Smiths instrumentation includes a 140-mph speedometer, a tachometer with a 6k-rpm redline, a clock, and gauges for coolant temperature, fuel level, oil pressure, and battery voltage.

The 4.2-liter inline-six engine has been previously rebuilt, along with new rings, bearings, timing chains, and tensioners and fitted with European-specification aluminum hemispherical cylinder head along with twin HD8 SU carburetors. The factory automatic transmission was upgraded with a Jaguar four-speed manual transmission.

This XJ6 has been properly maintained by its previous caretakers, and is now scheduled for aesthetic and mechanical improvements to a higher level by our team here at Classic Showcase. The car comes with with three keys, a Paint Code Certificate issued by the Jaguar Daimler Heritage Trust, and service records for previous work completed. The Series 1 is the most collectible of the Jaguar XJ6 models, and this particular example is even rarer given the numerous enhancements already performed to the car.
History
This is the first variant (Series 1) of the XJ6 produced from 1968 to the present time. Listed in the September 06 issue of Automobile Magazine as one of the 25 most beautiful cars ever! In 1968, the XJ was the designation given to a series of elegant flagship, full-size luxury saloons which were also the last Jaguars to have the design direction of company founder Sir William Lyons. Interestingly a year later, upscale Daimler versions were also offered called the Sovereign. Power came from a DOHC 4.2 L straight six. It also featured power steering, leather upholstery and optional air conditioning. The XJ also broke new ground mechanically for saloons with its rear independent suspension and Jaguar's first foray into rack-and-pinion steering. The first 'Mark' was introduced in 1968 and continued until 1992. During this time there were three series, Series 1, Series 2, and Series 3. From 1968 through 1973, Jaguar produced 82,126 examples of the XJ Series I. Additionally, the XJ inherited from the Mark X the twin fuel tanks positioned on each side of the boot, or trunk as we call it, and filled using two separate filler caps. This car features the optional air conditioning, four wheel disc brakes and boasts a top speed of 120 MPH.
Authenticity