1970 BSA Motorcycles 441 Victor Special
Specifications

Stock:
BSA70-4VS
Current condition:
SHOW-DRIVER
Performance:
441cc single-cylinder; Compression: 9.4 : 1;
Transmission:
4-speed manual
Color exterior:
Black, with Yellow trim
Mileage:
4,258 showing
Wheels:
3.35 x 19 / 4.0 x 18
Tires:
Front: Dunlop Gold Seal 4.00/18 / Rear: Dunlop Gold Seal 3.25/19
Brakes:
8" SLS Front, 7" SLS Rear
Vin #:
HD13595B44VS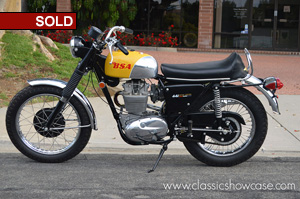 Description
This 1970 BSA 441 Victor Special is an exceptionally well preserved example that comes from a large collection of some of the finest classic motorcycles in the nation. The BSA stands in excellent condition overall, and is presented in Black with a distinctive Yellow and Silver fuel tank, and powered by a 441cc single-cylinder engine that routes power through a manual transmission.
History
The BSA 441 Victor Special is one of the last four-stroke off-road motorcycles from the British company, BSA, which closed its doors in 1973. Handsome with polished fenders and the trademark alloy tank with a bold yellow accent, it holds great interest among BSA historians, collectors and some vintage racers. Much as 45 degree V-Twins remain dominant in dirt track racing, large displacement four-stroke singles worked in motocross, trials and enduro. That is until the two-stroke revolution began in the late 1960's. But history often repeats itself, and the four-stroke single was back in 1998 with Yamaha's "revolutionary" 400 four-stroke YZ400F, the first modern four-stroke MX machine.

Predecessor to the 441 Victor, big and heavy, the four-stroke BSA 500 Goldstar was still dominant in 1959, winning five major MX events in England. Going into the 1960's BSA factory motocross champion Jeff Smith convinced the factory it was time for a complete redesign, a new, lighter motocross machine to replace the Gold Star. With just three races remaining in the 1964 500 GP season, Jeff Smith received an all new machine from BSA. Displacement was 441cc, power output was 32 horsepower, and the weight was an amazing 225 pounds for this special racer, the Victor GP. With a BSA race shop-blueprinted version the Victor GP, Smith would win the final three GPs to secure BSA's first World Crown. In 1965, Smith defended BSA's championship by winning six GPs. Smith was a tough and aggressive rider who did not like to lose a race, and success landed him in the Motorcycle Hall of Fame.

BSA took full advantage of Jeff Smith's 500cc Motocross World Championship by building a "production racer" version of the championship machine, the Victor GP. Though the GP model was imported into America in small numbers, it's lesser cousin the Victor Special came to America through 1971 in fairly large numbers and in several versions for street, trials, motocross and enduro, an early "dual-sport" bike. Though interesting and traditionally British, by this time Bultacos, Huskys and CZ's had become dominant in all forms of off-road competition and the torquey, heavy four-strokes from BSA, Triumph, Norton, Matchless, Velocette and other makers were sidelined, later to become interesting collectible motorcycles late in the 20th Century.