1970 Porsche 914-6 Targa
Specifications

Stock:
P70-057
Current condition:
SHOW-DRIVER
Performance:
2.0-liter flat-six engine with 110 hp
Performance options:
Factory Weber Carbs
Transmission:
5-speed manual
Color exterior:
Orange
Color interior:
Black (with Black Targa Top)
Features:
Blaupunkt Frankfurt US AM-FM stereo push button radio (with original speaker housing)
Mileage:
37,829 showing
Wheels:
Fuchs
Tires:
Kumho Touring Plus 205/60/14
Brakes:
Disc brakes, front and rear
Vin #:
9140431057
Engine #:
6198025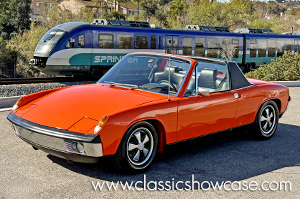 Description
This very rare and highly collectible factory-built numbers-matching Porsche 914-6 is a low production number example from a small pool of 3,351 models produced from 1970-72, and was designed by famed German auto designer Karmann. It presents in a wonderful Show-Driver condition with all the correct features, and is the product of Porsche's collaboration with Volkswagen in the 1960s, where the companies banded together to create a model that would replace 2 existing Porsche models: the 912 and Type 34 Karman Ghia; with that effort, the 914 was born, with a sportier and higher performing model with a 6 cylinder engine - the 914-6 - coming a very short time later. When the 914 model was initially unveiled in Frankfurt, Germany in 1969, it was displayed as "VW Porsche" as seen in the photo below: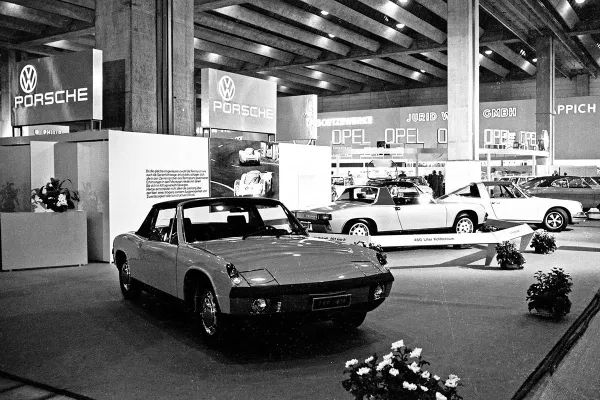 This particular example documents that collaboration, by featuring a rare badge on the car's rear valence that includes the famous circular Volkswagen logo - in addition to the Porsche logo, as seen below: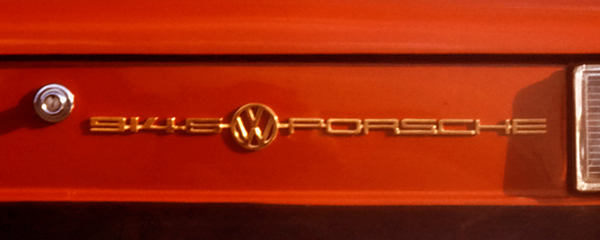 Porsche sought to downplay Volkswagen's involvement with the higher performance (and higher priced) 914/6 models that were to be sold in the United States at a premium, and as such, 914-6 models with the unique dual-branded Porsche VW badge were not sold in the U.S., and instead limited to the European market. Our example is one of the cars with the rare dual branded Porsche VW badge, and are now pleased to offer it to Porsche collectors who are in search of a highly unique, low production number model.

The 914-6 has also been under recent maintenance, with following work being performed:

• Restored the stock Exhaust system.
• Performed a full serving to the car.
• Full detail to the Undercarriage of the car.
• New Shift Bushings installed.
• New head seals installed.
• New correct seat material patterns installed.
• Carburetors were removed and completely cleaned, overhauled, and adjusted.
• A new Battery (and cable) was installed.
• An oil change was performed, along with new Brake fluid added to the 914-6.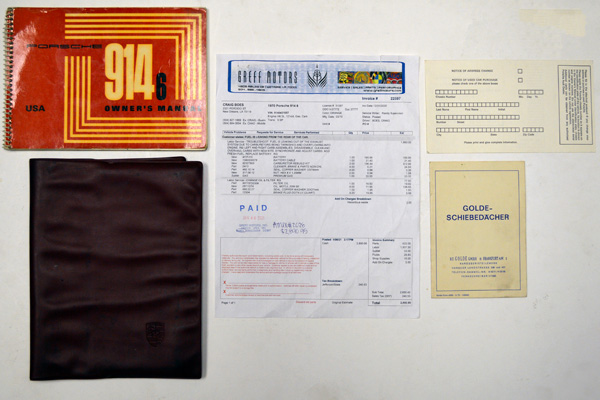 Our in-house Porsche specialists at Classic Showcase have performed a full service and detail on the car, just in time for the upcoming Summer driving season, where the car may be enjoyed on your favorite road…or track for that matter, where its next owner can experience the true power of its 6-cylinder engine and 5 speed transmission. The car includes a Blaupunkt Frankfurt US AM-FM stereo push button radio, an attractive set of Fuchs alloy wheels, the original owner's manual, tools, original factory passenger-side footrest, and driving lights. Don't miss this opportunity to experience a rare Porsche model that is not only historic, but one that is full of the style and performance that this breed of 914s is known for.
History
The Porsche 914 was introduced in September 1969 as a collaborative effort between Porsche and Volkswagen to produce a sporty car. The car they came up with was a mid-engined vehicle with seating for two and featured a Targa top. A 4-cylinder boxer engine provided the power. Volkswagen needed a vehicle to replace the aging Karmann-Ghia while Porsche was looking for another option to add to their lineup. The car sits low and the suspension was a combination of a 911-type torsion bar front suspension with a rear coil spring suspension. The headlights hide in the hood and pop-up when needed. The Targa top can be stored in the trunk.
Authenticity