1965 Jaguar-XKE Series 1 4.2 FHC
Specifications

Stock:
J65-245
Current condition:
SHOW-DRIVER
Performance:
265 hp, 4.2, 3 SU carburetors
Transmission:
4 speed Manual
Suspension:
Independent Front and Rear
Color exterior:
Gunmetal Grey
Color interior:
Dark Blue
Mileage:
100 test miles after restoration
Wheels:
Chrome Wire Wheels
Tires:
Vredenstein Spirit Classic 185x15
Brakes:
Disc brakes, front and rear
Vin #:
1E31245
Engine #:
7E4467-9
Gearbox #:
EJ3481
Other 1:
Body Number: 4E22048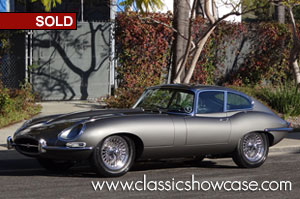 Description
June 2022 Update: there is a pending sale on this vehicle...This Jaguar E-Type Coupe has just finished its restoration and is now ready for a new home! This XKE is a great example and was a prime candidate for restoration as it benefited from long term ownership and includes many coveted Series 1 features including: covered headlights, toggle switches, and triple SU carbs. In addition, the Coupe also features: a fully synchronized 4-speed transmission for smooth shifting, the more comfortable 4.2 style of seats, armrests on the doors, and a beautiful and desirable color combination of Gunmetal Grey with a Dark Blue interior.

Included in the restoration process:

Bodywork: the vehicle was stripped to bare metal, was placed on a rotisserie, metal finished, leaded, all body parts fitted to the car and chrome, were prepared for primer, sealer, paint, base, clear, wet sanded and buffed to a fabulous Gunmetal Grey finish you see today. All chrome was re-plated where needed, and the car presents beautifully.

Mechanical: all systems on the E-Type were gone through, and the engine and fully synchronized transmission were rebuilt back to factory specifications by our dedicated team of craftsmen. In addition, the XKEs other major systems were restored and brought back to factory specifications, including the fuel, electrical, cooling, and hydraulic systems. The E-Type has also received a new wire loom, epoxy-sealed gas tank, a new fitted exhaust system, and its instruments were painstakingly cleaned and serviced.

Interior: The E-Type has received a completely new custom-tailored and fit Dark Blue interior in all of the correct materials by master trimmers in our upholstery department, nicely complimenting the beautiful Opalescent Gray exterior. This XKE also features the more comfortable 4.2 style of seats, which were restored by master trimmers, as well as armrests on the driver and passenger side doors, creating a special look that only a Series 1 E-Type can deliver.

This E-Type is now ready for the Jaguar collector that is seeking an example that can not only be enjoyed on your favorite roads and highways, but as a fierce competitor on the Concours/Show circuit. Regardless of use, this 1965 Series 1 E-Type is full of the beauty and excitement these models are known for, now fully restored to perfection. An mp4 video file of the restoration process will accompany the vehicle.
History
The Jaguar E-Type, unofficially known as the "XKE", was considered "the most beautiful car ever made" by Enzo Ferrari, who wept when he first saw the car. Revealed for the first time at the Geneva Auto Show in March 1961, the world was shocked by its stunning looks, exhilarating performance and affordability. After more than 50 years, the E-Type continues to stand out as one of the most beautiful and recognizable automobiles in the world and is considered the epitome of Jaguar's exquisite feel for body design. Designed by Malcolm Sayer, a former aircraft engineer, the car is literally a work of art having been placed as the only automobile in the permanent exhibit of The Museum of Modern Art in New York City. Sayer used scientific calculations to create the beautiful elliptical E-Type form. Of enduring quality, the E-Type was and is one of the most appealing, intelligent, elegant and intoxicating sports cars ever made like nothing before it, or would ever come after it. More than a half-century later, the E-type remains the gold standard for automotive design. The September 2015 edition of Road and Track had this to say about the E-Type Coupe. "Five-plus decades on, it remains the aspirational British supercar. E-types appear in every top collection, including the Museum of Modern Art's, and their values still defy the laws of supply and demand. Some of the features of this model are covered headlights, toggle switches, full instrumentation with styling and a design that was way ahead of its time with center console, and arm rests. Other features of this Series 1 are its steep windshield and tail lights, which are placed above the bumper line in the rear deck. Similarly, the parking lights are above the front bumper line in the front fenders. In 1964 when the 4.2 was tested, fuel consumption was rated road reported at 22 MPG, and a top speed of 140 MPH.
Authenticity