1988 Porsche 928 S4
Specifications

Stock:
P88-688
Current condition:
SHOW-DRIVER
Performance:
5.0-Liter DOHC V8
Transmission:
5-Speed Manual
Color exterior:
Black
Color interior:
Black
Features:
*A/C, Sony CDX-6T510 AM/FM/CD stereo system
Mileage:
134,092 showing
Wheels:
5-spoke Aluminum
Tires:
Front: Sumitomo HTR 225/45/17; Rear: Sumitomo HTR 225/40/17
Brakes:
Disc Brakes
Vin #:
WP0JB0924JS861688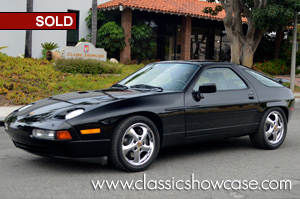 Description
This 1988 Porsche 928 S4 is a highly desirable, and great looking example that has benefited from low ownership. The 928 features an attractive Black over a Black color combination and is ready to provide a driving experience that only a classic Porsche can deliver! Under the hood, the Porsche features a 5.0-liter V8 with a 5-speed manual transmission with a limited-slip differential, and has recently received the following new part additions and various services performed to the car:

• The body was sanded and re-clear-coated.
• The body was then compounded and polished.
• The 928's wheels were fully detailed
• The undercarriage was fully detailed.
• The car's interior has been freshened up, as well as new Cocoa Mats installed.
• New timing belt installed.
• New battery installed.
• New water pump installed.
• New tensioner installed.
• New cam and oil pump gears installed.
• New coolant pressure switch installed.
• New motor mounts installed.
• New cap and rotor installed.
• New smog pump installed.
• New spark plugs installed.
• New drive belts installed.
• Newly rebuilt steering rack installed.
• Refurbished front brake calipers with new pads, rotors, brake master cylinder, clutch master cylinder, clutch slave cylinder and related feed lines.

*Please note the factory air conditioning system will need servicing before operation - contact us for a service quote.

The 928 also features power-adjustable leather sport seats, an electric sunroof and upgraded stereo system Included with the sale are the tools, manuals, service, repair records, along with a clean CARFAX report. This Porsche is ready to grab each twist and turn on your favorite road with ease, and turn heads wherever it is driven!
History
The Porsche 928 was a luxury sports-GT car that was sold by Porsche AG of Germany from 1978 to 1995. Originally intended to replace the company's iconic 911, the 928 combined the power, poise, and handling of a sports car with the refinement, comfort, and equipment of a luxury sedan. The 928 featured a large, front-mounted and water-cooled V8 engine driving the rear wheels. The 928 was regarded as the more relaxing car to drive at the time. It came with either a five-speed dog leg manual transmission, or a Mercedes-Benz-derived automatic transmission. The body, styled by Wolfgang Möbius under guidance of Anatole Lapine, was mainly galvanized steel, but the doors, front fenders, and hood were aluminum in order to make the car more lightweight. It had a substantial luggage area accessed via a large hatchback. The new polyurethane elastic bumpers were integrated into the nose and tail and covered in body-colored plastic; an unusual feature for the time that aided the car visually and reduced its drag. A Club Sport variant which was up to 100 kg (220 lb) lighter became available to continental Europe and U.S. in 1988.