1971 Porsche 911T Targa Sportomatic
Specifications

Stock:
P71-830
Current condition:
SHOW-DRIVER
Performance:
2.2-liter air-cooled, flat-six
Transmission:
4-speed Sportomatic Transaxle
Suspension:
Independent Front and Rear
Color exterior:
Black
Color interior:
Black
Features:
Air Conditioning, Jensen AM/FM/Casette Stereo
Mileage:
130,352 showing
Wheels:
Fuchs Alloy wheels
Tires:
Vredestein Spirit Classic 185/70/15
Brakes:
Disc brakes, front and rear
Vin #:
9111112830
Engine #:
6119685
Gearbox #:
905/20 7210571
Description
(SOLD) This 1971 Porsche 911T Sportomatic Targa is a spectacular example that had has minimal ownership and has always been a Southern California car since new. The Targa is powered by a 2.2-liter air-cooled flat-six paired with a 4-speed Sportomatic transaxle -which were used on select models from 1967 to 1980. It was born Gold but was later on restored with the engine out and windshield and Targa glass removed; it was then stripped to bare metal and repainted Black and the finish on the car today remains spectacular. The first owner had leased the car from a Southern California Porsche dealership, and then it was acquired by another Southern California owner. It was later acquired by yet another Southern California resident who drove the car for many years but decided to sell it after it had been resting in a garage for many years. The Targa then went to another Southern California Porsche collector, who commissioned the car to have its engine rebuilt by Alan Johnson Racing of San Diego, CA. In addition, he also had brand new leather seats made and installed and replaced all of the consumable parts you normally would in a restoration of this sort. The 911T's most recent owner - a friend of ours - purchased the car and has owned the 911T for the last 6 years. Shortly after he purchased the Targa he took it to the Streets of Carmel car show in Carmel, CA, and won a trophy and wound up showing it at several other car events after.

The following services and additions were also performed to the 911T: The car's Sportomatic transmission was serviced by Porsche specialists at Black Forest, with the shift linkage rebuilt, and a servicing of the clutch. A factory correct dual battery system was set up and installed, as were Bilstein shocks and Bilstein strut inserts. Our technicians also serviced the carburetors and performed a tune up. A full detail was also performed on the 911T, which included the undercarriage and engine bay.

All of the previous owners of this example took excellent care of this spectacular Porsche. These cars were considered to be "deluxe" 911s, and higher in price compared to a standard 5-speed manual transmission, and included factory air conditioning. It comes with a Porsche COA, receipts going back to the earlier days of ownership, recent receipts, and a detailed maintenance record book with stampings. This very stylish Black on Black 911T is a striking example that is ready to enjoy out on your favorite road or be shown at your favorite classic car event!

View a 4 minute showroom walk-around video in HD on YouTube: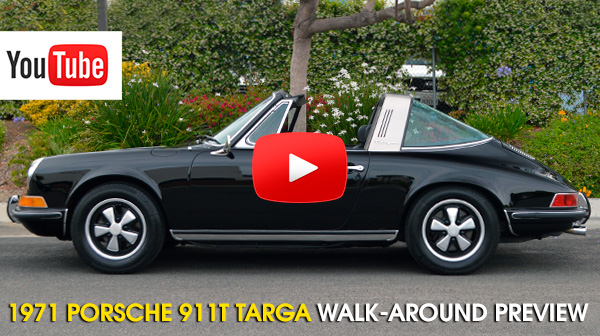 Receipts, Manuals, and Documentation included: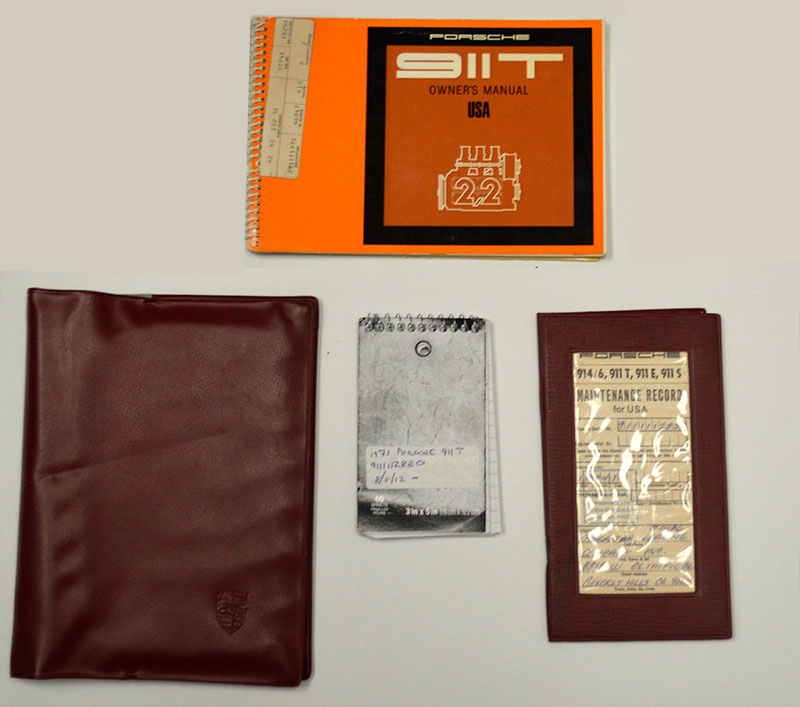 History
The Sportomatic transmission was introduced in Zuffenhausen in 1967. Based on the type 905, the Sportomatic transmission was an efficient and effective vacuum-operated single-disc dry clutch. Despite not technically being an automatic transmission, it allowed drivers to easily change gears by simply pulling the shift lever through the typical H-pattern. The flywheel was replaced by a torque converter and allowed a smooth transition through the transmission's gears. This torque converter also allowed the car to remain stationary when the clutch was engaged. Simply grabbing the shift lever would disengage the clutch, re-engaging as soon as the shift lever was released. In addition to this the torque converter also served as a torque multiplier, which allowed the driver to pull away in any of their four gears.
Authenticity