1986 Porsche 911 Carrera Coupe
Specifications

Stock:
P86-504
Current condition:
DRIVER
Performance:
210 hp; Air cooled, flat (opposed) six; carburetion Bosch K-Jetronic fuel injection
Transmission:
5 Speed Manual
Suspension:
Rear:Independent, semi-trailing link on each side with transverse torsion bars & telescopic shock absorbers & anti-roll bar, Front: Independent, MacPherson telescopic shock strut and triangulated wishbone on each side, with longitudinal torsion bars & ant
Color exterior:
Dark Metallic Gray
Color interior:
Oatmeal
Features:
Factory A/C; Nakamichi CD-352 AM/FM Radio/CD Stereo
Mileage:
156,702 showing
Wheels:
Fuchs Alloy wheels
Tires:
Front: Michelin Pilot Sport A/53 205/55/R16
Rear: Michelin Pilot Sport A/53 225/50/R16
Brakes:
Front and Rear Disc brakes
Vin #:
WP0AA2A91BS706086
Engine #:
64607286
Gearbox #:
915/73 746 0 6974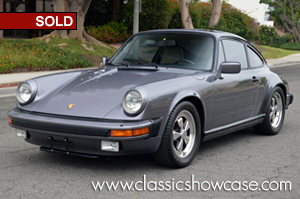 Description
This 1986 Porsche 911 Carrera Sunroof Coupe is an original high-end driver level California car that stands in excellent running and driving condition and features a striking color combination of Dark Metallic Gray with a complimenting Oatmeal interior. This rust-free example features a number of options, including:

• improved 5-speed transmission
• factory air conditioning
• in-dash Nakamichi AM/FM CD Player with 4 speakers
• optional electric sunroof
• driving lights
• H4 headlights
• Power windows & mirrors
• Cruise Control
• Built-in Sway bar

The interior is very tidy, with minimal patina on the driver's seat. These air-cooled models exhibit a sleek, distinct body design, and have become highly collectible in recent years; many consider the Carrera to be one of the best handling cars in the 911 series. The car has been garage kept and regularly maintained throughout its life and comes with a collection of records and receipts.

Our Porsche professionals here at Classic Showcase have recently serviced and detailed the car, and it has just recently received a California Smog Certificate – making it ready to be experienced out on your favorite roads and highways. This 911 Carrera would be a great addition to the Porsche collector looking who loves the kind of driving experience that only a Porsche can provide.
History
The new Porsche went into production in the fall of 1964, and the name had been changed to 911 because Peugeot had copyrighted all combinations of three numbers with a zero in the middle. One body style was all one could get on the early 911 but in September 1965, the Targa was introduced at the Frankfurt show. The Carrera made its debut at Frankfurt in 1955 and production stopped in 1967. In late 1972, the Carrera name returned. By 1985, Porsche had built more than 200,000 of the 911 series in its various forms. Warranty coverage was extended in 1986, with vehicle coverage for two years and unlimited mileage, five years or 50,000 miles on the power train, and ten years on rust perforation..