2011 Porsche 911 Carrera Coupe
Specifications

Stock:
P11-086
Current condition:
ORIGINAL-PRESERVED
Performance:
6-Cyl, 3.6 Liter;
Performance options:
345@6500 HP
Transmission:
6-speed manual
Color exterior:
Carrera White
Color interior:
Black
Mileage:
44,557 showing
Tires:
Front: Michelin Pilot Sport 235/35/19;
Rear: Michelin Pilot Sport 295/30/19
Vin #:
WP0AA2491BS7086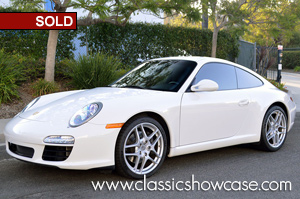 Description
(SOLD) This 2011 Porsche 911 "997" is a wonderfully preserved example that exudes all of the beauty and performance that 911s are known, presented in an updated package that includes desirable exterior and interior upgrades to Porsche's long-running 911. The 997 variety of the 911 is the internal designation for the Porsche 911 sports car manufactured and sold between 2004 (as Model Year 2005) and 2013, and is well-known for it's thrilling acceleration, handling, and brilliant dynamics, and was an evolution of the preceding 996 model. These 997 models are considered to be faster, lighter, and much more fuel efficient than the outgoing versions, with notably improved handling.

This particular example was purchased new in the state of Arizona, and has been a Western U.S. car for it's entire life. The car has been meticulously maintained, and presents wonderfully; it features a highly detailed exterior and interior and is in excellent running and driving condition as well.

Features include:

• 3.6 Liter Engine
• Central Air Conditioning
• Navigation screen
• Bose Stereo System • Heated seats
• Hands-free phone system
• Cruise control
• Alcantara headliner
• Factory stereo
• 6 speed trans
• Alloy wheels
• Leather seats
• Twin remote mirrors
• Electric sunroof
• Power seats and power windows
• Full instrumentation
• Factory floor mats
• Factory Porsche Wheels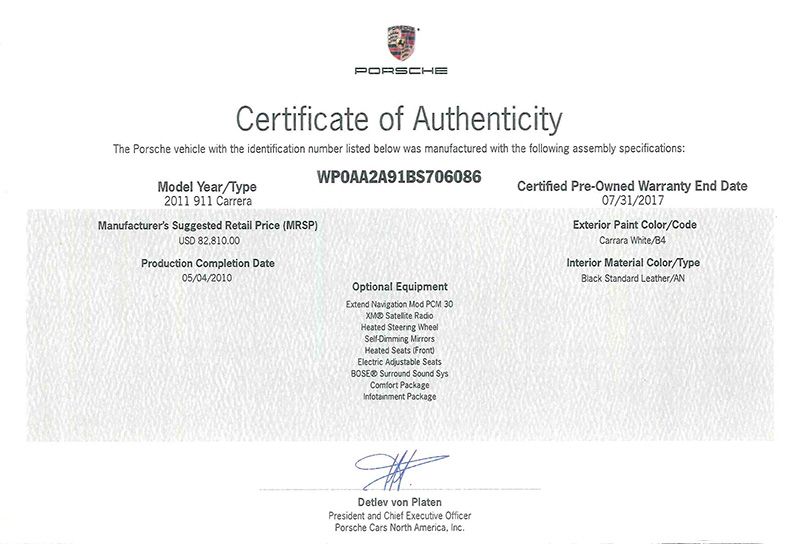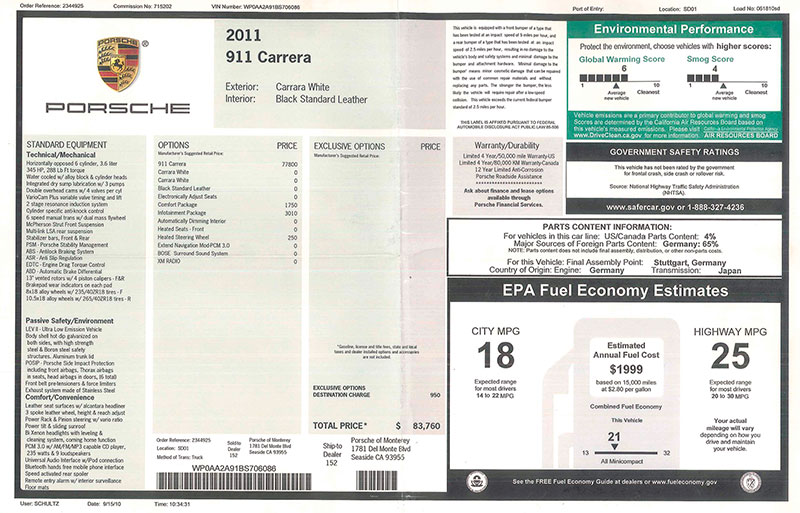 History
Porsche 997 is the internal designation for the Porsche 911 sports car manufactured and sold by German manufacturer Porsche between 2004 (as Model Year 2005) and 2013. Production of the Carrera and Carrera S coupés began in early 2004, all-wheel drive Carrera 4 and Carrera 4S began to be delivered to customers in November 2005, the Turbo and GT3 derivatives went on sale in late 2006 and the GT2 in 2007. In addition to the coupé and cabriolet versions, Targa versions of the Carrera 4 and Carrera 4S were also available, which carry on with the "glass canopy" roof design used since its first application on the 993 until the 991, which reverted to the classic targa top layout used on the early 911 Targas.

The 997 was an evolution of the preceding 996, with the most significant changes being interior and exterior styling, the most notable being the replacement of the "fried egg" headlamps used on the 996 with the classic "bug eye" units. Larger 18-inch wheels were fitted as standard, and other engineering changes include slightly increased power; however, the car is technically very similar to its predecessor. A new S version was offered, with additional power from a slightly larger engine, sports suspension, and sports exhaust.

During 2009, Porsche updated the 997 line-up including styling changes, a revised engine with direct injection and the introduction of the company's new "PDK" dual clutch transmission. As a result, the updated 997 models were faster, lighter and more fuel efficient than the outgoing versions, with improved handling. In the case of the 997 Turbo, a comprehensively re-tuned all wheel drive system with an optional "torque vectoring" system was also a part of the upgrades package; in an October 2009 preliminary review, Car and Driver magazine estimated that when equipped with the PDK transmission, the updated Turbo should be capable of accelerating from 0–97 km/h (0–60 mph) in three seconds.

The 997 received mostly positive reviews from the worldwide motoring press; even British motoring journalist Jeremy Clarkson, a known detractor of Porsche cars, noted that the 997 will "make love to your fingertips and stir your soul."