1966 Austin Healey 3000 BJ8 MK III Roadster
Specifications

Stock:
AH66-799
Current condition:
DRIVER
Performance:
6 Cylinder, 3000cc, 150 hp
Transmission:
4 Speed Manual Overdrive
Color exterior:
Old English White
Color interior:
Tan
Mileage:
43,782 showing
Wheels:
Chrome Wire Wheels
Brakes:
Power disc brakes
Vin #:
HBJ8L/33799
Engine #:
29K/RV/H 8484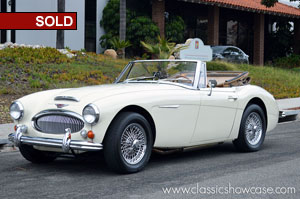 Description
The Austin-Healey 3000 Mark III was the final variation of a handsome line of British sports cars that started in 1953. It offered roll-up windows, a luxurious interior with a walnut dashboard, radio console, arm rest and arm bars, and an excellent folding soft top. Mechanical refinements included power brakes, the best center shift transmission and a 150hp engine. Approximately 44,000 Austin-Healey 3000 cars were produced from 1959 to 1967, with 17,700 being the 3rd generation 3000 models.

It is the last of "big" Healeys that were manufactured before the start of the smaller Sprite model. The 3000 models were one of the fastest cars of their time, with the rally versions being capable of accelerating to 100 kph in just 6 seconds and has had successful performances at some of the world's most prestigious racetracks including Sebring, Le Mans, and Bathurst. The BJ8 is one of the most sought-after models that Austin-Healey created and has been highly coveted by collectors of this fine British marque.

This particular example is a great, sporty driver-level example that is a 3-owner car from new. The car has a documented and storied history, as it was under previous ownership of 35 years by the President of the Austin-Healey Club of Northern California and has since been in the care of a collector who has consistently serviced the car. The BJ8 was previously restored by a prominent British Car Specialist in Northern California, who performed the following services:

• an engine rebuild
• installation of a new clutch
• new brakes
• new chrome all around
• new paint, with 6 coats of primer, paint and clearcoat
• new windshield
• fully rebuilt tachometer and speedometer

The BJ8 is powered by a 3.0-liter inline-6 engine, along with 4-speed manual transmission with overdrive. It has also received a number of mechanical and aesthetic upgrades, including:

• electronic ignition
• positive ground
• Bilstein shocks
• Stainless-steel muffler
• chrome tail pipes
• upgraded Austin-Healey valve cover

The interior of the BJ8 presents very nicely, and features full leather seats, a finely accented custom-made wood dashboard, wooden steering wheel, wool carpeting throughout, and a new dash-mounted rear view mirror with custom base. The exterior of the Austin-Healey features a custom-made luggage rack accented with teak crossbars, and a soft-close trunk lid with a shock absorber.

Classic Showcase is in the process of performing a complete vehicle servicing to enhance the car's performance, upgrading the brake system, and will also add a fresh set of (4) period correct tires to the vehicle. This Austin-Healey presents both collectors and enthusiasts alike with an opportunity to experience one of the most sought-after British sports cars of the 1960s, with an example that can be shown, driven, and enjoyed.
History
The Austin-Healey 3000 is a British sports car built from 1959 to 1967. It is the best known of the "big Healey" models. The car's bodywork was made by Jensen Motors and the vehicles were assembled at BMC's Abingdon works, alongside the corporation's MG models. The definitive 3000 Mark I debuted in 1959, complete with a larger-displacement 2,912 cc engine, improved gearbox, and new disc-type front brakes. Two models were offered, comprising the BN7 two-seater and Grand Touring-oriented BT7 2+2, and the "Big Healey" continued in progressively improved BJ8 Mark II and Mark III form through the eventual end of production in early 1968. Highly prized as an immensely capable open-air British sports car - even by today's standards - the "Big Healey" continues to be just as enjoyable and effective today as when new on racing circuits, rally stages, and winding roads alike.