1964 Porsche 356C Coupe
Specifications

Stock:
P64-870
Current condition:
SHOW-DRIVER
Performance:
1,582cc OHV Flat 4-Cylinder Engine
Transmission:
4-Speed Manual
Suspension:
4-Wheel Independent
Color exterior:
Slate Gray
Color interior:
Fawn Beige
Features:
Blaupunkt radio with 2 speakers
Mileage:
76,661 showing
Wheels:
Factory Chrome-plated Steel Wheels
Tires:
Firestone Deluxe Champion 5.60-15 (2021 date code)
Brakes:
Disc
Vin #:
128870
Engine #:
0700 611
Gearbox #:
76735 TM, 741/2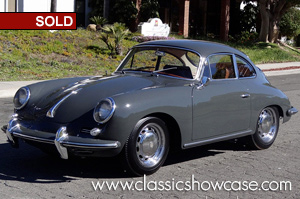 Description
(SOLD) This 1964 Porsche 356C is a single family-owned car for many years and is in a rare and desirable color combination of Slate Gray with Fawn Beige. The 356C features custom coachwork design by Reutter of Stuttgart, Germany, and is believed to have 78,000 original miles and is a great looking, and very well preserved 356C example that is ready to be enjoyed now.

This unmolested example maintains a large assortment of original parts, including the original transmission, headlight glass, wipers, glass, German heating system, and mostly original sets, door panels and dashboard. The Porsche is documented with original paperwork, has been garage-kept, and has benefited from a recent professional servicing. The Coupe's engine and carbs have been professionally rebuilt by classic Porsche specialists, and the car also features a number of new parts and improvements including: new rubber all-around, a new headliner, carpet, shoulder belts, shocks, flywheel, throw-out bearing, master cylinder, along with a new set of Firestone tires. The car comes complete with a Porsche Kardex data card, original service manual, and Porsche Certificate of Authenticity, and is ready to be driven, shown, and enjoyed.


YouTube Video: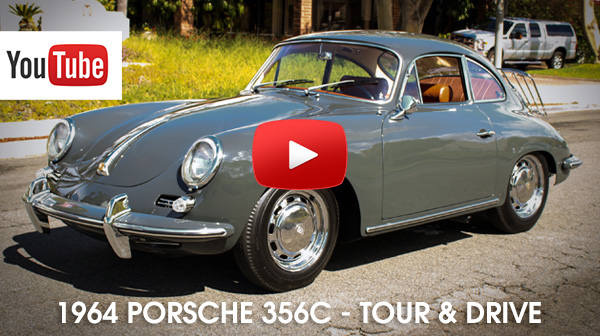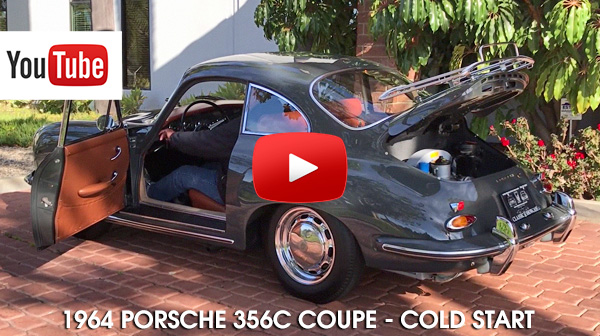 Books & Receipts: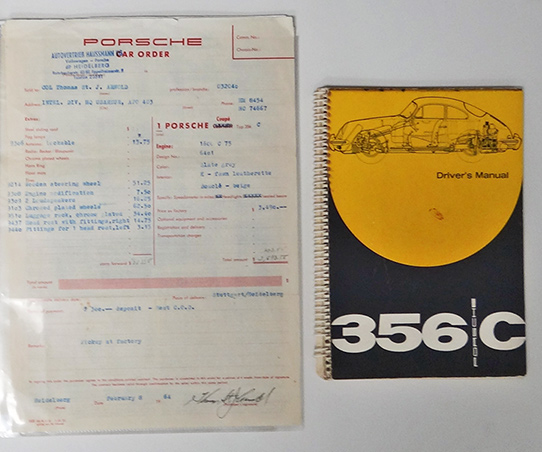 History
Porsche's Type 356, introduced in 1948, is acknowledged as one of the world's greatest sports cars. Over a 15-year production run, the handsome and durable 356 evolved from a streamlined little aluminum-bodied coupe powered by a VW-derived, 46 hp 1100 cc air-cooled flat four to a powerful autobahn burner carrying a complex, two-liter four-cam boxer Carrera engine of 130 horsepower. Its steady development brought not only coupes, but luxurious cabriolets and more spartan Speedsters and Roadsters; more than 76,000 examples were produced by the time production ceased in 1965. By the time the 356B arrived in September 1959, Porsche's first sports car had gained a one-piece rounded windscreen and 15"-diameter wheels. The newcomer's introduction brought with it further styling revisions and an engine now standardized at 1,600 cc. Outwardly very similar to the final 356Bs, the ultimate 356C model arrived in 1963 sporting four-wheel disc brakes – first seen on the 2-liter Carrera 2 – among numerous detail improvements, notably a new ZF steering gear and a compensating spring at the rear to calm the swing axle rear suspension. Engines available, both of 1.6 liters, were the 75 bhp 'C' and 95 bhp 'SC', the latter replacing the Super 90.
Authenticity