1975 Jaguar XJ6C 4.2 Coupe
Specifications

Stock:
J75-034
Current condition:
ORIGINAL-PRESERVED
Performance:
4.2 L, 6 cylinders, 162 hp, 4235 cm3 / 257.5 cui, Zenith-Stromberg 175 CD2SET DOHC
Transmission:
3 speed automatic
Suspension:
Independent Front / Rear
Color exterior:
British Racing Green
Color interior:
Biscuit
Features:
Electric Sunroof; Audiovox AM/FM/Cassette Stereo
Mileage:
91,167 showing
Wheels:
Chrome Steel Wheels with hubcaps
Tires:
El Dorado Golden Fury GTE 205/75/15
Brakes:
Disc
Vin #:
UF2J51034
Engine #:
8L20674-L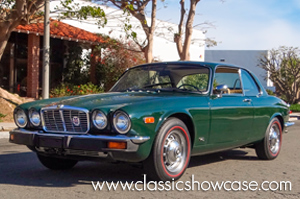 Description
Classic Showcase is pleased to offer this matching-numbers 1975 Jaguar XJ6C to collectors and enthusiasts worldwide. The Coupe drives as nicely as it looks, and features the limited pillar-less window design, and is finished in a desirable and factory-correct British Racing Green and Biscuit leather color combination. It is an original Northern California XJ6C, has been well maintained, retains its original California Blue Plates, and rests upon original Chrome Wheels and hubcaps creating a great look.

Our team performed a number of services to the XJ6C, including:

• Comprehensive servicing of the engine, transmission, and brake system.
• Removal and refreshing of the Seats to improve the interior.
• Restored the sunroof mechanism which included lubrication for proper operation
• Performed a major detail inside and out
• Sorting of the XJ6C's systems.
• Installed a new compressor and A/C lines, as well as evacuating the system and recharging the refrigerant. The XJ6C now blows cold and is ready for warm weather driving.

The Jaguar is powered by 6-cylinder engine and a 3-speed automatic transmission on the console and has a number of desirable features including: A/C, Full Instrumentation, Electric Door Locks, A Wood-trimmed Dash & Interior, Electric Sunroof, Bucket Seats, and a large Trunk for storage. These original XJ6 models have seen a surge in popularity as of late, so don't miss this opportunity to add an original BRG & Biscuit XJ6C to your collection.
History
Sir John William hailed the XJ series as 'The finest Jaguar ever.' The 'XJ' designation had been used during the vehicle's development as its codename. When the vehicle was introduced, the codename persisted. When introduced it was powered by a six-cylinder engine that came in either 2.8- or 4.2-liter displacement. In 1972 a 5.3-liter V12 unit was introduced It brought mild aesthetic improvements over the prior years. One of the more visual indications of a Series II from a Series I was the smaller front grille. A 3.4-liter engine became available in 1975. A 9,378-car run of two-door XJ coupés with a pillarless hardtop body called the XJ-C was built between 1975 and 1978. The car was launched at the London Motor Show in October 1973. The coupé was based on the short-wheelbase version of the XJ. The coupé's elongated doors were made out of a lengthened standard XJ front door. Both six and twelve-cylinder models were offered, 6,505 of the former and 1,873 of the latter. All coupes came with a vinyl roof as standard. The taut surfaces and tightly drawn curves of the short-wheelbase Series 2 four-door translated perfectly with two fewer portals, and the glassy greenhouse of the coupe, backed by thicker C-pillars and the falling curve of the trunk lid, emphasized this car's driven rear wheels in a way that was both sporting and elegant.