2021 Chevrolet Corvette C8
Specifications

Stock:
CH21-956
Current condition:
ORIGINAL-PRESERVED
Performance:
6.2-liter V8 engine with 490hp
Transmission:
8-speed Automatic
Suspension:
Control arms (front and rear)
Color exterior:
Sebring Orange
Color interior:
Black
Features:
8-inch infotainment system, wireless Apple AirPlay and Android Auto standard options, Carbon-Fiber Mirrors
Optional equipment:
3LT Package
Mileage:
6,212 miles from new
Wheels:
19-inch front wheels and 20-inch rears
Tires:
Front: Michelin pilot sport 245/35/19 Date code 2020; Rear: Michelin pilot sport 305/30/20 Date code 2020
Brakes:
Brembo 4-piston caliper vented discs brakes
Vin #:
1G1YC2D41M5101956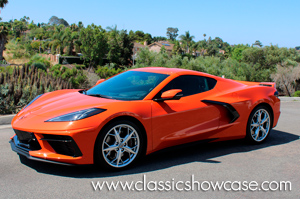 Description
This 2021 Corvette C8 is a single owner from new car and stands in near brand-new condition. This example features the last year of the desirable Sebring Orange exterior color, which is fully complimented with a sleek Black interior. It is mid-engine car that features the deluxe 3LT package, and is powered by a 6.2-liter V8 engine with 490hp with an impressive 8-speed automatic transmission with paddle shifters. The Corvette also has a number of other desirable options, including an 8-inch infotainment system, wireless Apple AirPlay and Android Auto standard options, 19-inch front wheels and 20-inch rears, carbon-fiber mirrors and much more. The car is quite a performer, and capable of achieving 0 to 60 MPH in less than 3 seconds. This 2021 Corvette is full of contemporary styling and options, and is now ready to turn heads on your favorite drive…or racetrack! In addition, the Corvette just recently received a full service and checkup by authorized Chevrolet Corvette technicians (which is recommended every 6,000 to 7000 miles); the service included: servicing the transmission, changing of oil filters, tire rotation, and software updates to the car's Apple Play system.
History
The 2021 Chevrolet Corvette is a mid-engined two-door sports car offered in either coupe or hardtop convertible body style. The mid-engine feature places the vehicle's engine behind the seats instead of the traditional placement out in front. There is a small cargo space in the back of the vehicle and a front trunk (or "frunk") with more room in front of the driver, allowing for thirteen cubic feet of storage space. The unique mid-engined feature is usually seen in high-end supercars, such as Ferrari or Lamborghini, but the 2021 Chevy Corvette is a supercar in its own right, able to blast from zero to sixty miles per hour in under three seconds.

This model is one that has grabbed attention since its very first generation. Today's modern Corvette is unmistakably a sports car, but one designed with comfort in mind as well as speed and a streamlined and sleek look. Its metallic colors and racing stripes are made to draw the eye while the car is out on the road, with multiple color options offering a guaranteed uniqueness to each and every car manufactured. The Corvette's powerful engine is no longer under the hood, but that has only made it a sleeker instrument of power. Anyone wanting a sporty vehicle that is sure to turn heads can put the 2021 Chevrolet Corvette on their list of vehicles to consider and test drive.