1972 Honda 600 Z Coupe
Specifications

Stock:
HO72-517
Current condition:
ORIGINAL-PRESERVED
Performance:
598.4 cubic inch, forced-air 4 stroke engine
Transmission:
4-speed manual transmission
Color exterior:
Yellow
Color interior:
Houndstooth Black & White
Features:
Radio, Am/FM/CD stereo system
Mileage:
48,286 showing
Wheels:
Mag Wheels
Tires:
Yokohama Adron HF
Vin #:
AZ600-1006517
Engine #:
N 600 250 6486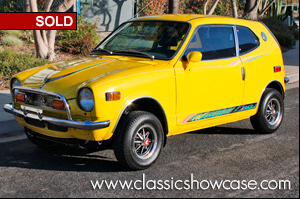 Description
(SOLD) Classic Showcase is pleased to offer this 1972 Honda 600 Z Coupe to microcar collectors and enthusiasts worldwide. This 600 Z is full of character and patina and was stored on the showroom floor of a Honda dealership in Utah for nearly 30 years! The Honda is powered by 4-stroke 2-cylinder engine that is matched with a stock 4-speed transmission and is in fine running and driving condition.

The 600 Z combines aerodynamic styling, monocoque construction and outstanding performance with an emphasis on safety and economy to give you years of driving pleasure! The single overhead camshaft engine has a high-power output with an exceptionally flat torque curve for a small displacement engine. Designed with ease of maintenance in mind, the engine, transmission and differential are mounted in the crankcase and share a single oil supply.

The interior of the Honda features a safety padded dashboard and doors with recessed handles that are free from hazardous projections. Other occupant protection features include adjustable head restraints mounted on the front bucket seats and seat belts.

Precision rack and pinion steering, power assisted front disc brakes, with a dual brake system enhance driving security. The turn signal system includes a hazard warning flasher. A brake system failure warning lamp is mounted on the dash, and a steering wheel lock is combined in the ignition lock.

The 600 Z also features:

• McPherson Struts
• Rack & Pinion Steering
• Mag Wheels
• Pop-Out Windows & Hatch
• Engine Dress-Up Kit

The Honda comes complete, with an original owner's manual, a Motor Trend magazine article about the Honda 600 Z, along with several original 600 Z magazine advertisements. This Honda is ready to be enjoyed on your favorite drives or shown at your favorite classic car events and is without a doubt ready to turn heads and generate smiles anywhere it goes!
Extras Included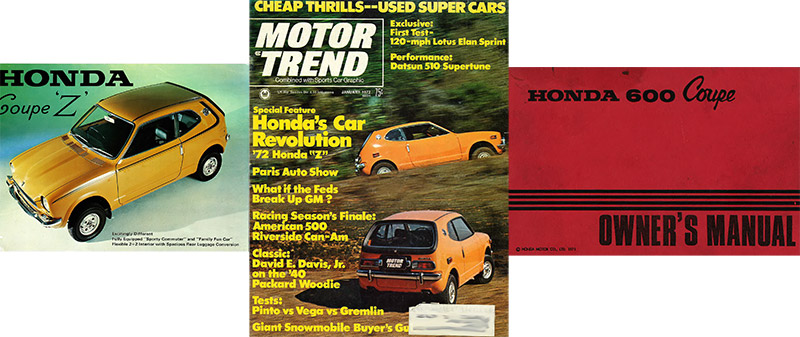 History
The two-door Honda Z debuted in October 1970 and was marketed until 1973 in most countries. American sales (only with the larger 598 cc engine) lasted for model years 1970 through 1972, ending prior to the 1973 introduction of the Civic. Marketed as the "sport coupé" version of the N600, the two were sold side by side at American motorcycle dealerships until the first stand-alone automobile dealers opened to market the Civic. Total production was 40,586 units. In certain countries, such as the US, the Z600 name simply reflected the engine's size of 598 cc (36 cu in). The smaller-engined Honda Z360 was available in Japan (and other markets, such as Australia) with a 354 cc (22 cu in) twin. In the UK they came only in 600 cc form and were called simply "Honda Z" with no mention of the engine size in the name. As with all cars in the kei class, the Z360's specifications were tightly governed. The Z360 originally featured an air-cooled, 354 cc, two-cylinder SOHC engine with a four- or five-speed transmission driving the front wheels. Outputs were 31 PS (23 kW; 31 hp) at 8,500 rpm for the Act and Pro versions, and 36 PS (26 kW; 36 hp) at 9,000 rpm for the sportier TS and GS models. The Z600 model's 598 cc SOHC engine was rated at 36 PS (26 kW; 36 hp). In December 1971, the Z360 received a facelift and a water-cooled engine, it also produced 36 PS (26 kW; 36 hp) at 9,000 rpm. Only a month later, the 31 PS engine used in the lower spec variants (Standard, Deluxe, Automatic, Custom) also became water-cooled. The engine's technical achievements reflected influences from Honda's larger, 1.3 L, air-cooled four-cylinder used in the Honda 1300 coupe and sedan. The Z featured coil sprung and independent front suspension and leaf springs on a beam axle rear suspension. The interior accommodated two adults, with a very small rear seat. A rear glass hatch with a black plastic surround opened to a shallow cargo area. Below the cargo area a compartment, accessible via a lid beneath the number plate, held the spare wheel and tools. Later versions, after a November 1972 facelift, deleted the extra lid and also moved the license plate down to the position it vacated. These also received the new EA engine of 356 cc (22 cu in), now only available in a more powerful, 36 PS (26 kW; 36 hp) version. Production ended in 1974, after the new Civic had arrived and the oil crisis had diminished the market for "fun" cars.