1967 Jaguar-XKE Series 1 4.2 FHC
Specifications

Stock:
J67-876
Current condition:
UNDER RESTORATION
Performance:
4.2 Liter, 6 Cylinder, 3 SU Carbs
Transmission:
4 speed Manual
Suspension:
Independent
Color exterior:
Light Blue
Color interior:
Dark Blue
Mileage:
78,498 showing
Wheels:
Chrome Wire Wheels
Brakes:
Disc
Vin #:
1E32876
Engine #:
7E8881-9
Gearbox #:
EJ 8357
Other 1:
Body Number: 4E24235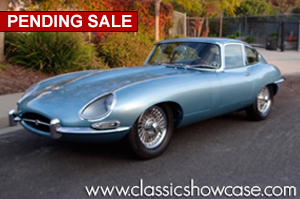 Description
This 1967 Jaguar XKE Series 1 Fixed Head Coupe is a very original, numbers-matching 2 owner from new California car that is a true survivor. The Coupe's original owner was a pilot who enjoyed the car for many years and serviced it regularly; in our experience, pilots have shown to take immaculate care of their vehicles! The mileage on the odometer is believed to be original, and after our comprehensive examination of the car we would believe this to be accurate. The XKE features a mostly original interior and headliner, along with original Jaguar lap belts and a period-correct AM-FM-8 Track push-button stereo system. The E-Type was repainted by its 2nd owner, features dual bullet mirrors on the bonnet, and is complimented by its Dark Blue interior.

AUGUST 2022 UPDATE: Our team is currently in the process of performing restorative work to this XKE Coupe, which includes a newly painted exterior, as well as mechanical improvements along with upgrading the car's interior components.
History
The Series 1 4.2 is a very user friendly, sporty driver, and one of the most collectable of the E-Types. These are wonderful cars with a 4.2 liter engine with 3 SU carburetors and a fully synchronized transmission. Some of the features of this model are toggle switches, full instrumentation with styling and a design that was way ahead of its time with center console, and arm rests. Other features of this Series 1 are its steep windshield and tail lights, which are placed above the bumper line in the rear deck. Similarly, the parking lights are above the front bumper line in the front fenders. In 1964 when the 4.2 was tested, fuel consumption was rated road reported at 22 MPG and a top speed of 140 MPH.