1981 Ferrari 308 GTB
Specifications

Stock:
FE81-281
Current condition:
ORIGINAL-PRESERVED
Performance:
2.9 L Tipo F106 AB V8
Transmission:
5-speed manual
Suspension:
Independent
Color exterior:
Black
Color interior:
Beige
Features:
Concorde AM/FM/Casette Stereo
Mileage:
21,657 kilometers (showing)
Wheels:
Cromodora Wheels
Tires:
Michelin XWX 205/70/14
Vin #:
31281
Engine #:
A021 01568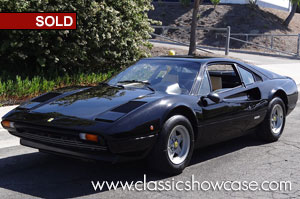 Description
This 1981 Ferrari 308 GTB is a Pininfarina-designed European model, and a one-owner-from-new example; a true garage find that has been carefully stored since 1982! The original owner of this veritable time capsule was residing in Spain at the time of purchase on April 17, 1981, while also holding a residence north of San Diego, CA in the seaside village of La Jolla. The Ferrari was soon shipped Stateside to Houston, Texas before arriving in California, where it has spent its entire life. The 308 was lightly driven during 1981 and reported to have performed well; but due to the owner's busy work and travel schedule that routinely found him commuting between Europe and the States, he found he simply didn't have enough time to properly experience his new Ferrari. Soon after, he made the difficult decision to let the car hibernate in his garage in La Jolla from 1982 to the present day.

After some careful deliberation in the beginning of 2022, the owner made the decision to let another collector become the steward of his preserved Ferrari; after researching a number of options, he decided to have the team at Classic Showcase assist him with finding a new home for his truly original example. Our team was happy to oblige and are now pleased to offer this 308 GTB to collectors looking for a truly original, one-owner-from-new classic Ferrari example.

As the car has not been driven since 1982, it should be noted that it will need a full service "wake up" before it is able to be driven. In addition, the Ferrari's major mechanical systems will need to be gone through before operation, as well as replacing items such as tires and a battery, etc. In addition to tending to the car's mechanicals, its next owner may also wish to improve upon the GTB's original Black exterior paint – which is lightly lacquer checked due to the aging process, but aesthetically the car still presents very well as it stands today. It should also be noted that the car in its present state does not meet the State of California's emission standards, and as such cannot be sold in the state of California to a retail buyer; the car can however be sold to a dealer or be sold out of state or country to anyone.

It is getting increasingly hard to find decades-old, preserved examples such as this, much less one with a documented single ownership history, low mileage, and a high degree of originality. The car comes complete with a set of tools, owner's manual, and a signed-off title from Spain.
History
The Pininfarina-styled Ferrari 308 GTB was introduced at the Paris Motor Show in 1975 as a supplement to the Bertone-shaped 2+2 Dino 308 GT4 and a direct replacement for the 2-seater Dino 246. Its F106 AB V8 engine was equipped with four twin-choke Weber 40DCNF carburettors and single coil ignition. European versions produced 255 PS (188 kW; 252 bhp) at 6600 rpm (7700 rpm redline), but American versions were down to 240 PS (177 kW; 237 bhp) at 6,600 rpm due to emissions control devices. European specification cars used dry sump lubrication. Cars destined to the Australian, Japanese and US market were fitted with a conventional wet sump engine from the GT4 . A notable aspect of the early 308 GTB was that, although still built by Carrozzeria Scaglietti, its bodywork was entirely made of glass-reinforced plastic (or GRP), allowing a very light weight of 1,050 kg (2,315 lb). This lasted until June 1977, when the 308 was switched to steel bodies, resulting in an overall weight increase of approximately 150 kg (331 lb).

Five-spoke 14-inch alloy wheels were standard, while 16-inch wheels were made available later as an option together with sports exhaust system, high compression pistons, a high lift camshaft and a deeper front spoiler.

At the 1977 Frankfurt Motor Show, the targa topped 308 GTS was introduced. All GTS' used a wet sump engine and were steel-bodied. European GTB models retained the dry sump lubrication until 1981. There were 3219 GTS' and 2897 GTBs made from 1975 to 1980. Only 808 of the fibreglass (vetroresina in Italian) version were made.

In 1980 Bosch K-Jetronic mechanical fuel injection was offered, leading to the 308 GTBi and GTSi; emissions decreased, at the price of a power drop to 214 PS (157 kW; 211 bhp) on European models and 205 PS (151 kW; 202 bhp) on federalized models. The fuel injection was coupled to a Marelli MED 803A Digiplex electronic ignition, incorporating a coil, distributor, and ignition module for each bank of cylinders.

Outside, the car was identical to the 308 GTB/GTS, save for metric sized wheels of a slightly different design, fitted with Michelin TRX radial tyres—Michelin XWX on 16-inch wheels were optional. Inside, the clock and oil temperature gauge were moved to the centre console; there were also a new black steering wheel with three perforated spokes, and seats of a different pattern. 494 GTBis and 1743 GTSis were produced before the model was succeeded by the 308 Quattrovalvole in 1982.