1954 Jaguar XK-120 3.4 SE DHC
Specifications

Stock:
J54-452
Current condition:
ORIGINAL-PRESERVED
Performance:
3.4 L, 3,442 cc double overhead camshaft inline 3.4 engine, 2 SU carbs
Transmission:
4 speed manual
Suspension:
Independent front torsion bar and rear leaf spring
Color exterior:
Cream
Color interior:
Black
Wheels:
Chrome Wire Wheels
Vin #:
S678452
Engine #:
F3810-8S
Gearbox #:
L845B
Other 1:
Body Number: P2744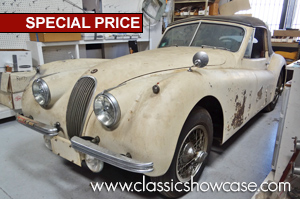 Description
This numbers-matching 1954 Jaguar XK-120 SE DHC is a 2-owner from new example and has benefited from a documented history of low ownership. The Drop Head Coupe was built on July 21, 1954, dispatched on August 12, 1954, and originally distributed by famed Jaguar dealer Hornburg of Los Angeles, CA. The Jaguar is very complete and will make an excellent restoration candidate for the collector that is looking for a wonderful core example with a solid history of low ownership history and originality.

The XK-120 was first purchased in 1955 by a Texas resident who some months later sold the DHC to a local USAF fighter pilot who was stationed at Parron Air Force Base in northeast Texas. The Pilot was a true car enthusiast, and enjoyed the Jaguar for many years, where he took great care of the car, upgrading it with performance and comfort features to enhance his driving experience.

The Pilot was so enamored with the Jaguar marque that he later purchased a roomier Mark II Sedan that the rest of his family could also enjoy. As the Mark II became the "Jaguar of choice" for his family, the XK-120 Drop Head Coupe was carefully kept in garage storage, where the Pilot often thought of restoring it himself. He later purchased several more Jaguars that he drove, as well as campaigned in events, and was very active in his local Jaguar community, where he joined the Nation's Capital Jaguar Owner's Club and served as a judge for several years in their annual Concours d'Elegance events. As the family went on to purchase and enjoy other Jaguars in the early 1970s, the DHC hibernated in the garage. Before his passing in 2021, the Pilot often spoke to family and friends about the need to "get his hands greasy again" and restore his XK-120; the Pilot's family members would also like to see his dream realized, and in 2022 made the decision to let another collector that is just as passionate about the cars and the hobby as he was take over his pride and joy, letting the 120 live on to provide as much joy and excitement it did for the Pilot and his family.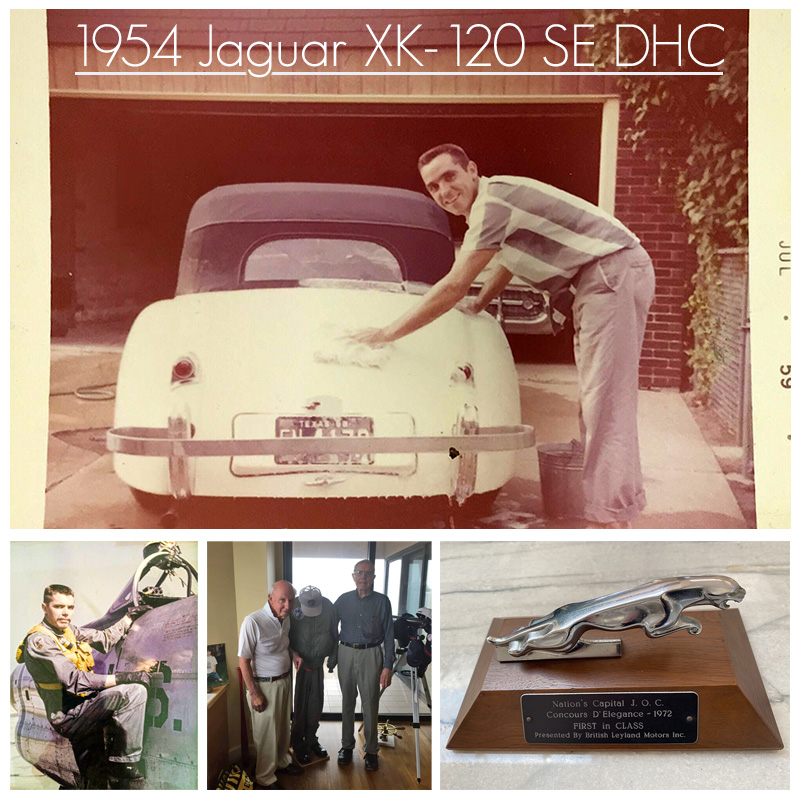 The XK-120 is now available to collector's worldwide, with the only caveat being it be restored to its former glory. Classic Showcase has a number of restoration services and options available, please inquire if you'd like to learn more about this excellent, highly original XK-120 example!
History
In 1951 the 'SE' spec was introduced. In American markets it was called "MC" to note the car used the high-performance cylinder heads from the Jaguar C-Type Le Mans race car, along with largely SU carburetors, and dual exhaust pipes offering a power boost to 210 bhp at 5,750 rpm. Jaguar took what they had learned from their success with the XK120 and 'C'-Type in racing and rallying and applied it to road going XKs. Power was increased from 160 bhp to 190 bhp and wire wheels added to provide better cooling for the drum brakes. The optional 'C'-Type head upped the power output even further to an estimated 210 bhp. During the Second World War, William Lyons and his staff designed what would be the world's first high-volume twin cam engine. After the war, a short wheelbase chassis and a two-seat sports body were married to this new engine and when the XK 120 was introduced at the 1948 Earl's Court Motor Show. The XK 120's body was a fresh, minimalist design with gracefully flowing curves running front to back, while the modern chassis design provided excellent handling. The XK inline six-cylinder engine, originally producing 160 horsepower, was mated with a four-speed manual transmission, and
Authenticity