1973 Volvo 1800ES Sport Wagon
Specifications

Stock:
VO73-921
Current condition:
DRIVER
Performance:
1.9 liter 125hp Inline-4 engine
Transmission:
5-speed manual transmission with overdrive
Color exterior:
Blue
Color interior:
Blue
Features:
Air Conditioning
Mileage:
204,171 showing
Wheels:
Volvo Mag Wheels
Tires:
Pirelli 185/65R15
Brakes:
Power assist brake system
Vin #:
1836354-007921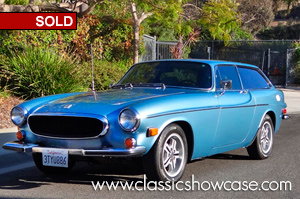 Description
Classic Showcase is pleased to offer this latest addition to our inventory – this 2-owner from new 1973 Volvo 1800ES Sport Wagon. This California car is 1 of only 8,077 built 1800ES models and presents in a wonderfully preserved driver-level condition. The 2nd (and most recent) owner has taken great care of the Volvo since purchasing it from the original owner in 1979, always keeping it properly maintained and carefully stored when not being driven.

The Volvo comes equipped with A/C, AM-FM/Cassette Stereo, 4-wheel disc brakes, a padded dash, Volvo mag wheels, tinted glass, variable-speed wipers, and a desirable 5-speed manual transmission with overdrive. In addition, the Volvo includes its original windows sticker, owner's manual, warranty books, 1 set of keys and numerous maintenance receipts.
History
In the autumn of 1971, a new version of Volvo's famous P1800 sports model debuted as the 1800ES. Featuring a new extended roofline, the 1800ES carried a profile more reminiscent of an estate, but its sleek bodylines and trim proportions made it a new kind of vehicle - a sports wagon. Mechanicals were the same as for the 1800E coupe, including fuel injection and a choice of manual or automatic gearboxes, and the 1800ES was only produced for two model years, 1972 and 1973. In 1972, both versions were produced in parallel, but only the 1800ES was produced in 1973. When the last cars were built in 1973 and production ended, this was due to increasingly rigorous safety requirements, particularly those of the USA, which would simply have been too expensive to comply with. Today, the 1800ES, with its unique styling and end-of-the-line status, is not only highly collectible, but also very satisfying to drive with its proven mechanicals and purposeful European GT-style panache.