1963 Jaguar-XKE Series 1 3.8 OTS
Specifications

Stock:
J63-941
Current condition:
SHOW-DRIVER
Performance:
3.8 Liter, 6 cylinder, 3 SU carbs
Transmission:
4 speed Manual
Suspension:
Independent Front / Rear
Color exterior:
Opalescent Silver Blue
Color interior:
Blue with Blue top
Mileage:
39,479 showing
Wheels:
Chrome Wire Wheels
Brakes:
Front & Rear Disc Brakes
Vin #:
3878941
Engine #:
R9947-9
Gearbox #:
EB8948JS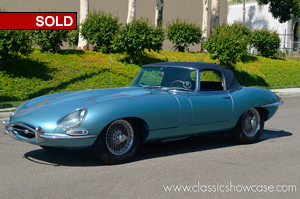 Description
Classic Showcase is pleased to offer this 1 owner from new, 1963 Jaguar E-Type. This Opalescent Silver Blue roadster is an original California 'black plate' car that has greatly benefited from a Show/Driver level restoration our team performed on the car several years ago and is now ready for a new home!

The XKE was originally purchased in California in 1963 by a gentleman who regularly enjoyed the car with his family, frequently taking them on scenic drives and creating memories they fondly look back on; decades later, the owner left the car in the care of his daughter, who made the decision to have his pride and joy restored back to factory standards. She researched various options and finally decided to commission our team of Jaguar restorers elevate it to a level worthy of showing and driving! We were excited by the opportunity to work on an XKE with single family ownership and set out to bring the car back to its former glory, just as it left the dealer's showroom in 1963.

Some of the highlights from the bare metal restoration included:

• New paint in the car's original color, along with a new interior created in all the proper materials
• Fully rebuilt 3.8 liter engine, with new exhaust and hydraulic systems
• Rebuilt carburetors, comprehensive servicing including the valves and distributor
• New dash top, header tank, water hoses and clamps, master, and clutch cylinders
• Restored the XKE's original radio
• Replaced fuel lines, restored air intake, balance links, bonnet screen, heater box metal
• Restored the top bows, created, and installed a new convertible top, as well as boot cover.
• Restored the steering wheel, vent hardware, added a new rear-view mirror

Regardless of use, this Series 1 E-Type is a wonderful restored example and choice for the collector or enthusiast seeking a fine XKE Roadster that can be shown, driven, or collected as an investment classic vehicle.
History
The Series 1 Jaguar XKE was introduced, initially for export only, in March 1961. The domestic market launch came four months later in July 1961. The cars at this time used the triple SU carbureted 3.8 liter 6-cylinder Jaguar XK6 engine from the XK150S. The first 300 cars built had flat floors and external hood (bonnet) latches. These cars are rare and more valuable. The outside bonnet latch is the most sought after of all the Series I E types. Only 500 external bonnet latch cars were made, of those, 385 were left-hand drive roadsters, 20 left hand drive coupes, 91 right hand drive roadsters, and 4 right-hand drive coupes. After that, the floors were dished to provide more leg room and the twin hood latches moved to inside the car.