2000 Ferrari 360 Modena
Specifications

Stock:
FE00-435
Current condition:
SHOW-DRIVER
Performance:
Mid-mounted 3.6L/395 HP twin-cam V-8 engine with flat-plane crankshaft
Transmission:
Gated 6-speed manual gearbox
Color exterior:
Blu Tour de France Metallic
Color interior:
Cuoio leather
Features:
Power adjustable mirrors, Leather-trimmed dash and headliner, Power adjustable mirrors
Mileage:
25,105 showing
Wheels:
18-inch 5-spoke alloy wheels
Brakes:
Brembo 4-wheel disc brakes with Red calipers
Vin #:
ZFFYU51A6Y0122435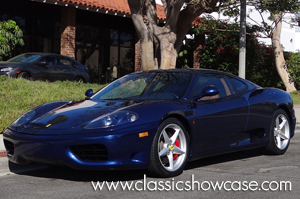 Description
Classic Showcase is pleased to offer this latest addition to our inventory, a 2000 Ferrari 360 Modena. The Pininfarina designed Ferrari features an aluminum chassis and a spectacular color combination of "Blu Tour de France" Metallic exterior, with a beautiful, contrasting "Cuoio" leather interior that presents wonderfully. The Modena features a desirable manual transmission and shows a mere 25,105 miles on the odometer; the 360 also features a simply gorgeous leather interior which also includes form-fitting bucket seats, round gauges and vents, a 3-spoke steering wheel and a polished alloy gate-patterned shifter that really brings the sharp look and feel of the Modena all together.

October 2022 update: Our master technicians have performed a comprehensive service and freshening up of the Modena, elevating it to that of our Show/Driver condition level. Work included the following:

• Added a new set of Michelin 275/40/ZR 18 tires
• Paintwork, including wet sanding and buffing
• A full vehicle detail, including the exterior, interior, and undercarriage.
• Added new Ferrari emblems to the wheels and hood.

The Ferrari is now ready for showing or driving on your favorite roads where you can unleash and experience the true power of the car's twin-cam V-8 engine, as you enjoy one of the world's most satisfying motoring experiences that only a Ferrari can deliver!
History
Named after Enzo Ferrari's birthplace and the town in which he founded his legendary Scuderia, the Ferrari 360 Modena was introduced as the replacement for the F355 that, at more than 11,000 produced, was the most successful production model in the company's history. Its design brief constituted a new direction for Ferrari road cars, one that centered on reduced weight and higher chassis rigidity. To that end, Ferrari partnered with aluminum manufacturer Alcoa to produce a clean-sheet spaceframe chassis design that was 28% lighter and 40% stiffer than the 355's steel unit despite the larger dimensions required for the Modena's increased interior space.

Naturally, the gorgeous, all-aluminum, Pininfarina-designed body, which was recognizable as a descendent of the 250LM, was manufactured by Scaglietti, now a wholly owned Ferrari subsidiary. Aerodynamics were brilliantly executed in service to high downforce without disrupting the overall form, which was devoid of any visually disruptive add-ons thanks to an elegant flat undertray design drawn from Ferrari's Formula 1 experience.

The most powerful normally aspirated V-8 engine ever built by Ferrari in its time, the 360 Modena's midmounted 3.6L/395 HP twin-cam V-8 employed a flat-plane crankshaft, five valves per cylinder (three intake, two exhaust), titanium connecting rods and variable intake geometry and valve timing. Buyers could choose between the traditional gated 6-speed manual transmission or the F1 6-speed semiautomatic. Michelin tires on lightweight alloy wheels and 13-inch Brembo disc brakes with painted calipers translate the driver's input into superb handling and braking.