1970 Chevrolet Corvette LT-1
Specifications

Stock:
CH70-389
Current condition:
DRIVER
Performance:
LT-1 engine, 5.7L, 370hp
Performance options:
Holley Carbs
Transmission:
4 speed
Color exterior:
Red
Color interior:
Black
Features:
Delco AM/FM push-button Radio
Mileage:
48,146 showing
Tires:
BF Goodrich Radial T/A 215/70/15
Vin #:
194670S415389
Engine #:
705415389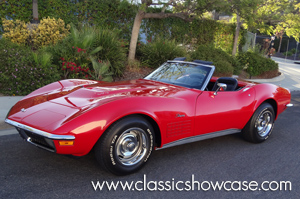 Description
SALE SPECIAL! Please click here for price. This 1970 Chevy Corvette LT-1 presents nicely in Monza Red over a Black interior. It has its original LT-1 engine and is an all matching-numbers model. It has been exercised sparingly over the past 19 years by its most recent owner and has been well-maintained in Southern California.

This Corvette is one of 1,287 LT-1 Corvettes sold during the 1970 model year. As a dealership option, the LT-1 engine was a raucous, racing-inspired engine with solid valve lifters, a high-lift camshaft, and high-winding personality that redefined small-block performance. Displacing 350 ci (5.7-liter) with a compression ratio of 11:1, it was rated at 370 hp at 6,000 rpm and 380 lb-ft of torque at 4,000 rpm. It was enough to push the Corvette from 0-to-60 mph in less than 6 seconds. The LT-1 was a true high-performance powerhouse, featuring many heavy-duty components not found on the Corvette's standard 350 engine, including a stronger cylinder block with four-bolt main caps, forged aluminum pistons, a high-rise aluminum intake manifold, a baffled oil pan for reduced windage, a transistorized ignition system, and high-volume oil and fuel pumps.

This is the perfect opportunity to own a wonderful LT-1 with limited ownership. You'll be getting a traditional-style Corvette with beautiful lines and the performance you'll enjoy on your favorite winding roads. This Corvette comes complete with stock Rallysport wheels, an AM/FM push-button Delco radio, power windows, and full instrumentation.
History
The LT-1 is a Chevrolet small-block engine produced by the Chevrolet Division of General Motors between 1970 and 1972. It was available exclusively in the Corvette and Camaro and was produced in relatively small quantities. It is regarded today as one of the greatest of the Chevy small-blocks, an engine that has been in production since 1955. Chevrolet introduced the 350 cu in (5.7 L) LT-1 in 1970, making it available in both the Corvette and Camaro. It was an optional engine in the Corvette, and available and as part of the high-performance ZR-1 option. Between 1970 and 1972 only 53 ZRs were produced, making it one of the rarest Corvettes. In the Camaro, the engine was available only through the high performance Z/28 option, replacing the 302 cu in (4.9 L) engine designed to compete in Trans Am racing's 305 cu in (5.0 L) class installed in 1967-1969 cars. The LT-1 had an 11.0:1 compression ratio, Holley 780 cu ft/min (22 m3/min) 4-barrel carburetor, and solid lifters. For the first year the LT-1 was rated at 370 hp (276 kW) in the Corvette and 360 hp (268 kW) in the Camaro - both of these being brake horsepower (bhp) gross hp ratings. Despite the disparity between the two cars' listed hp there was no difference between the engines.