1972 DeTomaso Pantera L
Specifications

Stock:
PA72-292
Current condition:
SHOW
Performance:
Ford 351 Cleveland engine with 4 bolt mains; 10.1:1 compression ratio; max HP rating of 410 @ 5600 rpm
Transmission:
ZF 5-speed manual transmission
Suspension:
Front and rear independent suspension with coil springs and sway bars
Color exterior:
Red
Color interior:
Black
Options:
Power steering, Electronic Fuel Injection,
Mileage:
1,632 showing
Wheels:
Custom Alloy Wheels
Tires:
Michelin Pilot SX - Front: 235/40/17 / Back: 335/35/17
Brakes:
Power-assisted four-wheel disc brakes
Vin #:
THPNMD04292
Description
This show-level 1972 DeTomaso Pantera comes from a collection in the San Diego, CA region, and was the subject of a complete, meticulous, professional bare metal restoration. This example has been restored by Pantera specialists, and features a number of noteworthy performance, comfort, and aesthetic upgrades, and quite frankly one of the best we have ever seen. The Pantera is complete, and ready for competition at your favorite Concours or Automotive event!

Mechanical Highlights:

• An expertly detailed custom-built Ford 351 Cleveland engine with 4 bolt mains.
• Boss head conversion with studs and guide plates
• A specially built cooling system with aluminum radiator and dual fans
• Forged and Balanced Pistons
• State of the art computerized electronic port fuel-injection system
• Custom brake system featuring Sierra calipers
• Rare factory power steering upgrade
• A completely detailed suspension rebuild, with Carrera racing shock absorbers and bushings.

Other Highlights:

• A beautiful, complete leather GTS interior with custom carpets
• Carbon fiber detailing on the bumpers, interior door panels, and mirrors
• Custom built billet aluminum 17 inch wheels

This example was also heavily featured in Pantera International Magazine, where it graced the cover and was written about extensively with an in-depth 6 page article: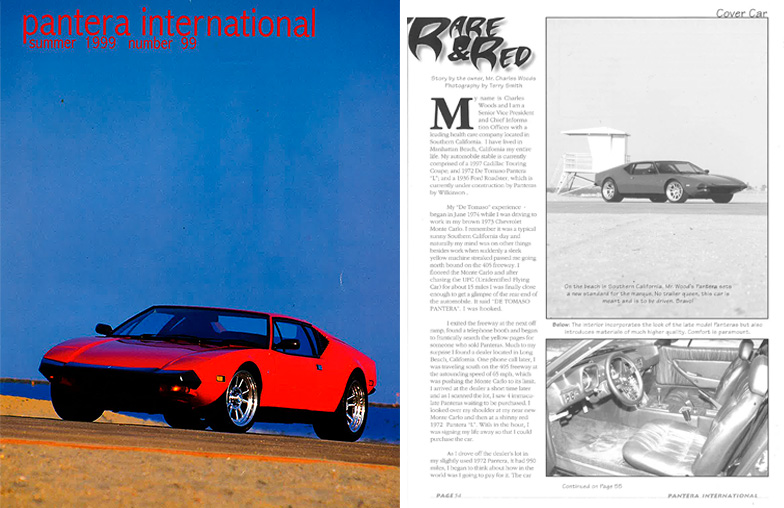 From carbon fiber trim on the bumpers, interior door panels and mirrors, to the custom-built Ford 351 engine, this Pantera is ready for not only the show field, but as a great investment vehicle as well.
History
The Pantera is a mid-engined sports car produced by the De Tomaso car company of Italy from 1971 to 1992. Italian for "Panther", the Pantera was the automaker's most popular model, with over 7,000 manufactured over its 20-year production. The car was designed by the Italian design firm Ghia by American born designer Tom Tjaarda and replaced the De Tomaso Mangusta. Unlike the Mangusta, which employed a steel backbone chassis, the Pantera was a steel unibody design, the first instance of De Tomaso using this construction technique. The Pantera combines captivating Italian coachwork, a mid-engine race car chassis and a high-performance Ford V8 engine. The Pantera was assembled in Modena Italy by De Tomaso Automobili, a manufacturer of specialty automobiles founded in 1959 by former race car drivers Alejandro and Isabelle De Tomaso. The Pantera was designed for the Ford Motor Company at the request of Lee Iacocca, within Ford it was referred to as "Lee's car". They were sold in North America at specially selected Lincoln/Mercury dealerships. In 1971 the Pantera trumped its muscle car, Corvette, Jaguar and Porsche competition both in looks and in performance; it was the ultimate muscle car and sports car and ruled the streets on two continents. It accelerated to 60 mph in 5.5 seconds, covered the 1/4 mile in 13 seconds flat and had a top speed of 150 mph with a 4.22:1 final drive in the ZF. Automotive journalists of the time were unanimous in praising the Pantera's handling, claiming it set new standards for responsiveness and road holding in production automobiles. The "Lusso" (luxury) Pantera L was introduced in August 1972 as a 1972½ model. For the US market it featured a large black single front bumper that incorporated a built-in airfoil to reduce front end lift at high speeds, rather than the separate bumperettes still used abroad, as well as a 266 Net hp (198 kW) Cleveland engine. The "L" model featured many factory upgrades and updates that fixed most of the problems and issues the earlier cars experienced. It was so improved that the 1973 DeTomaso Pantera was Road Test Magazine's Import car of the year beating Ferrari, Maserati, Lamborghini, and Porsche. During 1973 the dash was changed, going from two separate pods for the gauges to a unified unit with the dials angled towards the driver. The U.S. version 1974 Pantera GTS featured GTS badging but not the higher compression, solid lifter engine of its European GTS "cousin".