1959 Jaguar XK-150S 3.4 FHC
Specifications

Stock:
J59-599
Current condition:
SHOW
Performance:
3,442cc DOHC I-6, 3 SU carburetors
Transmission:
4-speed manual with overdrive
Suspension:
Independent Front, Live Rear Axle
Color exterior:
Pearl Grey
Color interior:
Red
Mileage:
84,828 showing
Wheels:
Chrome Wire Wheels
Vin #:
T835997DN
Engine #:
VS1731-9
Gearbox #:
JLS42919JS
Other 1:
Body #: J9742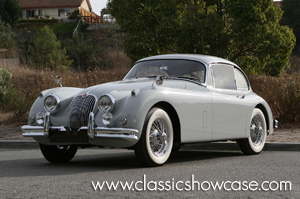 Description
DECEMBER 2022: This 1959 Jaguar XK-150S was previously restored by the team at Classic Showcase, and has been a stellar performer on the show field since it's restoration. The Jaguar has been pedigreed and achieved an astonishing (3) 100-point 1st place showings in a calendar year and declared a Jaguar Clubs of North America Champion! Its current owner is continuing that tradition with a new first place showing at this year's Las Vegas Concours, as well achieving first place showings at JCNA sanctioned events in Idyllwild, CA and in Scottsdale, Arizona. All of us at Classic Showcase are elated with these results and are now pleased to announce that this Champion show car is now available for purchase, where it is ready to take on the upcoming 2023 Concours circuit!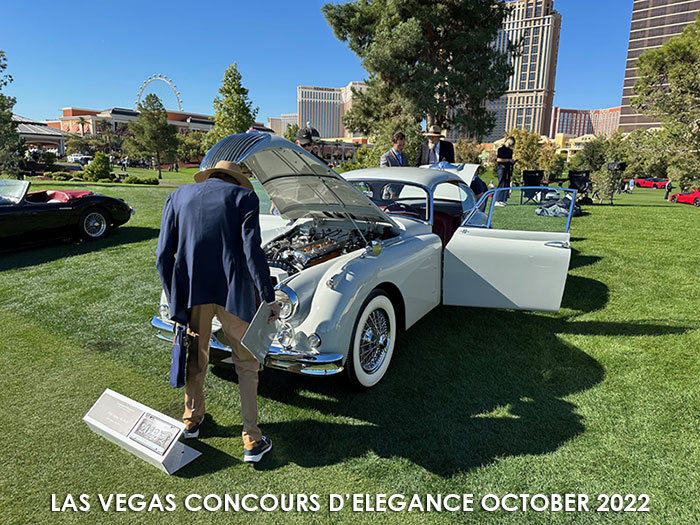 Every so often, a piece of automotive history comes along that exemplifies perfection, elegance and significance that many try to attain, but few actually achieve. The Jaguar XK-150S presented here is a highly original numbers-matching car that is not only one of the marque's most elegant Coupes ever produced, but is a highly coveted show-winning example steeped in a rich history that separates it from the rest of the pack. With a gorgeous color combination of a Pearl Grey exterior with a luxurious, deep Red interior, this overdrive-equipped 150S is one of only 108 Coupes ever produced, personifying the elegant style that is part of the vintage Jaguar experience. From its previous ownership by Academy Award-winning actor Ray Milland, to numerous Concours and Show victories, this meticulously restored 1959 Coupe is truly one of the finest and unique examples available in the world today. This XK-150S was originally owned by legendary Academy Award winning actor Ray Milland, who starred in such revered films as 1945's "The Lost Weekend" and Alfred Hitchcock's 1954 classic "Dial M for Murder" among countless other films of the era. Mr. Milland, a native Welshman, relocated to California after signing on with MGM films, and later purchased the 150S where he regularly drove, raced, and displayed the Coupe. As well, Mr. Milland's Coupe was a participant in the Litre Bug Twist slalom, the Valley Touring Society's Time Trials, and at the 21st Santa Barbara Road Races in the 1960s. From 1967 to the 2000s, the 150S had been in the ownership and care of a single family. In recent years, the Coupe was comprehensively restored, and has since gone on to become a JCNA National Champion, scoring 3 consecutive 100 point victories in a single year, including a First Place score at the coveted Dana Point Concours in Southern California. Throughout the course of its life, this 150S has proudly held the spotlight, stealing attention and admiration of the Jaguar faithful and public at large.

In recent years, the 150S was the subject of an exhaustive, nut and bolt correct and proper restoration to the highest standards by Jaguar marque specialist, Classic Showcase, Inc. of Oceanside, CA. With perfection being the goal of a no expense spared restoration, virtually every component on the Coupe has been rebuilt or replaced. The vehicle was initially fully disassembled and photographed, with the body being entirely stripped to bare metal, with work done on the doors, bonnet and boot, all of which were then fitted to the Coupe's body. The 150S was then epoxy sealed and painted, and finally color sanded and buffed to perfection. In addition, new rubber, seals, grommets and gaskets, trim and all bright work was replaced, or re-plated. A new, luxurious and fully correct interior was installed and includes padding, carpet, door panels, dash and finely crafted leather seats that were custom fitted and upholstered in all proper materials.




Mechanically, the 150S has been restored to perfection with a complete engine re-build to factory specifications, including newly matched and calibrated pistons, oil pump, timing chain, bearings, valves, guides, and seals. The Coupe's head has been completely rebuilt, along with the carburetors and clutch system. It has also received a new hydraulic system, and it's drive shaft has been balanced, and the shocks restored. The Coupe's chassis and countless other parts have been correctly refinished, along with new suspension bushings, new wire harness, a restored and epoxy sealed gas tank, and rebuilt fuel pump. All electrical components, gauges, knobs, switches have been rebuilt, rescreened or replaced as well. The Coupe's seat frames and stone guards have also been restored, and a new triplex windshield was installed along with new drip panels, stainless steel exhaust system, and a completely rebuilt transmission with overdrive and rear end. A tremendous amount of time was spent on detail and quality craftsmanship throughout the Coupe's restoration process. This 150S provides the discerning Jaguar collector with a unique opportunity to own a very rare and spectacular vehicle whose restoration is fully photo documented, and includes Jaguar Diamler Heritage certificate of authenticity and comprehensive restoration DVD. With its significant ownership history, meticulous restoration, and recent Concours victories, this XK-150S stands as a truly unique vehicle that embodies the elegance and timeless design of the Jaguar 150S automobile series. Don't miss this chance at acquiring a piece of legendary Jaguar motor history!
History
First introduced in 1948, the Jaguar XKs caused a sensation; race car performance on the road, and with an unsurpassed level of sophistication and timeless beauty. During the XK 150 model run (May 1957 through March 1961), a significant engine modification became available, the S engine which featured changes in the head and intake manifold design. Additional changes in the design and structure of the bearings, clutch and flywheel were made in anticipation of the additional torque and wear. The identification-plate engine serial number defined the engine as delivered from the factory. Externally, the S-type models can be identified by an S placed on the passenger door beneath the quarter-window. The XK150S roadster is highly appreciated by collectors who value its combination of luxury and performance with classic XK Jaguar style.
Authenticity