1963 Jaguar-XKE Series 1 3.8 FHC
Specifications

Stock:
J63-031
Current condition:
DRIVER
Performance:
3.8L, 6 Cylinders, 3 SU Carbs
Transmission:
5-speed manual
Suspension:
Independent Front / Rear
Color exterior:
Dark Blue
Color interior:
Red
Features:
Air Conditioning with rotary compressor; AM-FM Digital Stereo with 4 speakers and Bluetooth connectivity
Mileage:
97,648
Wheels:
Chrome Wire Wheels
Tires:
Michelin XVS 185 HR 15
Brakes:
Wilwood brakes, and a 4.2 Power Booster
Vin #:
888031
Engine #:
R9661-9
Gearbox #:
E88373Js
Other 1:
Body Number: V5111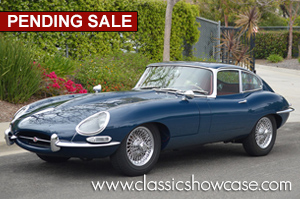 Description
SALE SPECIAL! Please click here for price. This numbers-matching 1963 Jaguar E-Type Coupe is a very stylish and eye-catching example that has been upgraded with numerous performance and comfort upgrades. The tastefully modified Coupe features a highly attractive color combination of Dark Blue over a Red interior and has been comprehensively restored to a high-end Driver level by Jaguar professionals. The car has been driven sparingly since it's restoration with only 1000 miles traveled for setup and sorting out, and is now ready to be driven, shown, and enjoyed! This XKE would also make a great candidate to be taken to a higher Show/Driver level with minimal effort - please inquire about a condition-level upgrade.

As an earlier Series 1, it features many desirable items such as an alloy center console, glass covered headlights, and toggle switches on the dash. The XKE also features a host of performance-minded upgrades, providing a powerful package that is ready to tackle any driving scenario:

  • upgraded 5-speed transmission
  • Polished Headers
  • Stainless Steel Exaust
  • Alloy radiator with auxiliary fan, header and catch tank
  • Gear reduction starter
  • High output alternator
  • Electronic Ignition
  • Wilwood brakes with a 4.2 power booster
  • Dynamat sound deadening installed throughout the car to reduce heat and provide a quieter ride

In addition, the XKE has also been the recipient of many aesthetic and comfort upgrades including:

  • Air conditioning with a Rotary compressor
  • 4.2 leather seats for additional comfort
  • Moto Lita steering wheel
  • Shoulder & Lap Belts
  • Digital AM-FM Stereo System with 4 speakers and Bluetooth connectivity
  • Electric Antenna
  • Dual Mounted Helmet Mirrors on the bonnet

The E-Type also includes a battery tender and a collection of books. This high-end Driver level XKE Coupe presents the new or seasoned Jaguar collector with a great blend of both performance and comfort upgrades that performs and drives as good as it looks!


Videos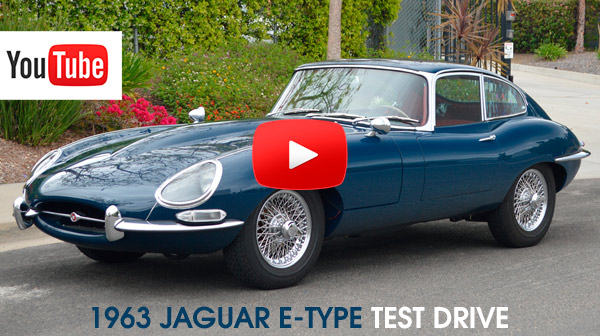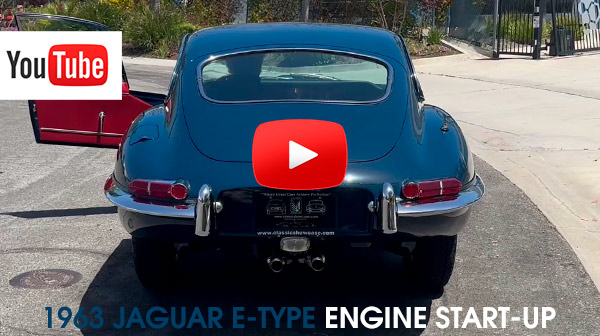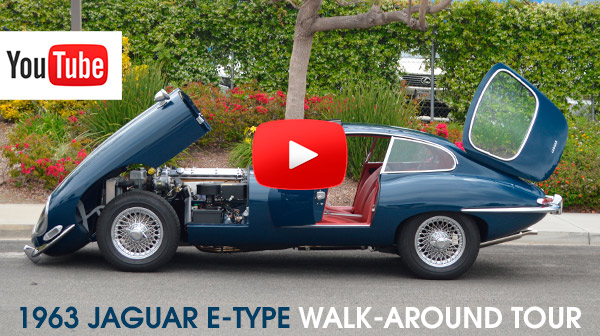 History
The Series 1 was introduced, initially for export only, in March 1961. The domestic market launch came four months later in July 1961. It can be recognized by glass covered headlights (up to 1967), small "mouth" opening at the front, signal lights and tail-lights above bumpers and exhaust tips under the license plate in the rear. The earlier Series 1 E-types from 1961-3 are some of the most desirable of all the Series; It is a timeless example of class and elegance joined with the strong racing history that Jaguar has become so well known for.
Authenticity