1966 Jaguar-XKE Series 1 4.2 OTS
Specifications

Stock:
J66-897
Current condition:
UNDER RESTORATION
Performance:
6 cylinder, 265 HP, 4.2, overhead cam, 3 SU carburetors
Transmission:
4-speed manual
Suspension:
Independent Front and Rear
Color exterior:
Opalescent Green
Color interior:
Biscuit, with Tan top
Wheels:
Chrome Wire Wheels
Vin #:
1E11897
Engine #:
7E6530-9
Gearbox #:
EJ5682
Other 1:
Body Number: 4E3335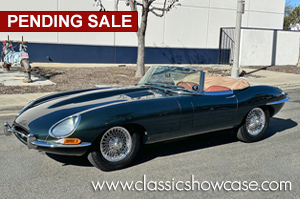 Description
AUGUST 2023 Update: This 1966 Jaguar E-Type is a numbers-matching example that is in the process of being restored to that of our Show-Driver level. Included in the XKE's restoration process: the Roadster has already been stripped to bare metal in our body shop, and was placed on a rotisserie where the metal was finished, leaded, with most body parts being fitted to the car and chrome in our assembly area, where the car is nearing the final stages of restoration!

All mechanical systems have been gone through, and the XKE's stock 4.2 liter engine was rebuilt back to Jaguar factory specifications. The transmission, clutch, and hydraulic systems have also been restored, and installed in the roadster. Our trimmer is in the process of installing a complete, new custom tailored and fit interior while other areas of the E-Type are tended to.

Upon completion, this XKE will not only be a great example to drive and enjoy, but one that would be a formidable competitor on the show field as well! Stay tuned to this profile for updates on the progress of this restoration!


History
The series I 4.2 is the most user friendly, best driver, and most collectable of the E-Types. These wonderful cars had a 4.2 liter engine with 3SU Carburetors and a fully synchronized transmission. Some of the features of this model are covered headlights, toggle switches, full instrumentation with styling and design that was way ahead of its time, center console, arm rests, and fully synchronized transmission.
Authenticity