2015 Porsche 911 Targa 4S
Specifications

Stock:
P15-188
Current condition:
ORIGINAL-PRESERVED
Performance:
3.8L flat 6 cylinder engine
Transmission:
7-speed manual transmission
Suspension:
Porsche active suspension management
Color exterior:
Racing Yellow
Color interior:
Black (leather)
Features:
Retractable Targa top
Options:
Sport exhaust system, Bose audio system, Racing Yellow seat belts,14-way power adjustable front sport seats, Power steering plus, Front and rear park assist, PCM with navigation, voice control and Bose audio
Mileage:
30,170 showing
Wheels:
20 inch Black painted wheels
Tires:
Front: Pirelli Pzero 245/35ZR20 / Rear: Pirelli Pzero 305/30/20
Brakes:
Ventilated Disc Brakes
Vin #:
WP0BB2A94FS133188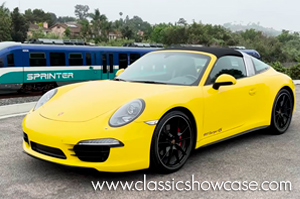 Description
SALE SPECIAL! Please click here for price. This 2015 Porsche Targa 4S is powered by a 3.8L flat-6 engine rated at 395 HP at 7,400 RPM, a 7-speed manual transmission and full-time all-wheel drive. The Porsche presents as a truly stunning example that brings the classic Targa styling together in a modern package that is full of notable performance, comfort, and aesthetic upgrades, including:

• Retractable Targa top
• Porsche active suspension management
• Sport exhaust system
• Bose audio system
• Racing Yellow seat belts
• 20 inch Black painted wheels
• 14-way power adjustable front sport seats
• Bi-Xenon headlights with PDLS
• Power folding mirrors
• Power steering plus
• Front and rear park assist
• PCM with navigation, voice control and Bose audio
• 4-wheel disc brakes with cross-drilled and vented rotors operated on by 6-piston front and 4-piston rear red-painted calipers

Our team of Porsche professionals have scheduled a full service and detail to the Targa 4S, where it will be ready to enjoy on your favorite roads and highways....just in time for the upcoming Spring 2023 driving season!
History
What Porsche buyers gained in the open-air appeal and structural rigidity of the first 911 Targa of 1967, they lost in the interruption of the 911's sweeping roofline profile. That changed with the introduction of the 10th-generation Targa of 1996, the 993, but that car lacked the signature brushed metal hoop of earlier models. In 2014, Porsche corrected the situation, returning the reinforcing roll hoop complete with the same brushed finish as the original and recapturing that essential 911 silhouette. Now a fully retractable feature rather than the original lift-off panel or the later sliding-glass roof section, the 2014-2015 edition of the Targa is once again the perfect compromise between a true coupe and a convertible, thanks to typically brilliant Porsche engineering.