1994 Jaguar XJS Convertible
Specifications

Stock:
J94-400
Current condition:
SHOW-DRIVER
Performance:
4.0-liter 24-valve Straight-6
Transmission:
4-speed ZF automatic with overdrive
Suspension:
Independent Front Suspension, Wishbone Independent Rear
Color exterior:
Glacier White II
Color interior:
Biscuit with Tan top
Optional equipment:
Sport Handling Package
Wheels:
Dayton Wire Wheels
Brakes:
Four wheel Disc Brakes
Vin #:
SAJNX2743RC194400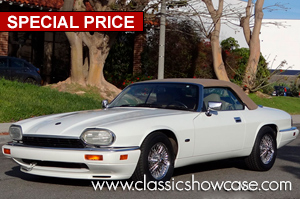 Description
SALE SPECIAL! Please click here for price. This one-owner from new 1994 Jaguar XJS convertible comes in an attractive color combination of of Glacier White II with a Biscuit leather interior and is powered by a 4.0-liter 24-valve Straight-6 engine, and matched with a 4-speed ZF automatic overdrive transmission. The example comes equipped with all of the standard XJS features, including optional Sport Handling Package, compact disc player and chrome Dayton 72-spoke wire wheels. It also includes a convertible tonneau cover and storage bag, tool kit, all owner's manuals with the case, two factory remote key fobs and several extra keys.
Manuals, Books, and other Documentation included: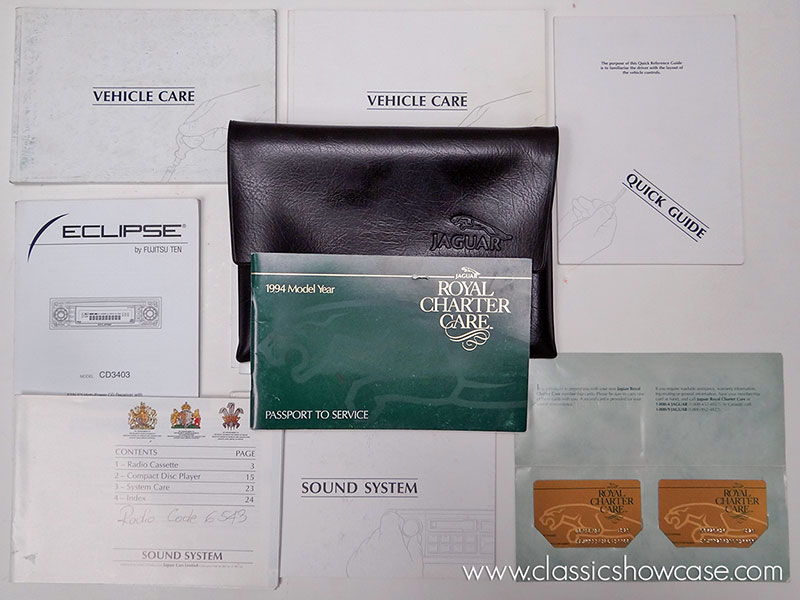 History
The Jaguar XJ-S is a luxury grand tourer manufactured and marketed by British car manufacturer Jaguar from 1975 to 1996, in coupé, fixed-profile and full convertible body styles. There were three distinct iterations, with a final production total of 115,413 units over 20 years and seven months. Originally developed using the platform of the then current William Heynes designed XJ saloon, the XJ-S was noted for its prominent rear flying buttresses. The early styling was partially by Jaguar's aerodynamicist Malcolm Sayer — one of the first designers to apply advanced aero principles to cars. Sayer died just before the XJ-S body styling was frozen for production. In its final iteration produced from 1991 to 1996 it was manufactured after Jaguar was acquired by Ford, who introduced numerous modifications — and eliminated the hyphen in the name, marketing Jaguar's longest running model simply as the XJS.