2005 Boston Whaler 170 Montauk
Specifications

Stock:
BW05-505
Current condition:
ORIGINAL-PRESERVED
Performance:
90 h.p. 4-stroke Mercury outboard engine
Color exterior:
White
Color interior:
White with a folding Bimini Stay-fast Top
Optional equipment:
Karavan Trailer, with 2 tires (and a mounted spare) with Bearing Buddies. Swim platform with retractable stainless ladder.
Vin #:
BWCE1133A505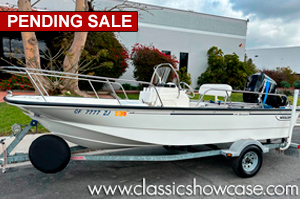 Description
The 2005 Boston Whaler 170 Montauk is a classic center console boat that offers a versatile and durable design. It measures 17' 4" long, a beam of 7 feet 4 inches, and Draft of 12", making it compact and easy to maneuver. A truly classic model with a timeless design that is well balanced and more than ready for your next boating adventure!

This example originally came from the Midwest and has been used exclusively in freshwater lakes with low hours logged and garaged-stored on a trailer when not in use. The 170 Montauk is constructed with unsinkable foam flotation, which adds to its safety features, and features a semi deep-V hull design that provides a smooth and dry ride even in rough water conditions. The Montauk is powered by a 90 horsepower four-stroke Mercury outboard engine, which delivers reliable and efficient performance. The 2005 Boston Whaler 170 Montauk gets up on a plane very quickly, can seat 7 adults, and is a popular choice among those seeking a well-built and versatile craft that can handle a variety of activities such as fishing, water sports, and simply sightseeing and cruising.

The Montauk has a number of features, including:

• Center Console.
• Twin batteries with cutoff switch.
• Anchor Locker.
• Electric Bilge pump.
• Stainless Steel Mercury propeller.
• A Bimini Stay-fast Top and complete Boat Cover.
• Built-in removable Igloo Ice Cooler.
• Reversible Captain's Seat - perfect for fishing or water sports.
• Navman Fish Finder.
• Built-in Compass.
• Full Instrumentation.
• The motor's Cowl features an auxiliary tilt switch.
• Mercury remote controlled shifter/gas throttle.
• Galvanized Karavan Trailer with LED lighting (Serial # SKTB519IXSF001708).
• Twin portable Gas tanks with built-in gas gauge.
• All safety equipment.
• Includes outboard motor flushing device to perform maintenance on land.
• Includes 2 sets of keys.
• Recent use exclusive to Big Bear Lake, CA.
History
Classic heritage meets cutting-edge capability in the 170 Montauk. This nimble center console model retains its clean, timeless aesthetic and rugged "hose-and-go" utility while providing enhanced comfort, performance and versatility. Count on all the features you need to get the job done, and the impeccable quality you know to expect from Boston Whaler - and fall in love all over again with the 170 Montauk.