1966 Jaguar-XKE Series 1 4.2 FHC
Specifications

Stock:
J66-211
Current condition:
UNDER RESTORATION
Performance:
265 hp, 4.2, 3 SU carburetors
Transmission:
4-speed manual
Suspension:
Independent rear and front
Color exterior:
open to the purchaser
Color interior:
open to the purchaser
Mileage:
47,731 showing
Wheels:
open to the purchaser
Brakes:
Front and Rear Disc brakes
Vin #:
1E32211
Engine #:
7E6801-9
Gearbox #:
EJ5841
Other 1:
Body Number: 4E23344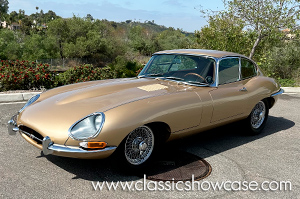 Description
March 2023 update: Our team has just started the beginning stages of restoring this 1966 Jaguar E-Type Coupe to that of our Show/Driver level. If you are interested in purchasing this E-Type and looking for a particular color combination or other customizations, please contact us soon so we may accommodate your request! This E-Type appears to be an original California car due to the "J66" added to its VIN (something exclusive to E-Types sold in California back then) and benefited from nearly 40 years of single ownership by an elderly Jaguar enthusiast in Colorado who took good care of the car.

Included in the restoration process the vehicle will be stripped to bare metal, placed on a rotisserie, metal finished, leaded, all body parts fitted to the car and chrome, prepared for primer, sealer, paint, base, clear, color sanded and buffed to a fabulous finish in the color of the purchaser's choice. All systems will be gone through, and the engine will be rebuilt back to factory specifications - or can be modified to your specifications. The fuel, electrical, cooling, and hydraulic systems will be restored. All components will be rebuilt back to factory (or your own) specifications, including the engine, transmission, rear end and suspension. All chrome will be re-plated as needed. The car will receive a completely new custom tailored and fit interior in the correct materials by our upholstery department. A flash drive containing images and video of the restoration process will accompany the vehicle. Upon completion of the restoration, this Jaguar will be a great example to drive and enjoy, compete in your favorite Concours events, or simply to collect as a Blue-Chip investment.
History
The Series 1 4.2 2+2 is the most user friendly, and very collectable E-Types. These wonderful cars had a 4.2 liter engine with 3SU carburetors and a fully synchronized transmission. Some of the features of this model are covered headlights, toggle switches, full instrumentation with styling and design that was way ahead of its time, center console, arm rests, and full synchronization transmission. Other features of this Series 1 are its steep windshield and tail lights, which are placed above the bumper line in the rear deck. Similarly, the parking lights are above the front bumper line in the front fenders. A chrome strip beneath the windows on the doors identifies the 2+2. This car first came on the market in 1966 in response to US market pressure for a vehicle with a backseat. The 2+2 was also the first time this vehicle was offered with an automatic transmission which became an option because of the extended length of the vehicle, which permitted the transmission to be installed. In 1964 when the 4.2 was tested, fuel consumption was rated road reported at 22 MPG and a top speed of 140 MPH.