1967 Jaguar-XKE Series 1 4.2 OTS
Specifications

Stock:
J67-863
Current condition:
ORIGINAL-PRESERVED
Performance:
4.2 Liter, 6 Cylinder, 3 SU Carbs
Transmission:
4 speed Manual
Suspension:
Independent
Color exterior:
Ascot Fawn
Color interior:
Cinammon (with Tan stay-fast Top)
Wheels:
Chrome Wire Wheels
Brakes:
Disc
Vin #:
1E15863
Engine #:
7E13923-9
Gearbox #:
EJ15366
Other 1:
Body Number: 4E7753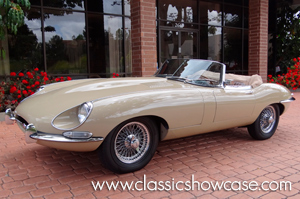 Description
This single-family owned and impeccably preserved 1967 Series 1 Jaguar E-Type is a numbers-matching Southern California-kept example that stands as an incredible time capsule and truly rare find; The E-Type was delivered new to the famous Charles Hornburg dealership in Los Angeles, CA on December 22, 1967, and has remained in the same family ever since! With service records dating back to 1968, a treasure trove of receipts, original owner's manual, warranty book, and oil lube chart, this E-Type is brimming with originality you just don't find everyday...

The Jaguar has been cherished by the original owner's family, where it has always been garage kept and well maintained throughout its entire life. Great care was always taken to ensure that the car was properly stored and serviced, and as a result, it remains in excellent condition. The owner would often listen to Los Angeles Dodger baseball games on the car's AM radio while cleaning the car and its wire wheels in the garage, illustrating just how much he loved and cherished this vehicle. The owners are members of the Jaguar Owner's Club of Los Angeles, and the car has been driven in many Jaguar events on a regular basis.

Classic Showcase has been regularly maintaining and servicing this wonderful XKE over the years, and recently woke the car up with a major service where we rebuilt the SU carburetors, serviced the hydraulic system and cooling systems, and restored the top bows with a Tan stay fast top. The car's interior is in great condition and very original, a testament to the care it has received over the years. To increase the XKE's road-worthiness, we installed a new set of Universal Sport 185 sized tires and balanced them.

We have also performed the following services to the Roadster:

• installed a new brake and clutch master cylinder.
• installed a new clutch slave cylinder.
• installed a new brake booster.
• installed a new brake booster heat shield.
• installed new clutch and brake reservoir bottles.
• installed new vacuum hoses and clamps
• hydraulic system maintenance
• installed a new battery

Now, after decades of ownership, the family is ready to find a new home where it will be appreciated just as it was by its original owner for so many years. Any Jaguar collector or enthusiast looking for a highly original, well-documented, and single-family owned example of the 1967 Jaguar E-Type, this car truly presents an opportunity that is not to be missed!
Videos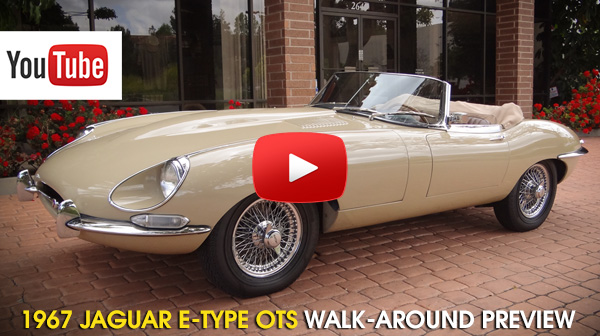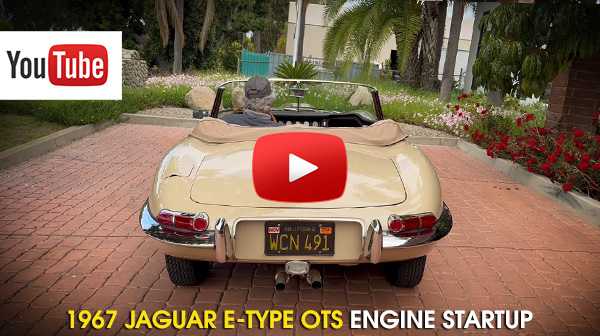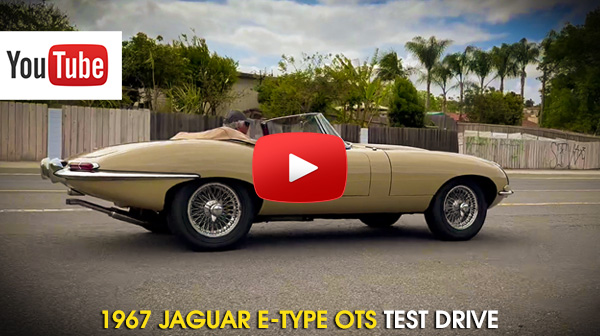 History
The Series 1 4.2 is a very user friendly, sporty driver, and one of the most collectable of the E-Types. These are wonderful cars with a 4.2 liter engine with 3 SU carburetors and a fully synchronized transmission. Some of the features of this model are toggle switches, full instrumentation with styling and a design that was way ahead of its time with center console, and arm rests. Other features of this Series 1 are its steep windshield and tail lights, which are placed above the bumper line in the rear deck. Similarly, the parking lights are above the front bumper line in the front fenders. In 1964 when the 4.2 was tested, fuel consumption was rated road reported at 22 MPG and a top speed of 140 MPH.