1963 Jaguar-XKE Series 1 3.8 OTS
Specifications

Stock:
J63-429
Current condition:
SHOW-DRIVER
Performance:
3.8L, 6 Cylinders, 3 SU Carbs
Transmission:
5 speed manual (upgraded)
Suspension:
Independent Front / Rear
Color exterior:
Black
Color interior:
Tan
Features:
Digital AM/FM Stereo with Bluetooth
Mileage:
2,641 miles driven (since restoration)
Wheels:
Chrome Wire Wheels
Brakes:
Front & Rear Disc Brakes
Vin #:
877429
Engine #:
R 5678-8
Gearbox #:
EB4 810J50
Other 1:
Body Number: R4016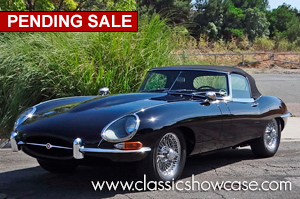 Description
SALE SPECIAL! Please click here for price. Classic Showcase is pleased to offer this striking Series 1 E-Type, previously restored to a show/driver level by our team of master craftsmen. This E-Type stands in a very rich and desirable color combination of Black & Tan and has been meticulously maintained and well cared for by its current owner. This Series 1 1963 example exhibits many of the early sought-after features these cars are known for including flat floors, and welded louvers, and is an excellent choice to drive or show at your favorite Concours event…or to simply keep as a great first-generation Jaguar E-Type investment! Read more about the roadster and it's restoration below...

Test Drive Video Preview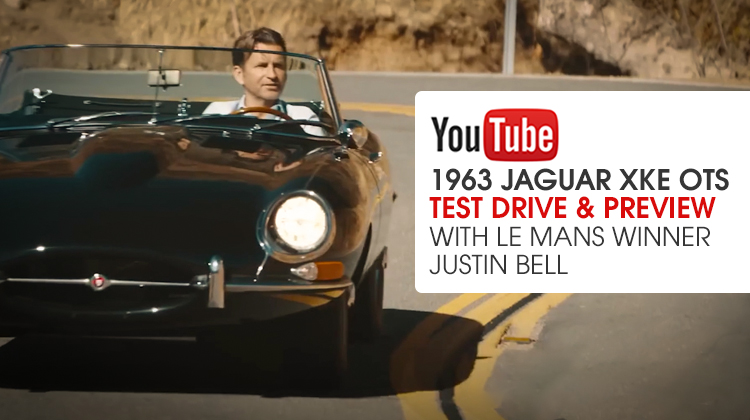 The restoration process of this E-Type included stripping it down to bare metal, placing it on a rotisserie, then having its metal finished and leaded, with all body parts and chrome fitted to the car; it was then prepared for primer, sealer, paint, base, clear coat, and then color sanded and buffed to a fabulous Black finish. All systems including the electrical, cooling and fuel were completely gone through, and its engine was fully rebuilt back to factory specifications, as well as its rear end and suspension, and all other mechanical components. The transmission was upgraded to a 5-speed manual configuration for better handling and performance along with a gear reduction starter, with no other modifications made to the car. The clutch and hydraulic systems were replaced, and the XKE received all new rubber, seals, along with a completely new wire loom. The E-Type also received a new correct exhaust system, battery, and its gas tank was epoxy sealed. The XKE's radiator was upgraded to an aluminum radiator with an auxiliary fan, and all of the brite work was re-plated, or replaced where needed. The car also received a completely new custom tailored and fit interior in the correct materials made by our master trimmers in our upholstery department. It was also fitted with a new canvas top with restored bows and hardware.
An mp4 pictorial video of the restoration process accompanies the car. This is truly a fabulous example of a Show/ Driver level for any Jaguar enthusiast to admire and enjoy.
History
The Series 1 was introduced, initially for export only, in March 1961. The domestic market launch came four months later in July 1961. It can be recognized by glass covered headlights (up to 1967), small "mouth" opening at the front, signal lights and tail-lights above bumpers and exhaust tips under the license plate in the rear. The Series I E-type is the most desirable of all the series with a 4 speed transmission, covered headlights, toggle switches on the dash, updated with late Series I comfortable bucket seats, center console, and arm rest. This makes the best driver and the most collectable for an investment. It is a timeless example of class and elegance joined with the strong racing history that Jaguar has become so well known for.