1960 Jaguar XK-150 S 3.4 OTS
Specifications

Stock:
J60-094
Current condition:
SHOW
Performance:
3.4 liter, 6 cylinder, Overhead Cam, Triple SU Carbs
Transmission:
upgraded Getrag 5-speed transmission
Suspension:
Independent Front, Live Rear Axle
Color exterior:
Jaguar Dark Blue
Color interior:
Red
Features:
Electric Power Steering
Tires:
(5) Coker Wide Whitewall Radial Tires 6.00-16
Vin #:
S832094DN
Gearbox #:
001610EC
Other 1:
Body Number: F17143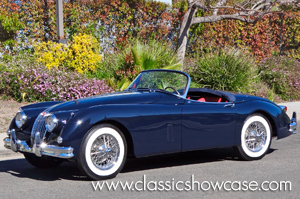 Description
This 1960 Jaguar XK-150 S roadster recently completed a comprehensive Show-level restoration by our team and is ready for its next adventure! The Jaguar features one of our favorite color combinations of Jaguar Dark Blue over a Red interior, with a complimenting Dark Blue stay-fast top and matching Tonneau cover. In addition, our team of craftsmen have made a number of improvements to the car to improve performance, as well as comfort described below:

Included in the restoration process of the XK-150 S: it was stripped to bare metal, placed on a rotisserie, metal finished, leaded, prepared for primer, sealer, paint, base, clear, and was color sanded and buffed to the fabulous finish that you see today. All body parts were fitted to the car in our assembly area.

In the cabin of the roadster, it has received a completely new custom tailored and fit Red interior in all the correct materials by our master trimmer. We chose to use Bucket seats with special tracks that can tilt them forward for easy access to the back area where the convertible top stows behind these seats. In addition, these bucket seats provide more legroom and a stationery fit for the driver and passenger. Our trimmer also installed new period Red lap seatbelts for your safety. We then fitted the roadster with a smaller 15-inch Moto-lita wooden steering wheel with a custom alloy horn button to not only give it a great look, but improve its handling for the driver. These additions complement the roadster and will provide a much more comfortable driving experience on your favorite roads and highways.

All of the Jaguar's mechanical systems have been completely gone through and were restored or replaced as needed, including: the fuel, electrical, cooling, and hydraulic systems. Most components have been rebuilt, including the engine, transmission, rear end, and suspension, and were installed to the car in our assembly area; to achieve more horsepower and performance, the 150 block was bored from a 3.4 liter to a 3.8 liter, as well as other new upgrades including: 9:1 pistons, electric power steering, timing chain assembly, oil pump, water pump, and bearings, etc. The 150 also features a completely rebuilt straight port head, a high torque starter, and electronic ignition. Our team has also set up and installed a 5-speed Getrag transmission to the roadster for improved performance and handling, and a custom-made and balanced driveshaft was fitted and installed to adapt to the 5-speed transmission. A dual stainless-steel exhaust system was installed, along with dual SU fuel pumps and retains its electric choke mechanism. Our team has also acquired a beautiful set of Coker wide whitewall radial tires that are not only performance minded, but also help create a highly stylish vintage look to the roadster.

The 150 S also includes a set of tools, which includes a knock off hammer, grease gun, and jack. A USB drive containing an MP4 pictorial video slideshow of the roadster's comprehensive restoration process accompanies the vehicle.
History
Production of the Jaguar XK-150 began in the spring of 1957 and would become the last of the tradition 1950s Jaguars. Although similar in appearance to the XKE cars it was replaced, it was certainly a different machine. It retained the same basic chassis, engine, and Moss four-speed gearbox, but its outward appearance was different and wider and there was more interior room for the occupants. Four inches were added to the center of the body making the extra width possible. A one-piece wraparound windscreen improved visibility. The radiator grille was changed slightly. The biggest improvement to the vehicle's performance was the addition of Dunlop disc brakes on all four corners of the car. The XK-150 produced the same amount of horsepower as the XK140, so their performance was identical in terms of speed. The SE option added a modified cylinder head and larger exhaust valves which increased the standard 190 hp to 210. In 1958 the Model S was introduced which raised the vehicles performance even further. With the help of three two-inch SU HD8 carburetors, a Weslake developed cylinder head, and high compression pistons, horsepower rose to an impressive 250 bringing the zero-to-sixty time in just over seven seconds. All the XK-150s were offered with an optional Borg-Warner automatic gearbox and a choice of either steel or wire wheels. On the S Model, a limited-slip differential could be ordered as optional equipment. There were 2265 examples of the XK-150 Roadster produced with only 888 being the highly-sought after Model S.