1965 Jaguar-XKE Series 1 4.2 OTS
Specifications

Stock:
J65-734
Current condition:
UNDER RESTORATION
Performance:
265 hp, 4.2, 3 SU carburetors
Transmission:
4-speed manual
Suspension:
Independent Front and Rear
Color exterior:
Opalescent Silver Grey
Color interior:
Black
Mileage:
approximately 100 test miles after restoration
Wheels:
Chrome Wire Wheels
Tires:
Vredestein 185/15 (with new knock-offs)
Vin #:
1E10734
Engine #:
7E2743-8
Gearbox #:
EJ 1798
Other 1:
Body #: 4E1902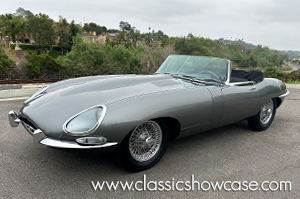 Description
This 1965 Jaguar E-Type is a numbers-matching example that was a great candidate for a show/driver restoration. The XKE's first owner purchased the roadster new in Paris, France, and retains its original color combination of Opalescent Silver Grey with a Black interior, and features several unique aesthetic and mechanical differences, including Euro-style marker lights. The E-Type was built and commissioned from the factory with an 8:1 compression, but our team decided to go to a 9:1 compression on the pistons to give the XKE more power – which is what most owners prefer. We decided to keep the look of the car completely original as it came out of the factory in 1965.

We started the XKE's restoration process by first evaluating, inspecting, and photographing the car in its entirety. We then disassembled it, stripped it to bare metal, placed it on a rotisserie, metal finished, leaded, with all body parts fitted to the car as well as the chrome, primer preparation, sealer, paint, base and clear coat, finally color sanding and buffing to a beautiful Opalescent Silver Grey finish that you see on the XKE's body today.

All of the E-Type's mechanical systems and components are in the process of being rebuilt, serviced, restored or replaced as needed, including: the engine and transmission, as well as the rear end and suspension. In addition, the engine block was hot tanked, line bored, and magnafluxed - which included all machining and calibration along with new pistons, rings, bearings, new fuel and water pump and machining the crank. Also installed, were new valves, guides, seals, timing chain, a completely rebuilt head, restoring and rebuilding of the SU carburetors, a new clutch system, fly wheel machining, new hydraulic system, new u joints installed and balancing of the drive shaft, new shocks throughout, and a rebuilt fuel pump. All other systems such as the electrical, hydraulic, cooling and fuel systems are being restored or replaced where needed, and the car will be in the process of receiving a new wire harness, rebuilt power brake booster, rubber, and grommets. All electrical components are being gone through, which includes the gauges, knobs, and switches - all of which will be restored, rescreened, or replaced as needed. The car will also receive a new exhaust system, and a new battery. The gas tank has been hot tanked, painted, and epoxy sealed, and a new stock radiator is scheduled to be installed. All bright work will be re-plated, and a new windshield will eventually be fitted in our assembly area.

Our master trimmer in our upholstery department has created a complete new custom tailored and fit interior in the correct materials, which included a full restoration of the car's seats, frames, top bows, convertible top, and the eventual installation of sound deadening to achieve a quiet, comfortable driving experience.

The team is currently in the beginning stages of assembling the E-Type and will install the newly created interior in the very near future, so stay tuned to this page for updates! Once completed, this restored show/driver level XKE is sure to be ready for a multitude of uses, from campaigning at your favorite Concours events, to experiencing out on the open road, to simply collecting as an investment; regardless of use, this soon to be ready 1965 Jaguar is sure to please wherever it may roam!
History
Launched in 1961 at the international motor show in Geneva, the XKE echoed the sensation of the XK-120, perhaps even more. An astonishing performance package, with amazing speed and handling, the XKE's' brand-new 4-wheel independent suspension system was so well conceived, it was used by Jaguar for over thirty years. The Series 1 4.2 is a very user friendly, sporty driver, and one of the most collectable of the E-Types. These are wonderful cars with a 4.2-liter engine with 3 SU carburetors and a fully synchronized transmission. Some of the features of this model are covered headlights, toggle switches, full instrumentation with styling and a design that was way ahead of its time with center console, and arm rests. Other features of this Series 1 are its steep windshield and tail lights, which are placed above the bumper line in the rear deck. Similarly, the parking lights are above the front bumper line in the front fenders. In 1964 when the 4.2 was tested, fuel consumption was rated road reported at 22 MPG and a top speed of 140 MPH.
Authenticity